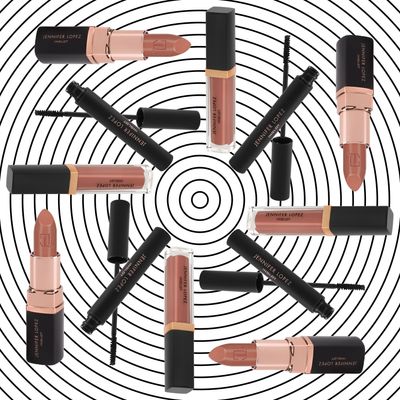 With new collections from Kim Kardashian, Madonna, and Rihanna, 2017 was a great year for celebrity beauty lines, and this year Jennifer Lopez is joining them with one of her own. Her 70-piece collection with Inglot was released today and it's filled with the good stuff. There are eye shadows in every shade you can imagine, and bronzers and blushes galore. The most expensive item is a $49 eye and face palette, and the cheapest is a $9.50 magnetic case to help you store everything. There are a lot of products to choose from, so the Cut picked the five most worthy of your coins.
Your Next Favorite Mascara
J.Lo is a serious customer when it comes to eyelashes. She's known to wear fake lashes made from mink fur — at least she was until she launched her own set today (they are fluttery, inexpensive, and very fun) — and Lopez flexed her lash expertise when she developed this mascara. Equipped with a thin, unassuming brush much like Kevyn Aucoin's famed one, Lopez's mascara is the line's standout product. The bristles are small enough to grab each lash without incident, and the elegant formula is immune to clumping. And smudging? Don't even think about it. You'll really want to try this.
Some of the items in the collection are actually re-branded best sellers from Inglot's main line, and this eyeliner is one of them. The easy-to-apply, budge-proof gel formula is a cult favorite among makeup artists. The deep, inky black color is seriously pigmented, so it doesn't look cheap, and it glides seamlessly on lids for the perfect cat-eye. And if you're wondering how long it will last, consider this Amazon review: "I used this product on clients over the carnival season in Barbados and they complained that they couldn't get it to come off. It is WATERPROOF." (To remove, simply use an oil cleanser.)
You can use this shimmery powder in a few different ways. Pat the illuminator's puff along the tops of your cheeks, shoulders, décolletage, eyes, or anywhere else you want to shine. Used dry, the highlighter is subtle, but not so subtle that you'll feel ripped off. Spritz a BeautyBlender or makeup brush with water if you're looking for a bigger, more dramatic highlight. It's available in two shades, but I'd argue Radiant, with its soft warm tone, is more universally flattering.
A gloss expert herself, J.Lo knew how to hit all the right notes. LipGlossy glides on smoothly, tastes like candy, and isn't sticky. The formula is relatively thin, which is great if you want your lips to appear somewhat glazed but not overly done. I love the understated glamour and versatility of Peach Pearl. So far I've worn the pinkish-nude shade to a fancy restaurant and to a Target, and the shade felt equally at home in both places.
A Flattering Nude Lipstick
Don't you hate lipstick that makes your lips look dry? Me too, and the creamy options from this line do something incredible: They moisturize! I'm partial to two nudes: Dolce and its darker cousin, Brandy. They are creamy and cast a slight sheen. But if you're more of a red-lipstick person, don't worry — Lopez didn't leave you in the cold; Besame is a jewel-like red that's easy on the eyes.
If you buy something through our links, New York may earn an affiliate commission.