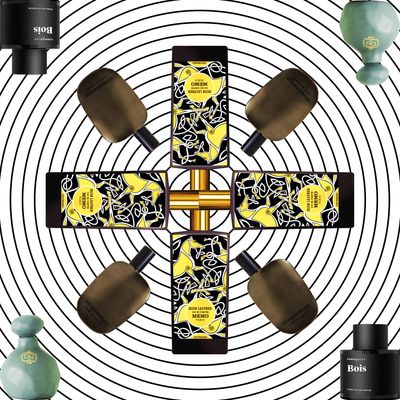 The majority of the 39 scents nominated for the 2018 Fragrance Foundation Awards's "Best Indie" category are quite grounded. And by grounded, I mean close to the ground.
Whether they're woodsy, beach-grassy, mossy, or piney, earth scents are having a moment. Maybe it's a backlash to the spicy-sweet pink pepper trend, or maybe it comes from a desire to peel our noses away from our phones and connect to the great outdoors. Earthy scents can conjure a fantasy of escape. They let us dream about going off the grid, even though we continue to ride the subway and show up at work every day.
I've always loved an earthy scent. The closer my nose can get to the soil, the better. I'm not particularly picky about which ground, either. It can be a woodsy pine-needled path (referenced in Phlur's Greylocke fragrance), a cavernous glen covered in wet moss (like Apoteker Tepe's After the Flood), a tree's base scattered with wood chips (Miller Harris's Le Cedre) or a freshly-tilled garden bed (Joya's FoxGlove). I would fall to my knees and roll around in all of these spots if I didn't think someone might call the cops on me.
"'Earthy' is one of those all-encompassing terms, like 'spicy', that doesn't usually have a direct scent note associated with it," explains Josh Meyer, founder and creator of Imaginary Authors fragrances based in Portland, OR. "But when we're discussing anything cedar, pine, patchouli, fir, resin, or anything leafy, you start to get a sense of what people mean when they say 'earthy.'"
This isn't the first time earthy scents have had a moment. Back in the early '90s, after a decade of cloying, overpowering scents, the trend shifted to beachy and airy ozonics like New West for Her and L'Eau d'Issey. When the Grunge movement piqued, along with flannel shirts and wool hats came the aromatic and earthy CK one. Perhaps fashion's recent harkening to '90s elements has inspired a resurgence of their fragrant counterparts, too?
Christopher Brosius understands the need to stay grounded. After co-founding Demeter fragrances in 1993 and introducing such outdoorsy scents such as Tomato, Grass and, my favorite, Dirt, he formed CB I Hate Perfume, a collection that, as the name indicates, shuns heavy and overpowering perfumes in favor of scents that smell like real life. Among his portfolio are blends that capture his childhood library, his grandfather's saw mill, and — praise be — hikes in the woods, bottled in Wild Hunt.
Irish Leather by Memo Paris smells like a hike, too, albeit one on a windy, grassy knoll. Founder Clara Molloy agrees that groundedness feels important these days. "We're all surrounded by phones, computers, and apps all day, and many of us struggle to find a sense of connectedness to the earth," says Molloy. "Perhaps these scents provide some comfort for those lacking that connectivity."
Julian F. Bedel has made it his mission to provide that connectivity in his luxury fragrance line Fueguia 1833. The Buenos Aires native spent much of his childhood on his family's farms where he pruned trees and worked with wood, and those memories inspired him to capture and bottle the euphoric aroma of the outdoors. He built a botany center in nearby Uruguay which cleans and separates the molecules within the hundreds of ingredients he uses ("Vetiver can monopolize everything!"), as well as a lake where Fueguia's aquatic notes and papyrus plants are grown and harvested.
"We distilled a note from the bottom of our lake that has a dry green earth profile that we use in our Chamber fragrance," explains Bedel. "And Hornero was created to smell like the inside of a bird's nest — you've got dried grass, along with a dense mud accord and four different types of vetiver."
As I figure out how to apply for a job at Fueguia's birds-nest dissecting department, I ask D.S. & Durga's David Moltz for his take.
"I'm particularly interested in creating realistic environments," says the perfumer. "So I'll often rely on earthy notes to add realism to the fantasy of perfume."
His new VIO-VOLTA is a perfect example of this. It leads with a bold violet note, but has an earthy, vegetal root that smells like garden dirt. His El Cosmico, on the other hand, is a drier type of earthy-woodsy scent, as are Sueno from Perfumera Curandera, Bois by Commodity and Comme des Garçons' WonderWood.
Bonfire scents are a relative of earthy ones, and the smell of smoke under the stars has been gaining attention these days in fragrances like Byredo's Velvet Haze, CB I Hate Perfume's Burning Leaves, and Imaginary Author's A City on Fire, which I like to blend with my beloved Le Labo Santal 33. You've also got your post-fire ones, including Trudon's Mortel, Goop 02 Shiso, and Potentia Black Smoke. Plop an ancient church down next to that bonfire, add some creaky leather pews, and you've got French Girl Organics Tabac No. 1, Heretic Parfum's SCANDALWOOD, and the new myrrh-based Eau d'Initie from Exemplaire.
But as spring tries to turn up, I've moved my fire brands to the back of my dresser in place of my personal earthy favorites, the straight-up dirt reincarnations — notably, Philippe Starck's Peau d'Ailleurs and CB's On a Clear Day You Can See Forever. Both bring me right back to my grandmother's vegetable garden in upstate New York, where I spent many a childhood summer. I'd love to wear my other favorite childhood smell, too, but, so far, no perfumer has taken me up on my request for that perfect Eau de Chlorine.
If you buy something through our links, New York may earn an affiliate commission.