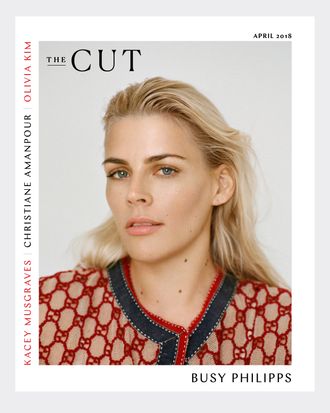 I keep wondering when I will become invisible. So many older women I know talk about feeling overlooked and ignored that I've started to develop a morbid curiosity about my future options — not unlike when I used to wonder about what it might be like to be a mother. Will I wake up one day newly invisible, like getting pregnant? Will there be some people who still see me? Will it feel like a superpower sometimes? In a culture that frequently confuses a woman's beauty and a woman's worth, will it be a bittersweet relief to be released from that bind?
I find myself thinking about the power an aging woman has. What are the potential upsides? "I am tempted to take up shoplifting," my friend in her 50s told me of her newfound status as an invisible woman, "just to see what I can get away with."
This week, we're publishing a series called Self Reflection, where we asked women to tell us what makes them feel "like themselves." Not necessarily how we actually look, but how we think we look, and how we reconcile the perception gap. Among some of the features we have coming up are a woman whose beauty ruined most of her relationships; Kim France on feeling like a prisoner of her own vanity; and portraits by Eva O'Leary, who shoots from behind a two-way mirror to capture the faces women make as they try to see themselves as others see them — a practice Molly Fischer describes as a habit as "thoughtlessly available as masturbation … both totally okay to do, and totally embarrassing to acknowledge."
For many people, social media serves as the conduit of choice for thinking about how we want others to see us. Busy Philipps, our cover woman this month, exemplifies this. Allie Jones spent some time with the cult-favorite actress in Los Angeles, observing how Philipps has forged a path after acting, by showcasing her life on Instagram, in all of its glamour and gore.
I'm also cautiously happy about Cynthia Nixon's candidacy for governor of New York. Even if she doesn't win, it's nice to see a lesbian actress turned activist just go for it — refusing to conform to the expectation that she should feel ashamed of her past or let it stop her from her ambitions. Plus, she's funny! More politicians should let themselves be funny. Stay tuned as Gabriella Paiella chronicles her campaign and how much it's going to annoy Cuomo. Things don't necessarily have to play out the way we've always been told they will. Perhaps invisibility is not a given.
Love,
Stella
On Busy
:

Gucci macramé oversize jacket with contrast grosgrain details, $3,700 at Gucci.