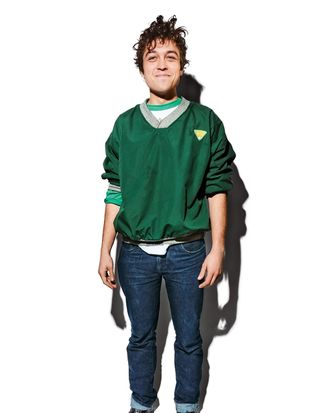 "I love exploring neighborhoods. One night I'll be at a sports bar in the Bronx, the next doing karaoke in Flushing."
Photo: Bobby Doherty/New York Magazine
David Kurlander, Historian and Tutor
What sort of historian are you?
I am working for a nonprofit and helping them write their organizational history, but on my own I'm working on a project about San Francisco, mostly focused on the '70s and narratives of toxicity in the city's built environment. I am not writing it for a specific place right now: I'm trying to sort of pull back and let the research lead that process. It's hard for me to do, as I've always been reliant on validation of some sort.
Where did you go to college?
Harvard. I graduated last year. I met amazing people, and I also found an academic program that really meant a lot to me, but the social life and competition there is really hard to deal with; there's so much jockeying for influence on campus and a clear socioeconomic hierarchy that I found disturbing. But also hard to stay away from.
Where in the city do you live?
Sheepshead Bay. I wanted to have a year of reading and research. Sheepshead is really fascinating — I've always been exhilarated by being in immigrant communities, seeing different cultures colliding and interacting. Plus, I knew I wanted to live by myself — I have a very big book collection so was wary of having roommates.
Lightning Round
Age: 23.
Favorite building in New York: The Graybar Building. "I love its sculptural flourishes. I'm kind of an architecture nerd and carry around the 1978 AIA Guide to New York architecture."
Favorite place to hang out in New York: "I love exploring neighborhoods. One night I'll be at a sports bar in the Bronx, the next doing karaoke in Flushing."
*This article appears in the April 16, 2018, issue of New York Magazine. Subscribe Now!