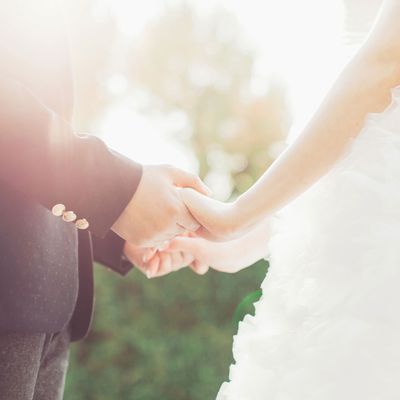 Photo: Kenji Lau/Getty Images
The League, the exclusive dating app where entrepreneurial singles with generational wealth and Hamptons houses look for love, is very excited to launch its brand-new Weddings section, where it can highlight users who have not only found partners in life, but also in business.
"Spring is in the air which means first-comes-love, then-comes-marriage … then comes traveling the world or starting a company together," reads the press release. While there are only six featured "League Success Stories" at this time, the app plans to promote the stories of "ambitious, career-focused, driven power-couples," a la New York Times Vows section, four times a year. Did you meet your supportive business partner — oops, sorry, soul mate! — on The League? Enter your #LeagueLove for a chance to be featured.
I, for one, genuinely look forward to bookmarking this website and checking it frequently — my only complaint is that there aren't more stories. Below, the most The League lines in the Wedding section so far:
1. "While dating I shared with him that I wanted to start my own company & become a successful entrepreneur. Now, not only have we started a life & family, but are also starting a company together."
2. "In 2016 I made the Forbes 30 under 30 list for finance & subsequently found my future husband who is incredibly kind but just as career-focused as me."
3. "I thought his smile was TO DIE FOR!"
4. "We are not only starting a life and family together, but we are also starting a company together that will hopefully make a difference in other people's lives."
5. "We're teammates. There are no gender roles."
6. "Things moved fast when we realized we shared a love for spontaneous travel, a passion for sashimi, and a deep distaste for waiting in line."
7. "Compassion, Work Ethic, Loyalty."
8. "I regularly post about pregnancy/parenthood and am thankful everyday that I have a partner to support me in this major project in my life."
9. "Within a week, we were on the phone for hours each night like a couple of sneaky teenagers!"
10. "If you want a checklist guy — you can find one on your first swipe. But if you want someone you'd fall in love with even if they didn't have the resume, be open."