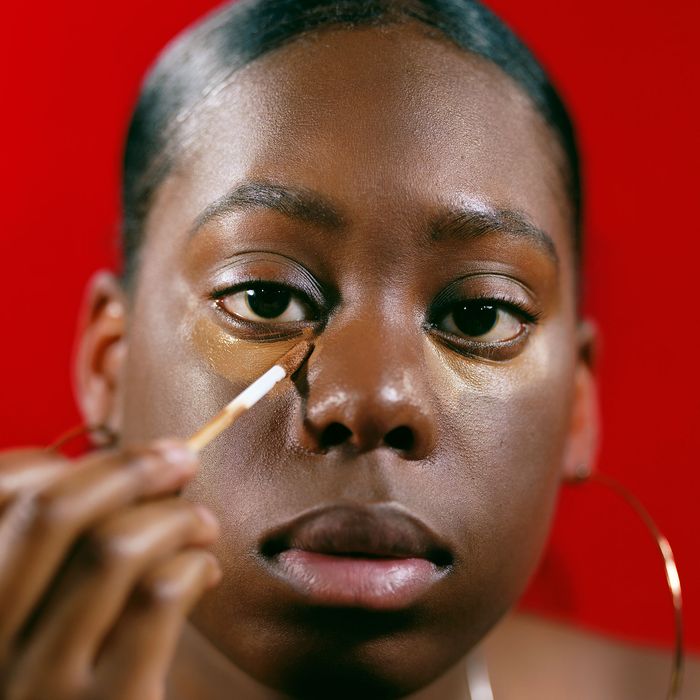 Amanata Adams
(left)
and Jocelyne Beaudoin.
Photo: Eva O'Leary/New York Magazine
Like everything else, it was worse when I was a teen, but it still happens when a reflective surface arrests my attention. My eyes go wide. My eyebrows lift; my chin pulls back. I look into my own artificially big eyes and permit the rest of myself not to exist quite so much. I am eyes. This is mirror face.
It's my mirror face, at least — they vary. Others will settle into their reflection with an inquisitive half-smile, a lifted chin, or softly pursed lips. Mirror face is the face you put on for yourself, a performance whose audience is only you, a tribute to the way you want to think you look. The way I want to think I look, apparently, is serious and somewhat surprised. Mirror face can allow for inspection and evaluation (turning the head, hair thrown back, to examine a jaw) or subterfuge (locating the angle that straightens a nose). Even when dictated by a particular feature's neurosis, mirror face allows the reality of face-having to fade, to drift into a more nebulous face-as-idea. It is an occasion to imagine ways you might be seen — younger? Older? Prettier? Happier? More stylish, desirable, mysterious? — without anyone actually seeing you, yet.
Many faces can be made in a mirror, but not all of them are mirror face. A good rule of thumb: If you walked in on this face in progress, made by a co-worker or a bathroom stranger, would you feel you had intruded on something you weren't supposed to see? If yes, you are dealing with mirror face. Mirror face is a private habit as thoughtlessly available as masturbation. It is likewise both totally okay to do and totally embarrassing to acknowledge. But mirror face is also hard to fight: Make eye contact with yourself in the mirror behind the bar and see if something not quite normal doesn't sneak across your features. Sit in a back seat, check yourself out in the rearview mirror, and avert your eyes when the driver inevitably catches you. If you have brothers or sisters, they definitely know your mirror face. Pity the people with ground-floor tinted plateglass windows: They know too much about us all.
Mirror face exists in solitude, even when performed in public. This is what makes it so elusive and strange. Maybe there's an internalized male gaze involved, but particular men are irrelevant. (And anyway, they have mirror faces too.) Interrupting mirror face is uncomfortable for interrupter and interrupted alike, but there's no need to defend mirror face with words like empowerment or self-esteem, today's preferred rationale for female appearances. The discomfort of getting caught mid–mirror face is not shame over artifice or vanity. Rather, it's the shock of a stumble into intimacy — the interruption of an absolutely private self.
Amanata Adams, 19, student
Time spent looking in the mirror each day: Probably two hours.
"I am really comfortable looking in the mirror. I know that I control the image I put out into the world."
Wearing: Smashbox Photo Finish Foundation Primer, Estée Lauder Double Wear Foundation, Nars Radiant Creamy Concealer, Fenty Beauty Match Stix, Laura Mercier Translucent Loose Setting Powder, L.A. Girl Shady Slim Brow Pencil, Glossier Boy Brow, Sephora Brow Gel, Maybelline New York Volum' Express the Colossal Big Shot Mascara.
Jocelyne Beaudoin, 59, set designer, prop stylist, interior decorator, model
Time spent looking in the mirror each day: Less than five minutes.
"I hate looking in the mirror; it's never a good experience. Whatever anyone says (including myself), aging is a challenge."
Wearing: Chanel Le Blanc Brightening Moisturizing Lotion, Clarins Double Serum, Clarins Super Restorative Total Eye Concentrate, Crème de la Mer Moisturizing Cream, RMS Beauty Lip2Cheek Blush, Chanel Le Crayon Yeux Precision Eye Definer and Le Volume Mascara, Neutrogena Revitalizing Lip Balm, Edward Bess Ultra Slick Lipstick.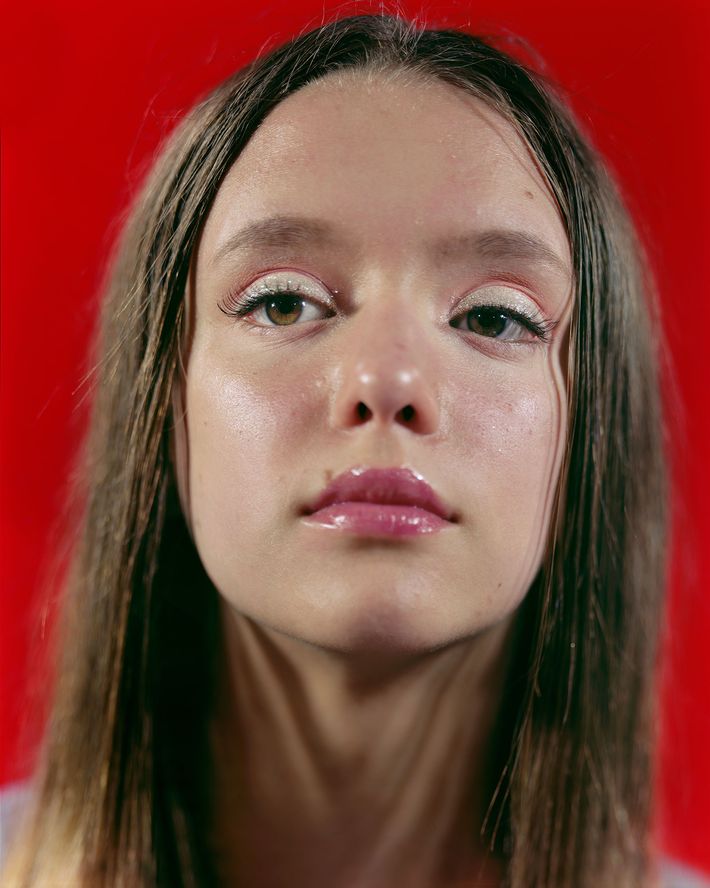 Eve Milutin, 14, student
Time spent looking in the mirror each day: About 30 minutes.
"I think my lips are my most defining feature. They are full and add color to my face."
Wearing: Wet n Wild Megaglo Makeup Stick, Sephora Collection Luminizer To Go, New York Colors Individual Eyes Shadow Palette, Stila Glitter & Glow Liquid Eye Shadow, Anastasia Beverly Hills Brow Wiz, Tarte Amazonian Clay Smart Mascara, Becca Liquid Crystal Glow Gloss.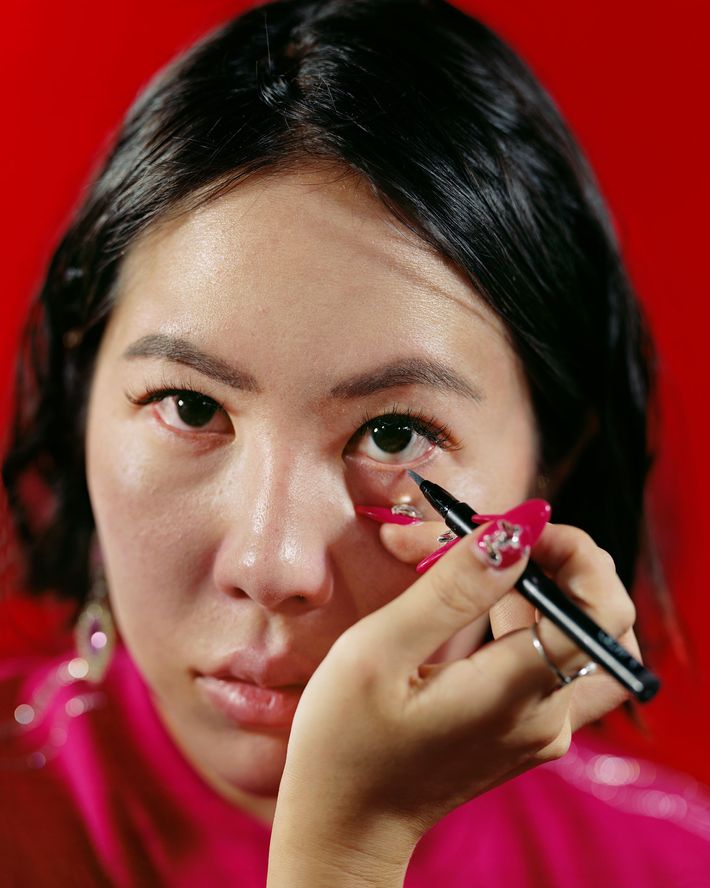 Gia Kuan, 31, publicist
Time spent looking in the mirror each day: No more than 15 minutes.
"I alternate hot and cold water compresses in the morning to cleanse and shock the face. I also always have rosewater in the fridge with aloe, which I sometimes use as a quick mask."
Wearing: Aesop Elemental Facial Barrier Cream, Hourglass Veil Mineral Primer, Giorgio Armani Beauty Luminous Silk Foundation, Nars Eyeliner Stylos, NARS Audacious Mascara, Glossier Boybrow, Glossier Cloudpaint, Glossier Lidstar, Glossier Haloscope.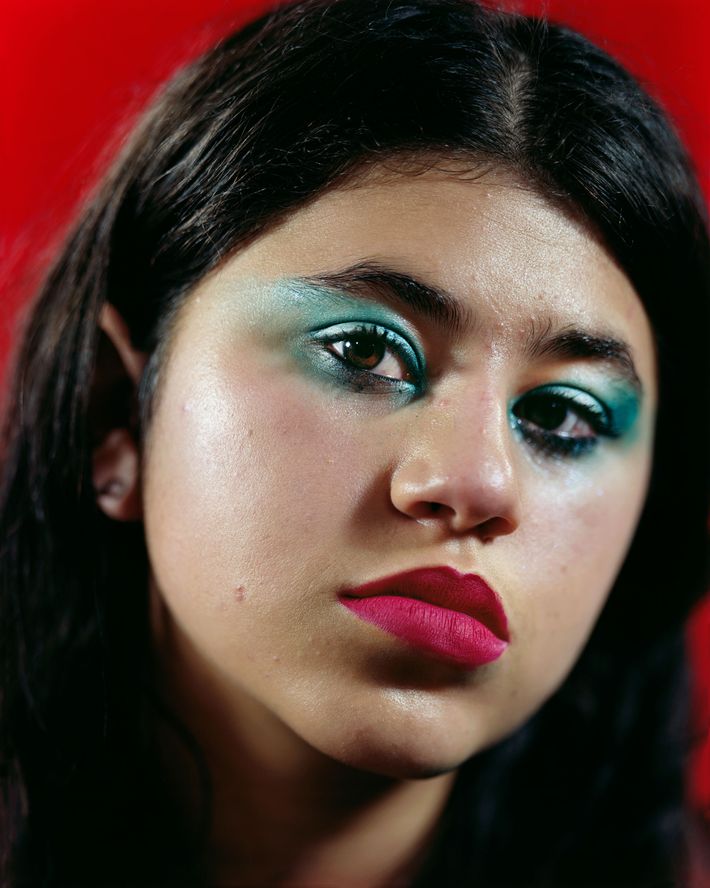 Em Odesserm, 17, editor-in-chief of Teen Eye magazine, executive assistant for Sad Girls Club
Time spent looking in the mirror each day: At least six or seven times a day, probably more if you count looking on the iPhone front camera.
"Growing up as a Jewish girl, I'd get lots of comments about my nose — about the width or the bumps or the slope. I do love my nose and think it's pretty perfect."
Wearing: Trader Joe's Enrich Face Lotion mixed with Fenty Beauty Pro Filt'r and L'Oréal True Match foundations, Sephora Collection Medium Shopping Bag Palette, Fenty Beauty Galaxy Eyeshadow Palette, Tarte Sex Kitten Eyeliner, L'Oréal Voluminous Original Mascara, Kat Von D Everlasting Liquid Lipstick.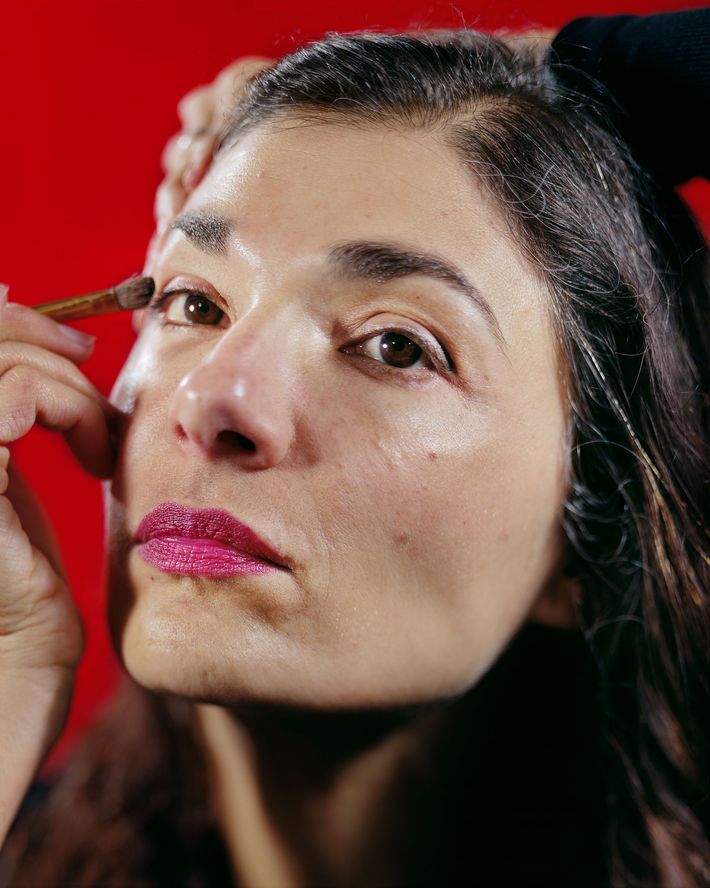 Elinor Carucci, 46, photographer
Time spent looking in the mirror each day: 25 minutes.
"My mirror mantra is: It's ok, it's ok, it's ok. This face is mine and I will own it even though it ages…"
Wearing: Yves Saint Laurent O1 lipstick, L'Oreal Carbon Black Lineur Intense Felt Tip Liquid eyeliner, and Stowaway Dawn to Dusk eye shadow.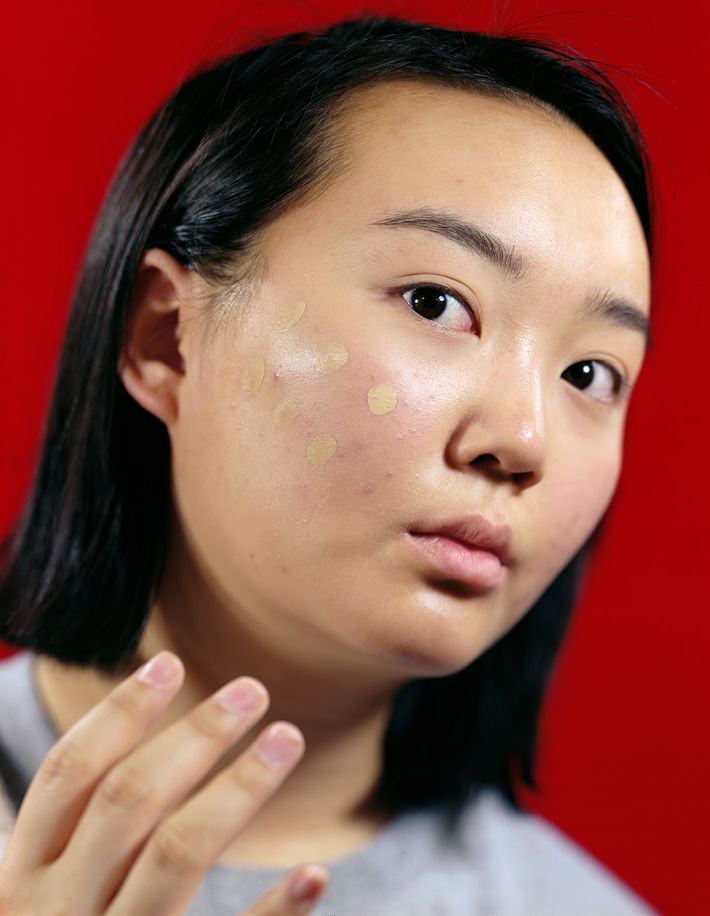 Ella "Minnie" Seo, 15, student
Time spent looking in the mirror each day: A good hour in total.
"I can look and think either 'What's causing all this acne?' or 'Will I ever be able to look like the workers at Glossier?' "
Wearing: Nars Soft Matte Complete Concealer, Skinfood Peach Cotton Powder, Kat Von D Lock-It Tattoo foundation, Glossier Cloud Paint blush, Milk Makeup Lip + Cheek Stick, Glossier Haloscoppe highlighter, Becca Poured Crème highlighter, L'Oréal Brow Stylist Definer, Kat Von D Tattoo liner.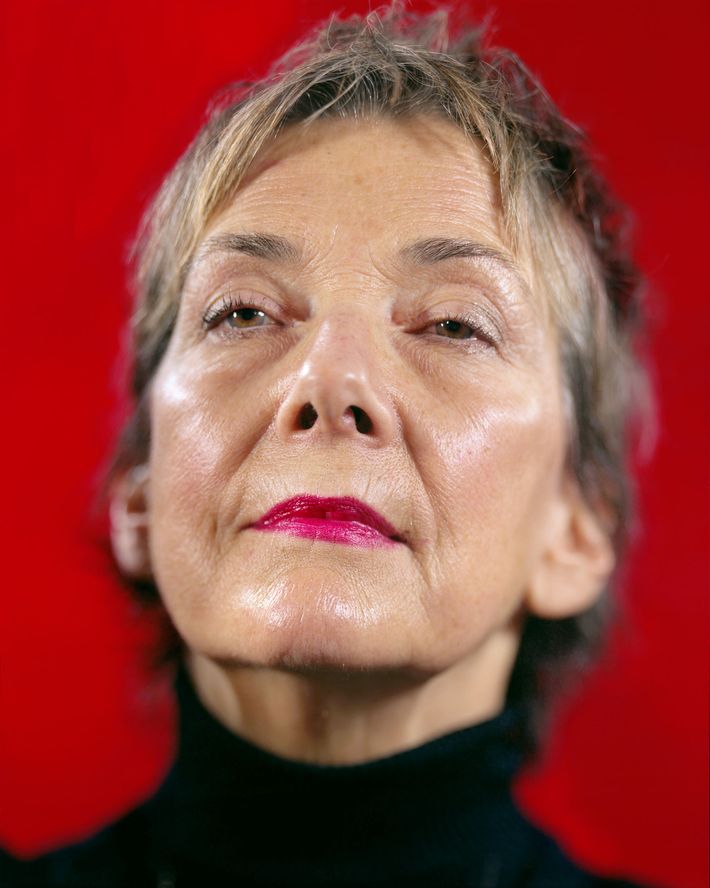 Maryjane Fahey, 65, editor of Disrupt Aging, creative director of Glorious Broads
Time spent looking in the mirror each day: Ten minutes tops in the morning, 15 minutes tops in the evening.
"My mirror mantra is 'Still lookin' good, baby!' But I say that at the end of my makeup session."
Wearing: Caudalie Paris Eau de Raisin Grape Water, Boom! by Cindy Joseph Boomstick Glo and Color, Bobbi Brown Nude Finish Tinted Moisturizer and No Smudge Mascara, Anastasia Beverly Hills Brow Gel, Guerlain Rouge G Lip Color.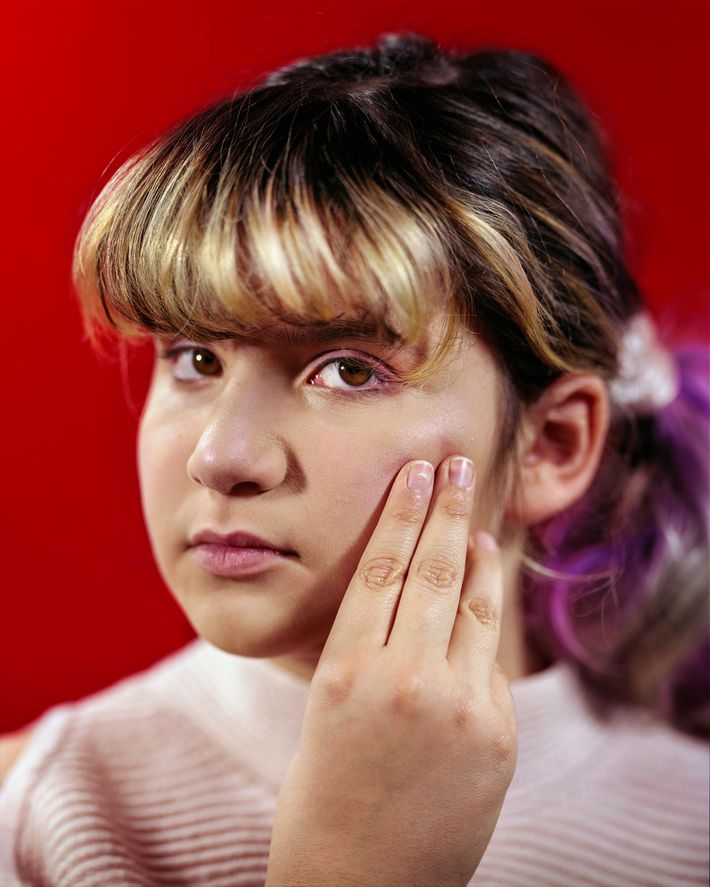 Emmanuelle Carucci Bendheim, 14, student
Time spent looking in the mirror each day: Honestly, not that often.
"My most defining feature is my hair because I always dye it really loud colors. Sometimes people have a perception about me based on my hair color. I don't think they think I'm emo, but people do see me like I'm the girl with the weird hair."
Wearing: Laura Mercier Translucent Setting Powder, Winky Lux highlighter, Too Faced matte bronzer, NYX cream blush, Make Up For Ever blush (used as eye shadow), M.A.C False Lashes mascara, Raisin + Cream lipstick, Absolute lip gloss.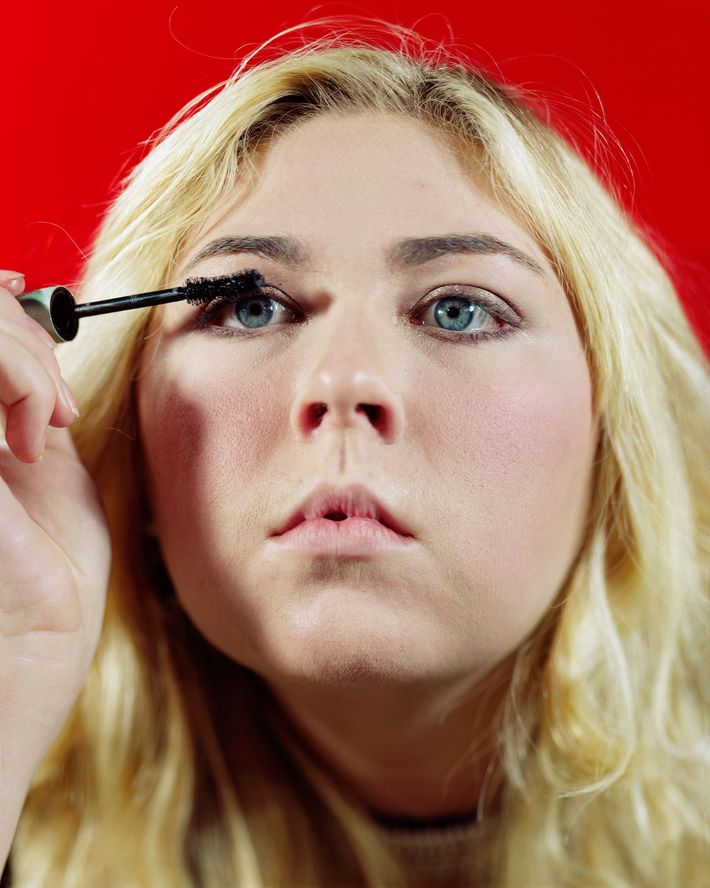 Kendelle Rose Pitts, 16, student
Time spent looking in the mirror each day: About one hour for morning routine.
"I have been told that I have 'kissable lips' — whatever that means!"
Wearing: Too Faced Bronzer, Tarte Amazonian Clay 12-Hour Blush, Tarte Rainforest of the Sea Foil Finger Paints Shadow Palette, Smashbox Cover Shot Eye Palette, Benefit Precisely My Brow Pencil, Too Faced Better Than Sex Waterproof Mascara.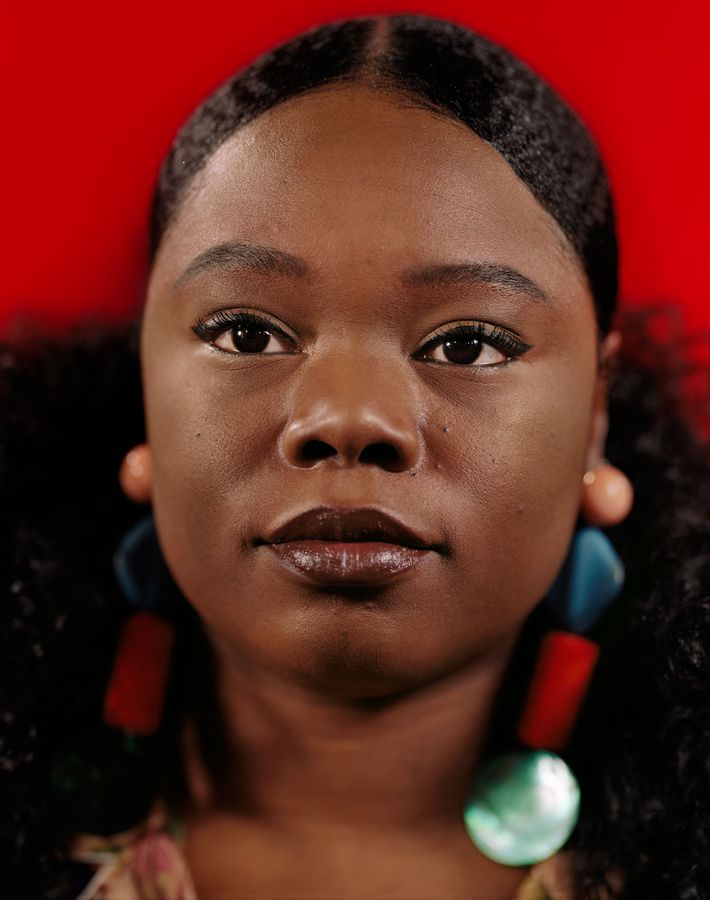 Micaéla Verrelien, 26, accountant, content creator, actress, model
Time spent looking in the mirror each day: About five minutes. Well, actually, that is a lie.
"I love looking in the mirror naked. Why? It is the purest version of myself. I feel confident, happy, and secure."
Wearing: Maybelline New York Fit Me Matte + Poreless Foundation, Hourglass Vanish Seamless-Finish Foundation Stick, Pixi + Chloe Morello Palette Chloette, Reina Rebelde Rebel Eye Definer Liquid, Essence Makeup Lash Princess Mascara, Reina Rebelde Bold Lip Color Stick.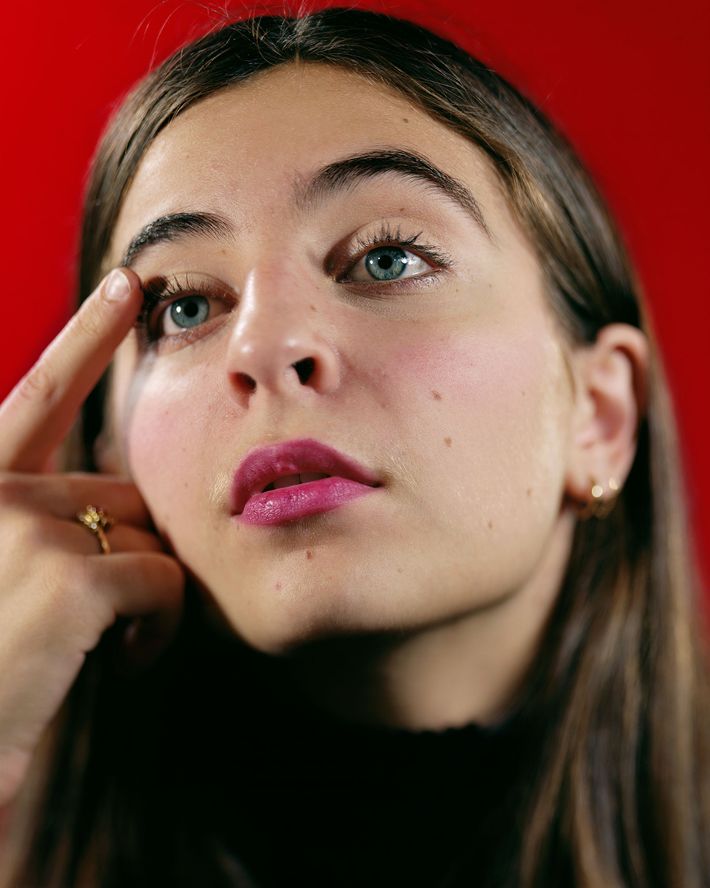 Celia Babini, 17, singer, actress, student
Time spent looking in the mirror each day: Probably a solid 15 to 20 minutes.
"Sometimes, if I'm nervous or anxious, I will go to the bathroom, wash my face, and remind myself I can do it."
Wearing: Dr. Hauschka Regenerating Eye Cream, La Roche-Posay Toleraine Teint Mattifying Mousse Foundation, Yves Saint Laurent Lèvres Palette.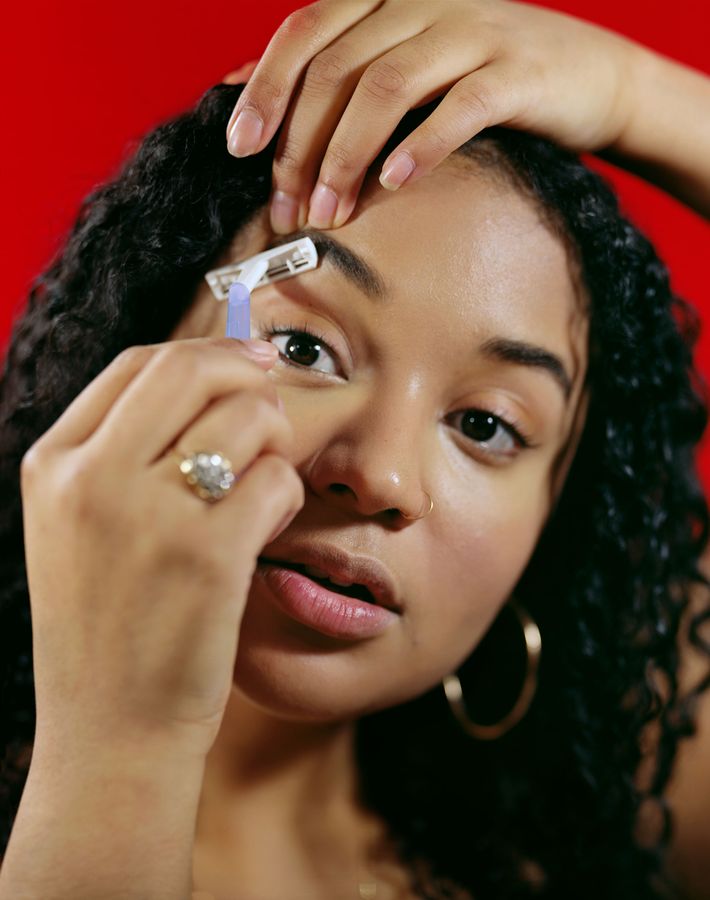 Audrey Williams, 26, creator of Lulu Linden blog
Time spent looking in the mirror each day: About two hours.
"Cheap Duane Reade razors work best for brows, because they only have, like, two blades. If there were more blades, you would most likely shave your whole eyebrow off."
Wearing: Physicians Formula Healthy Foundation, bareMinerals BarePro Concealer, BH Cosmetics Nude Rose Sculpt & Glow Palette, Pixi Glow-y Gossamer Duo Highlighter, Reina Rebelde Rebel Eye Definer Liquid.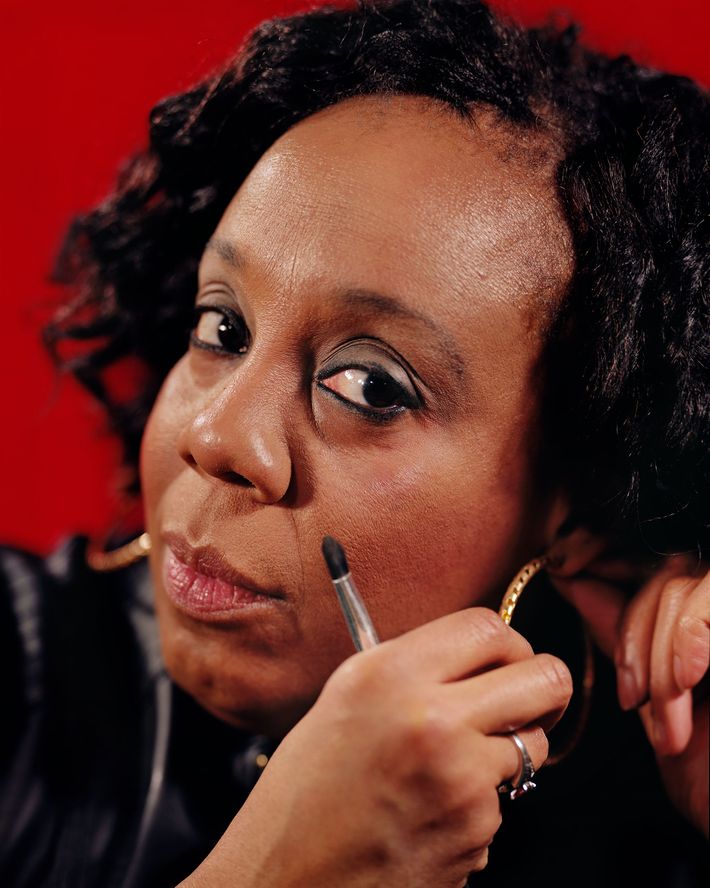 Loretta Fedrick, 43, loan account manager
Time spent looking in the mirror each day: One hour.
"Looking in the mirror makes me feel proud to be a woman, wife, daughter, and mother."
Wearing: Wet n Wild Eyeliner Pencil, Mary Kay cheek color, L.A. Colors 5 Color Matte Smokey Eye-shadow Palette.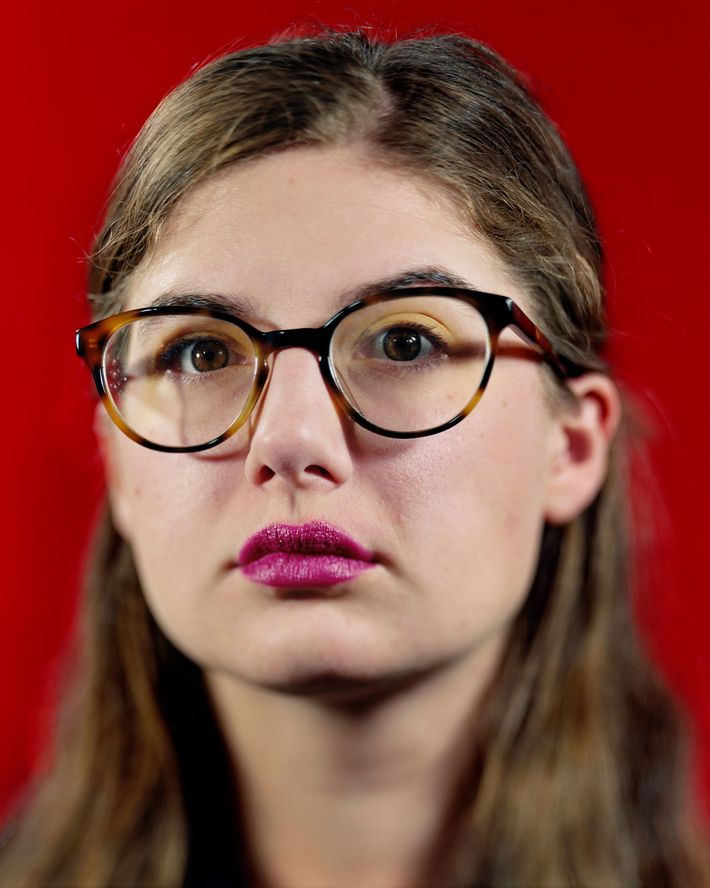 Caiti Borruso, 24, artist
Time spent looking in the mirror each day: Only a minute.
"Usually, I don't wear any makeup. I didn't even wear makeup to prom. Sometimes I remember to put on sunscreen. This is the first time I've worn eye shadow since I was 13."
Wearing: Fenty Beauty foundation, Dior eye shadow, Givenchy lip color, Catrice mascara.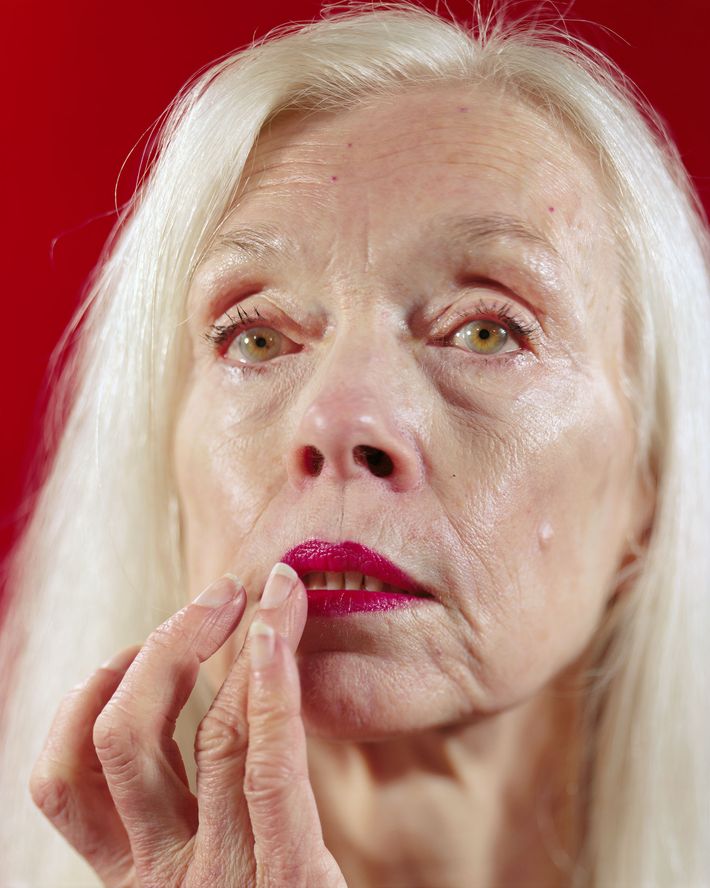 Nancy Wilson, 69, illustrator
Time spent looking in the mirror each day: No more than ten minutes.
"I'm rather proud of the fact that I have not colored my hair to hide the gray. In fact, people often ask me what hair color I use to achieve the silvery effect!"
Wearing: Maybelline Great Lash mascara, Max Factor Pan Stik, Wet n Wild lipstick.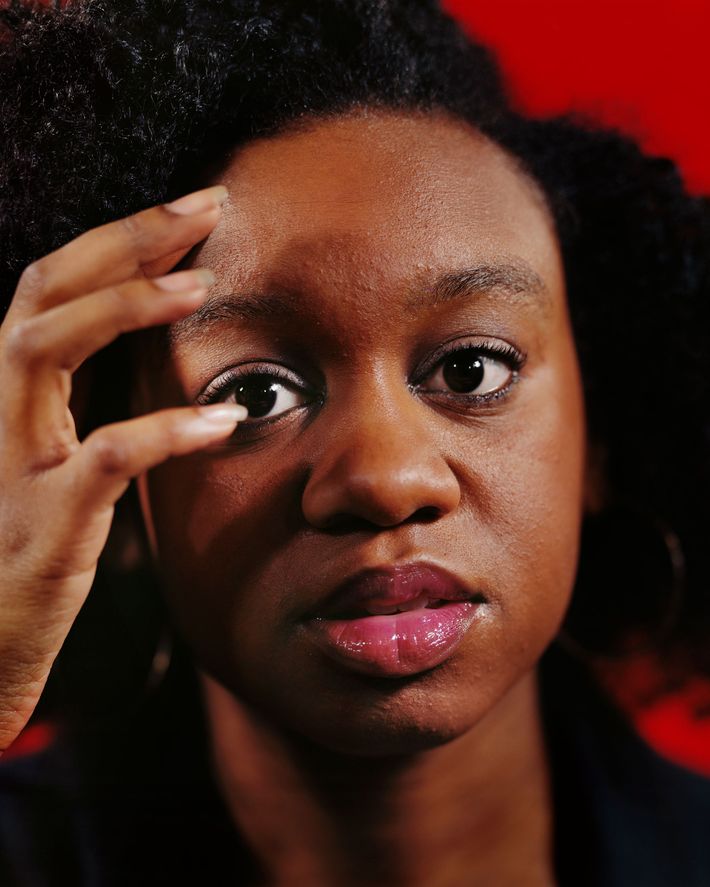 Dania Fedrick, 17, student
Time spent looking in the mirror each day: About 20 minutes.
"My most defining feature is my lips. I love them because they are full and beautiful and make me feel so confident with the right color gloss."
Wearing: Lock-It foundation, Mary Kay eyeliner, Mary Kay mascara, Mary Kay liquid eye shadow, Maybelline Fit Me Poreless Foundation, Pangea Organics lip balm, Simply Pleasures High Shine lip gloss.
*A version of this article appears in the April 2, 2018, issue of New York Magazine. Subscribe Now!