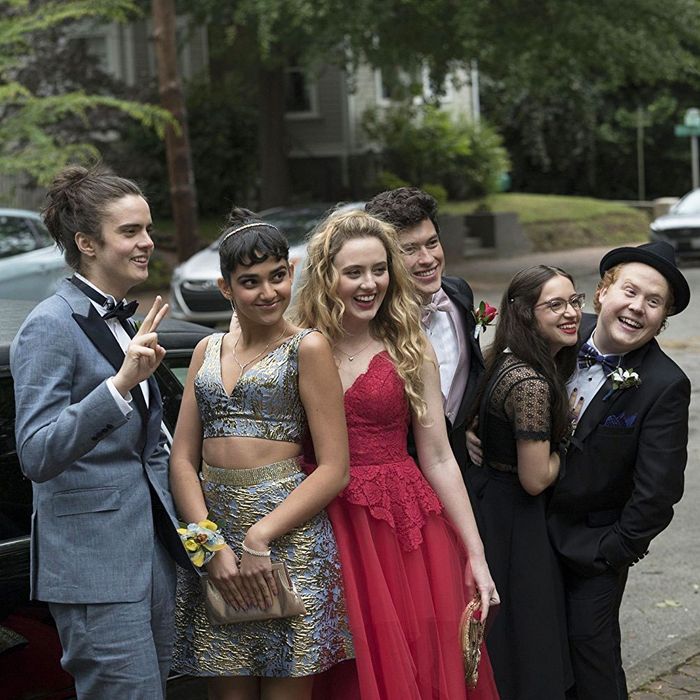 The
Blockers
teens in their prom dresses.
Photo: Universal Pictures
Like any person, I'm embarrassed by a lot of what I wore in high school. I look back in horror at the low-slung jeans and the layered tees. For what it's worth, however, I got one thing right: My prom dress. I found it in a vintage store. It was a '40s cut with a floral pattern on top and a floor-length, cream-colored skirt that hung straight. It was timeless and flattering and I probably should find a reason to re-wear it.
I flashed back to this outfit, and how proud I was of it, after seeing Kay Cannon's Blockers. The comedy, about a group of parents trying to stop their daughters from losing their virginities on prom night, is hilarious, moving, and unusually smart about the various ways young women approach sex. It's respectful of the three girls at its center, and that respect is evident in their prom ensembles. The outfits worn by Julie, Kayla, and Sam — played by Kathryn Newton, Geraldine Viswanathan, and Gideon Adlon — are distinctive and cute, reflecting their wearers' burgeoning senses of style — just like mine, I'd say. In a movie full of butt-chugging and vomit gags, the fashion is taken refreshingly seriously.
With apologies to the costume designer of Pretty in Pink, the most famous movie prom dress is notable for being hideous. In 1986, Molly Ringwald's Andie ruined a perfectly nice vintage dress with scissors, creating an ill-advised concoction of pink polka dots and inexplicably bare shoulders. Andie's dress is unintentionally laughable, but other prom scenes aim for the ridiculous, like when Rose McGowan is outed as a murderer wearing an overwrought updo in Jawbreaker. Most school dance fashion on film, though, is disappointingly bland, filled with spaghetti straps and pastels. Carrie White's slip dress is unimpressive before being covered with blood; Sandy Olsson's hand jive attire is basic, white '50s kitsch.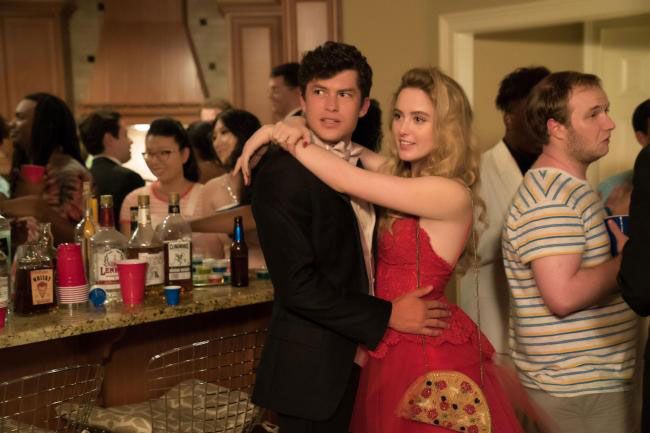 In Blockers the most traditional dress belongs to Julie, who, in many ways, has the most traditional story line. She's the first to announce that she's planning to have sex with her long term — for high school, anyway — boyfriend. She envisions rose petals on the bed and a very specific candle burning.
Costume designer Sarah Mae Burton says she assumed the character would consider her formalwear with the same amount of care. Burton — who was eager to do a prom movie — discovered in her research that today's teens pour over Pinterest in planning their perfect evening. "I put together a mood board that wasn't necessarily about the dresses in the images but the feeling they evoked and the sort of very romantic, glamorous evening that [Julie] would be preparing herself for," she tells the Cut.
Julie's the kind of girl with a Sixteen Candles poster on her wall. And, true to that ideal, her dress — a modification of a Nha Khanh design — has a full tulle skirt. But it's also a bold red, almost a hint that unlike the heroine of that movie in pale pink, Julie isn't going to wait around for a boy to whisk her away. She's going to orchestrate her own destiny.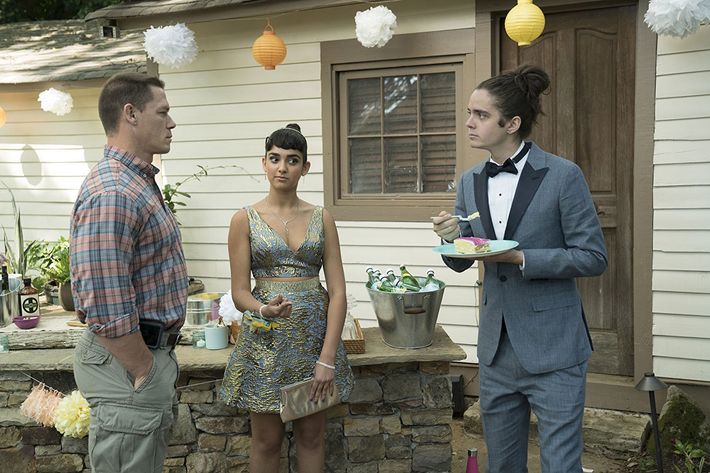 Kayla's dress was chosen with that same sense of identity. Kayla's life up until this moment has been defined by her athletic achievements. "I remember those girls from high school that you were like, Damn, I haven't seen you wear anything but sweatshorts like ever," Burton says. That's Kayla, and her two-piece reflects that. She bares the most skin of any of her friends — to the dismay of her overprotective dad (John Cena) — but at the same time she's showing off her physical accomplishments.
As Burton notes, the top has a sports bra feel. The material is sparkly and sturdy. It works in conjunction with Kayla's chill but focused personality. She's up for trying anything her druggie date has brought along, but she's also totally in control. While she ultimately decides she's not ready to have sex, she's not going to completely deny her own pleasure. Instead, she suggests her dude go down on her. He does.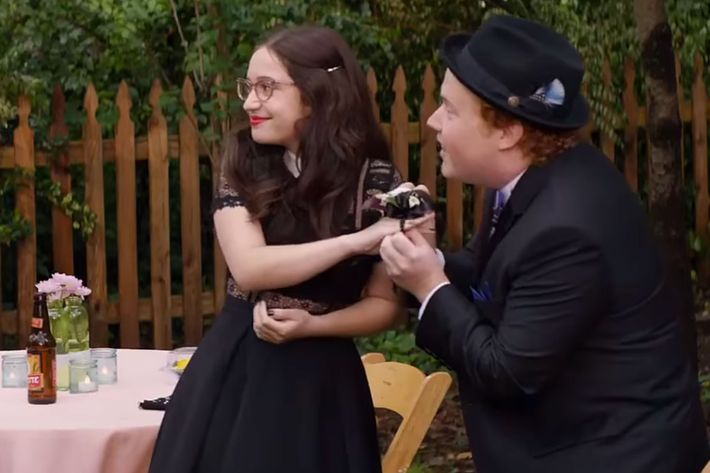 According to Burton, Sam was the hardest to dress. Of the trio, she has the most nuanced arc: She begins the film closeted, going along with her friends' sex pact because she doesn't want to be left out of their shared experience, but over the course of the night embraces her own desires. An early draft of the script noted that she had a crush on Tilda Swinton, so Burton first tried some asymmetrical, Swinton-esque gowns on her. But when Adlon tried on the Self Portrait gown she ended up wearing, her character came into focus. Its Wednesday Addams white collar and Edward Gorey color scheme nod to her interest in fantasy without being overt.
By contrast, Sam's love interest Angelica (Ramona Young) fully embraces a Lord of the Rings aesthetic, wearing a cloak she designed for Galadriel cosplay. Initially, the script called for Angelica to wear a tuxedo, but Burton demurred: "The more we dug into it it was like, okay, why does the one [already out] gay female character have to be in men's clothing? Why can't she be in a beautiful dress?"
The realities of production required Burton to alter the off-the-rack items she found for Julie, Kayla, and Sam. All the skirts were cropped shorter since mobility is key in the hijink-heavy, sometimes messy plot. She also needed to wrestle up multiples, which sometimes meant frankensteining new dresses from pieces with similar fabric. Still, Burton wanted some element of verisimilitude. Kayla's outfit came from Ellie Wilde, a prom line under bridal retailer Mon Cheri, and  extras wore gowns from brands like Sherri Hill and Rachel Allan. The dresses aren't cheap exactly, but prom is a racket in the real world. (According to a Visa Inc. survey the average cost of prom was $919 in 2014.)  "We wanted to make sure that it was something that felt like they would actually have access to," Burton says. "Perhaps they saved their allowance or their part time job money toward it." The dresses don't feel like they were plucked from the runway, but more crucially, they feel like looks the women wearing them would choose. Maybe in real life they wouldn't fit quite so well, but I'm willing to accept a little movie magic.
Blockers works because it's on the side of the high schoolers, and the parents are routinely called out for the insecurity that leads them on their mission. The movie never questions whether these girls are capable of making their own decisions about their bodies — when it comes to both sex and clothes.