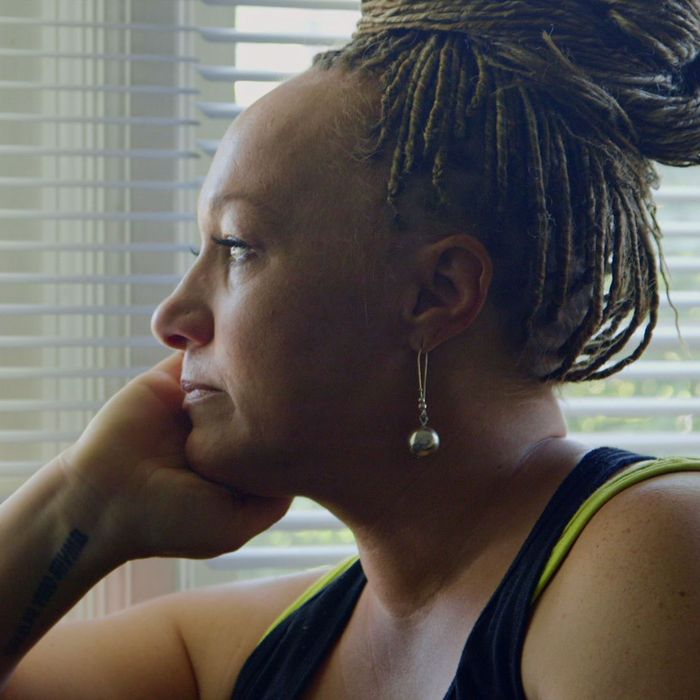 Rachel Dolezal in
The Rachel Divide.
Photo: Netflix
The Rachel Divide, the new Netflix documentary about race provocateur Rachel Dolezal, isn't easy to watch. Within the first few minutes we meet Rachel's 13-year-old son, Franklin, who functions as both critic and champion for his controversial mom. Franklin wants what any teen wants, to make friends and not be embarrassed. "Why don't you just let it go away?" he asks his mom in a shy voice, but she doesn't so neither can he, and we watch him defend her reputation and shrink into himself, all at once.
Later in the film, viewers are asked to exercise empathy as Rachel and two of her adopted black siblings recount the horrors of their childhood. They explain that their parents were emotionally and physically abusive, and accuse Joshua Dolezal, Rachel's biological older brother, of sexual assault. (Rachel's parents and Joshua deny these claims.) Each minute of the film is agonizing in some way or another — each minute, that is, except for the two minutes toward the end when Rachel does her hair.
The scene is a gift. We see Rachel — who now makes a living braiding hair — morph from a blonde who wears hundreds of pencil-thin, 3-feet dreadlocks, into a curly, shoulder-length brunette. Watching the scene felt like watching an assassin dart into a bathroom to disguise herself after a kill. At the end of it a version of David Bowie's "Life on Mars" plays in the background (some lyrics: It's the freakiest show/Take a look at the lawman/Beating up the wrong guy/Oh man, wonder if he'll ever know/He's in the best selling show/Is there life on Mars?) and Rachel whispers "Nkechi," her new name of West African origin that she's given herself, into the mirror. A reasonable person might say something extremely valid like "uh, that scene is Rachel's appropriation curtain call; she's doubling down on wearing blackness as a costume," and that person would be right. But you know what else that scene is? It's fucking fascinating. At long last we get to witness Rachel's black-hair routine, and whether you digest it as a car crash or candy, you can't stop watching.
Here's a play-by-play: The scene opens with Rachel cutting off her faux dreadlocks at home. This exposes her natural hair, which is brown, highlighted, and a few inches long. She then works in a muddy dye throughout her hair and for a moment you think: Is this where Rachel sheds this "transracial" business and embraces her true self?
Of course not.
She throws on a wig cap and sews in a curly brown wig that's been styled to resemble black hair. Before she's completely done, she teases her roots with a rat-tail comb and brushes her edges with a toothbrush. Say what you will about Rachel, but she's definitely watched a YouTube tutorial.
Even Rachel's biggest detractors can admit her hair is a source of reluctant wonder. "Rachel Dolezal Definitely Nailed The Hair, I'll Give Her That," wrote Kara Brown at Jezebel in 2015. Even back then, while we were starting to figure out how to absorb Rachel Dolezal, we had questions. "Why are you pretending to be black?" was the first, second, and third question, and "um, hey, how are you a white lady with black-lady hair?" was the fourth. After years of pretending the hair on her head was natural (while giving a lesson on black hair at her former place of employment, Eastern Washington University, she said she had "type 4" hair, the texture of Leslie Jones's curl for example), Rachel confessed to NBC News that she wore weaves.
We may not have asked Rachel Dolezal to show us how she played black-hair lady, but she gave us a demonstration anyway. And it's fitting that she did so in a movie — where performances belong.