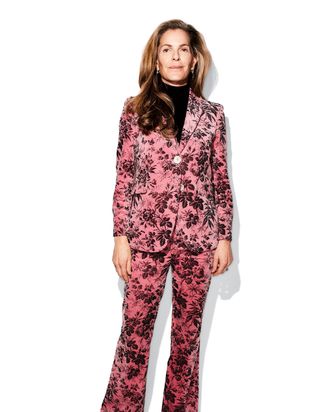 "Good plastic surgery doesn't stick out."
Photo: Bobby Doherty/New York Magazine
Patricia Loeb, Retired Clinical Psychologist
When did you retire?
A few years ago, and now I volunteer a few times a week with victims of domestic violence at a homeless shelter. The other days are a little more fluid. I handle our finances, which takes up a lot of time — my husband still works.
What does he do?
He's a plastic surgeon. Doctor Thomas W. Loeb.
Has he ever done any work on you?
Yes, I've had a blepharoplasty and a face-lift. But I still look like me! My husband has a light touch, a natural aesthetic. Good plastic surgery doesn't stick out.
Where's the suit from?
Gucci. I have eclectic taste; I like things from Pas de Calais and Zara to Dries and Dior. I also have a big collection of vintage clothes. I'm still the same size I was 38 years ago — I hope this photo comes out well, because I do look good for 65!
Lightning Round
From: Spring Lake, New Jersey.
Neighborhood: Nomad.
Kids: Two sons.
Key to a long and happy marriage: "It's important to have a balance of independent interests and shared activities."
Favorite restaurant: Via Carota.
Currently reading: The Ninth Hour.
Currently watching: The Looming Tower.
*This article appears in the April 30, 2018, issue of New York Magazine. Subscribe Now!