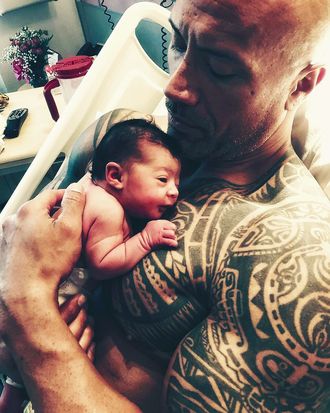 The Rock and baby Tiana Gia.
Photo: therock/Instagram
As England welcomes a new prince, those of us across the pond can celebrate the arrival of our true royal baby: Dwayne "the Rock" Johnson's newborn daughter.
Johnson, a very muscular ray of sunshine, announced the birth of Tiana Gia — his second daughter with girlfriend Lauren Hashian — on Instagram today. "If you really want to understand the single most powerful and primal moment life will ever offer — watch your child being born," he wrote. "Its a life changer and the respect and admiration you have for a woman, will forever be boundless."
Johnson has another child, Jasmine, with Hashian and a teenage daughter, Simone, with first wife Dany Garcia.