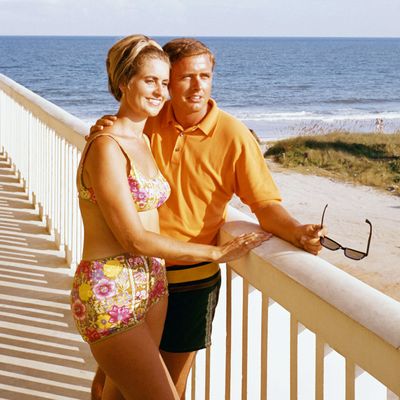 Photo: Aladdin Color Inc/Corbis via Getty Images
The Dry Bridge Market in Tbilisi, Georgia, winds down the left bank of the Mtkvari River, which cuts the city in half like the Seine in Paris. The man I'm with pulls me across the road to examine the market's riches of Soviet memorabilia and contemporary handicrafts. Tbilisi doesn't have many crosswalks, so I've spent most of my ten days here being coaxed out into traffic like a dog that hates rain. Holding hands with a cute man makes this mad dash a little more palatable.
Luka and I had met just two days prior, when he chased me down after meeting at a dive bar and shoved a pen and paper in my hand, imploring me to write down my number. "I don't live here," I said. But he already knew that. And after multiple failed attempts, he finally landed on the correct country code to add me on WhatsApp.
As I browse the scarf selection, two elderly women tell Luka that we're a cute couple — at least, that's what he tells me they said. He buys a little silver general to add to his collection of small, metal figurines, even though we can both tell that it's actually a plastic Kinder Egg prize that's been spray-painted.
Watching us at the flea market, you wouldn't guess that our history was so brief. Over the past several days, Luka and I had settled into an easy routine: He picked me up from the apartment where I was staying while my host, a close friend from college, was at work, and then drove me around the city while we listened to the Doors and he pointed out various attractions.
Approximately 6,000 miles away in Brooklyn, where I lived, many more convenient prospects awaited me on Tinder and Bumble. There was also the handful of men I'd already met, dated, and been intimate with, who had a tendency to disappear and resurface again months later like orphaned ankle socks. These impermanent relationships back home had provoked everything from minor annoyance to full-blown angst. And yet, I found my limited time with Luka incredibly refreshing, even — maybe especially — with the knowledge that I would probably never see him again.
"It's so great to experience this self-contained thing," I said to my host, flopped in the back of one of the city's smoky cabs.
"It's a micro-romance," she replied. It seemed like the perfect term.
"There's something really nice about these weekend romances or travel romances. It's forcing you to stay in the moment," says psychotherapist Rachel Sussman, author of The Breakup Bible. "You're not having that feeling of being on an audition." In her book, Sussman explains how these types of "micro-romances" can act as transitional relationships when someone has reached a healthy point post-breakup. Rather than the stereotypical sexual rebound that might tempt us immediately after heartbreak, it functions as an emotional palate cleanser to get us back on track to forming meaningful connections.
A friend I'll call Charlotte, a writer in Brooklyn, experienced this type of transitional fling after the dissolution of a four-year relationship. A week and a half before she was supposed to move across the country, she met a guy she immediately connected with. "We spent seven of those 10 or 11 nights together," she explains. "He was just very different from the person I'd been dating, and I felt seen by him in a way that I hadn't been [by my ex]." On the day Charlotte moved, her new partner drove her to her parents' house — which involved meeting her mom. A moment that might otherwise put pressure on a new relationship felt totally natural, she says, because both Charlotte and the guy were on the same page that things wouldn't continue. They said good-bye that day, and haven't seen each other since.
"It didn't hurt or anything," Charlotte says. "Something can just be brief and ideal in that briefness." The worst part of a breakup is when one person is blindsided — and in a true micro-romance, that's never the case.
Emily, who works in marketing in Boston, had a similar experience to Charlotte after having her heart broken by a previous relationship. A few brief flings later, she met a graduate student she deeply connected with — but several weeks into dating, he started getting job offers in other cities. "I really didn't feel like I was wasting my time with him," she says, "even after I recognized that there was this expiration date." Ultimately, they called things off after a month so that they could both focus on their next career steps, but she still thinks of the experience as a significant one. "It was this microcosm of feeling and emotion and physicality that was just so nice," she says.
It's hard to find good examples of the micro-romance in movies and on TV. Romantic interactions seem to fall into two camps — the torrid one-night stand, or the interaction so meaningful that the characters are destined to find one another again. But what if Before Sunrise wasn't a trilogy, and Jesse and Celine never met up again? Or Grease's Sandy and Danny left their summer loving behind once summer ended? Couldn't these be considered happy endings, too?
Sandra, a school administrator and new mom, had a summer love affair in Guatemala between her sophomore and junior years of college. Both partners knew the relationship wouldn't continue when she went back to school. "I remember we had a little talk about how we would miss each other," she says. He gave her a flower and a Spanish copy of the movie Going the Distance. "I thought it was such a sweet gift, and I actually watched it on the plane ride back." By the next time she was in Guatemala, he had a girlfriend, so they haven't seen each other again.
While interning at NPR, my friend Tahsan had a summer romance he says that he may never top. He and his fling went to concerts together, and somehow kept things sexy despite the fact that Tahsan was sleeping on his aunt's couch. He still remembers the song that was playing when she dropped him off at the airport: "Neither One Of Us," by Gladys Knight and the Pips. "I may text her once a year when something reminds me of her," he says, but they live on opposite sides of the country now.
The micro-romance is not a new concept, but something increasingly hard to commit to when technology dangles the possibility of ongoing contact. But as long as both people are on the same page about its temporality, a micro-romance avoids the biggest pressure on a new relationship: uncertainty about the future. "People are much better daters when they stay in the moment," Sussman says. This spell is lifted "the moment you start wondering when is he going to call me again, or start scribbling his last name on a piece of paper," she adds. Or, as Charlotte puts it to me: "You spare yourself the agony and the disappointments that go along with the end of any relationship and you just have a honeymoon."
In fact, the only real drawback I found in talking to people about their micro-romances was a botched good-bye. Lanie, a master's student in North Carolina, still remembers the summer she spent in Hilton Head with a wonderful guy. But within a week after they parted, he declared himself "in a relationship" with a girl she had seen posting on his Facebook wall. "I realized he wasn't who I thought he was if he was able to spend all that time with me and have someone else waiting in the wings," she says. "I tried not to let that ruin the memories I had with him, but it was pretty hard."
Midway through my visit in Tbilisi, I noticed my host's desktop background was a beautiful mountain vista with a man walking ahead of the camera. They had met through Tinder while he was visiting Georgia, and they spent a weekend together in a cabin overlooking the Kazbegi Mountain region. "It was really fun and comfortable, and felt more like we were a couple that had been dating for a while," she says, but when it came time to part ways — they were both hitchhiking in opposite directions — he left her with a quick hug. "That was the only thing that I regretted about the whole thing because it just left me feeling a bit weird afterward," she recalls. "I just kind of wish we had had a smoother and sensitive good-bye."
As my own romance wound down in Tbilisi, I began to notice fundamental incompatibilities between Luka and I. He tried to convince me that Google's James Damore actually had some good points, and I watched his eyes glaze over as I compared the merits of various upstate New York enclaves with a fellow Brooklynite we ran into at dinner. Sussman says there is a stereotypical anecdote about travel romances forced to be more: "They show up, you have a date in your city, and you realize you have nothing in common." If Luka and I attempted to keep things up long-distance, I'm fairly confident this is what would have happened to us.
But I'll never know for sure. My last morning in Georgia, Luka drove me to the airport for an early flight and I thanked him for being a wonderful companion, managing a goofy smile as I rode up the elevator, hands too full to wave. I let him know when my plane landed, but haven't been tempted to talk to him since. In the meantime, I've come to realize that our relationship was like that Kinder Egg prize dressed up to look like silver. It's fine, as long as you know what you're getting. In fact, it was pretty great.