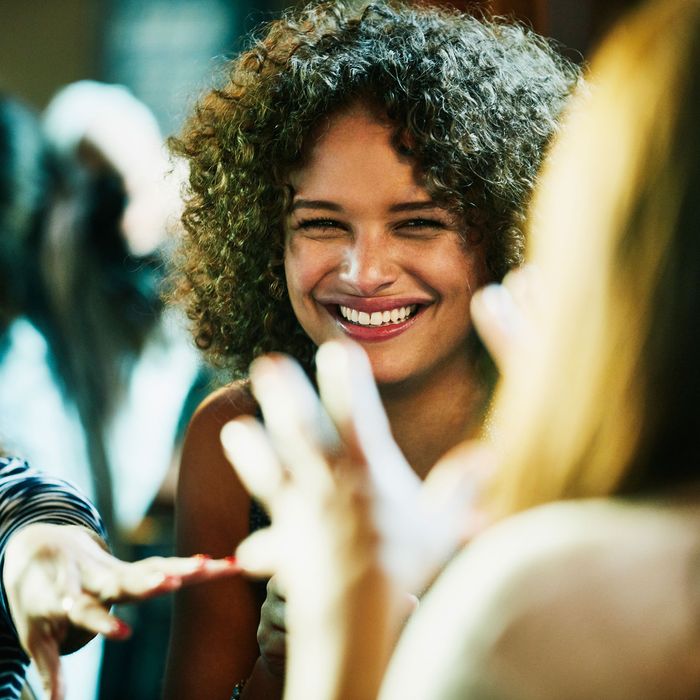 Photo: Thomas M Barwick INC/Getty Images
In an episode of the television show "The Marvelous Mrs. Maisel," which is set in 1958, the main character, Midge, goes to bed wearing all of her makeup. Only once she's sure her husband is asleep does she sneak to the bathroom to wash it off and apply face cream. In the morning, she gets up before him to put her makeup back on, then returns to bed as if she'd never had her night cream on at all.
It's a lonely, furtive kind of self-care — and it couldn't feel more different from the way we handle beauty 60 years later. After decades of treating skin care like a dark secret, women are divulging their routines with the same level of openness and specificity we're using to dissect our feelings for Timothée Chalamet — and we're doing it in public forums, such as beauty-specific podcasts or Facebook, Reddit, and Slack groups.
This candor is bringing us closer. It's not just demystifying whether other women are experimenting with lactic acid or wondering if The Ordinary works — it's also propelling us to bond over things beyond skin care. For many women, what started as a way to compare beauty routines online has turned into real-life friendship.
Jackie Johnson, who hosts Natch Beaut, a podcast that focuses on vegan and cruelty-free products, has watched, amazed, as her listeners became friends through the Facebook and Snapchat groups she set up to bolster the podcast.
What started as posts about face-mask hauls and questions about SPF turned into confidences about job struggles and marriage problems. "It became about more than the skin care," Johnson says. "It became a place where they connected."
Women in the group started meeting IRL. One day, Johnson was watching the Snapchat feed and was surprised to see a woman who lived in Dallas pop up in shots by a woman who lived in Austin. "She drove three hours to hang out with her," she said. Another group in Pittsburgh gets together regularly. And when people post about hardships in their lives, other women in the group send them money.
On the review site MakeupAlley.com, members have posted on the boards about IRL hangouts, too. And the Facebook group for Forever35, a podcast about self-care, has started subgroups about dating, mental health, and being over 45. The New Yorkers in the group are planning a meet up in April.
Skin care has also helped Alison Barretta, an editor in Philadelphia, reconnect with old friends. She started posting pictures of herself on Instagram in sheet masks that looked like animals' faces. Some friends she's had since high school, but had drifted apart from even though they still live relatively close to each other, asked about them.
She started giving them her leftover masks, and they started buying their own. Soon they were texting about new ones they found in local stores and meeting to swap masks. "It's something that we can all fan-girl over," she says. "We can be like, 'Look what I found.' Or, 'Have you tried this one?' It's brought us closer together. Skin care is a jumping off point for everything else."
At the public relations firm where Anna Swenson works, there is Slack group dedicated to skin care and makeup, called "Glossy." She's based in a satellite office in Seattle with only two other employees, and the Slack group has helped her feel close to female co-workers she's never met. (In an office of 120 employees, the group has 48 women in it. There aren't any men in the channel, although they're not barred from joining.)
For example, a new manager's presence in the Slack group helped Swenson feel acquainted with her even before they worked on a team together. "It's been a safe space for us to be ourselves," she says. "It can feel like beauty is a silly thing to spend all day talking about, but we understand that we're serious people and committed to our careers, but we also love beauty."
At the yearly company retreat, the members of the Glossy Slack met up and Swenson gave them face masks. The 48 women in the group also actively recruit new members. One woman suggested a new employee join by telling her, "I've seen your eyebrows and we all need to know what you're doing."
"My work life would be lonely without it," Swenson says. When she confessed to one of the company's founders she spent hours a day in the channel, she worried he might not approve. Instead he said, "We're into whatever keeps people happy."
Johnson thinks it makes sense that talking about skin care creates a strong foundation for friendships. "The most intimate place in my whole house is not my damn bed," she says. "It's my bathroom cabinet."
Kayleen Schaefer is the author of the book Text Me When You Get Home, about the power of female friendship.