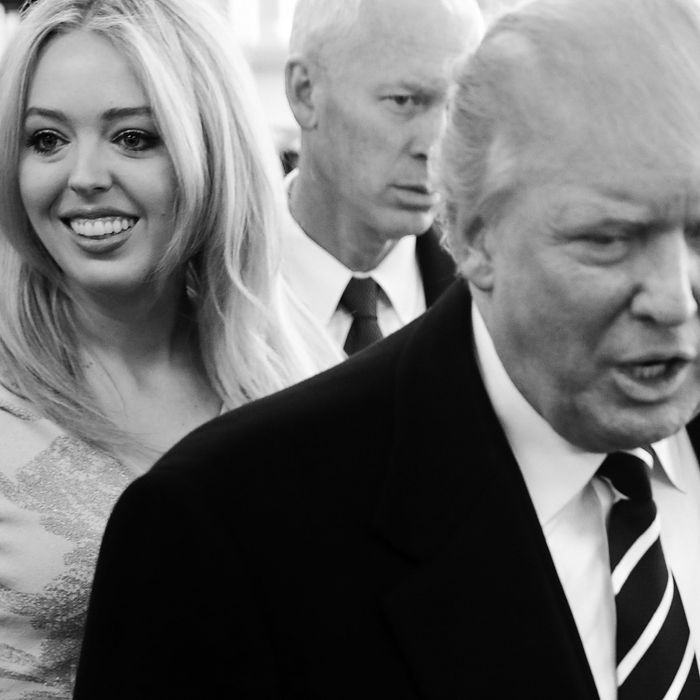 Tiffany and Donald Trump.
Photo: Chip Somodevilla/Getty Images
Don't let the warm and not at all uncomfortable-looking pictures of Tiffany Trump with her dad Donald and stepmom Melania from Easter fool you: Apparently, the youngest Trump daughter feels "awkward" around her president father.
According to a new report by People, Tiffany — a law student by day, jewelry designer by different time of day — is just as close with her dad as you always thought. "They always had a strained relationship her whole life, and it got exacerbated by the presidency," a source told People. "It's gotten much worse now."
You see, Tiffany briefly campaigned for her dad during the 2016 presidential election — and got to partake in some "bonding moments" with ol' Donald on the road. However, whatever closeness that existed between them was short-lived, and now they don't really talk.
Per People:
"Since the inauguration, Tiffany and her father have sometimes gone for months without speaking and she went a very long time without seeing him," a source close to Trump's younger daughter says. "The last time she was at a family function with him, it was awkward for her and she didn't feel totally welcome."
No word on how Tiffany's "strained" relationship with the president affects her friends' abilities to Instagram from the White House.