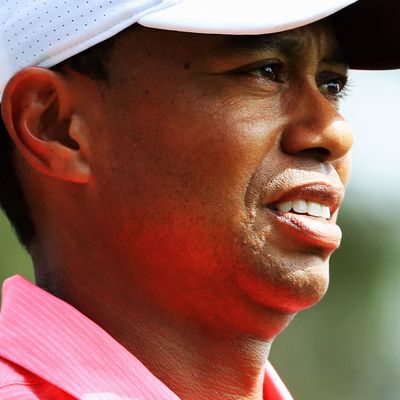 Tiger Woods.
Photo: Andrew Redington/Getty Images
Tiger Woods's ex-girlfriend is trying to break the nondisclosure agreement that he made her sign, according to TMZ Sports, and the serial-cheating golf star is worried.
The ex, Kristin Smith, and Woods are reportedly in arbitration over the aforementioned NDA, which Woods allegedly made Smith sign in 2017 after dating for two years. Sources familiar with the situation told TMZ that Woods forced the agreement because Smith believes he cheated on her, and Woods didn't want a repeat of his explosive cheating scandal in 2009.
Did Woods have affairs with 121 more women? Who's to say. (Oh, maybe Smith.) According to TMZ, she's currently arguing that the NDA is unenforceable, though her reasoning why is unclear.
In response to Smith's motion to invalidate the agreement, sources told TMZ that Woods has threatened to leak embarrassing pictures of her if she speaks publicly about the end of their relationship.
If Woods's ultimate desire is for the public to believe that he's a changed man who would never again hurt a partner like he did in 2009, threatening to commit revenge porn is maybe not the best way to go about that.