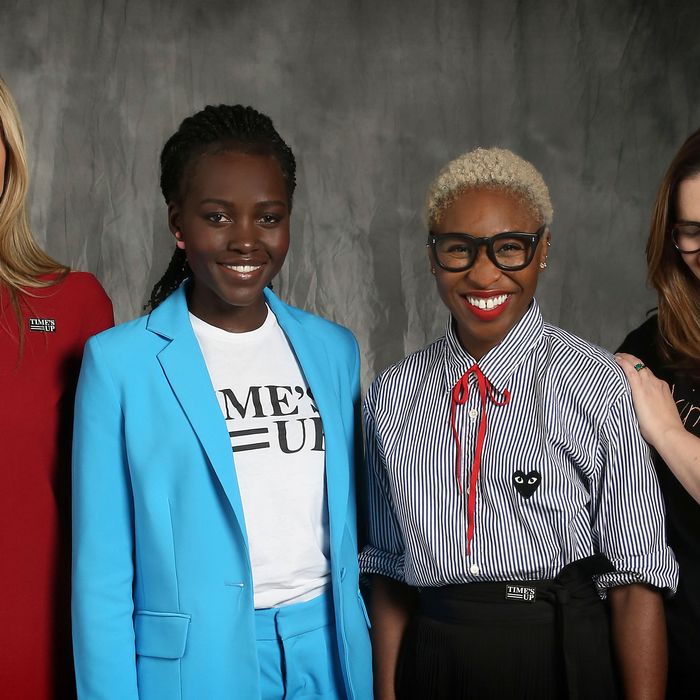 Mira Sorvino, Lupita Nyong'o, Cynthia Erivo, and Amber Tamblyn.
Photo: Monica Schipper/Getty Images for Tribeca Film Festival
Before joining the call to "#MuteRKelly" this morning, Time's Up hosted its first New York City event at the Tribeca Film Festival last weekend. Lupita Nyong'o, Julianne Moore, Ashley Judd, Marisa Tomei, and other powerful women representing a range of industries led a full day of panels at the festival on Saturday. Below, a brief recap of some of the day's highlights.
Julianne Moore said Time's Up has changed her as a mother: In one of the morning's first conversations, the actress joined the stage with Jurnee Smollett-Bell and described how her involvement with Time's Up opened her eyes as a parent. "When this movement started, I felt sure that I hadn't personally been a victim of sexual harassment or assault. But as I read and listened to the countless other women's stories, I began to look at my experiences through a different lens," she said. "The actions of Time's Up prompted me to have important conversations with [my teenage daughter] about what behaviors are and are not acceptable."
Lupita Nyong'o shared who she likes to work with: Nyong'o participated in a discussion called "Reclaiming the Narrative," led by the writer Michaela Angela Davis, and talked about the importance of partnering with like-minded women who also want to portray powerful female characters. "I know my story best," Nyong'o said, "and I want to be able to tell my story and tell it with people like me who also feel this gaping hole of representation."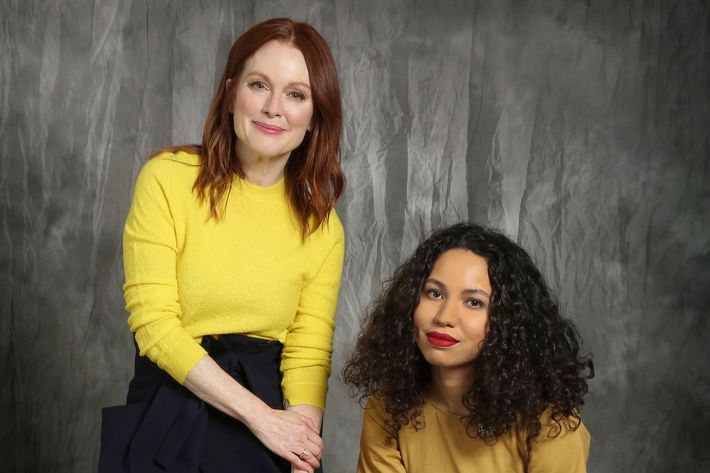 Amani Al-Khatahtbeh, founder of Muslim Girl, said to think about your retweets: On a panel titled "Rewriting the Story: Women in Media," she and panelists including Joanna Coles and Amy Emmerich discussed how we should tell stories — our own and other women's — post-#MeToo. "Right now we're in a moment with Muslim women where people love to see us, but they don't necessarily love to hear us. And we're working to change that. Elevate marginalized voices by retweeting and amplifying them," she said. New York Media's CEO Pam Wasserstein was a fellow panelist and added what this looks like in the workplace: "If you are a woman in a position of power, bring other women into the room with you."
About the portraits: Between panels, the Time's Up speakers and attendees stepped into a photo area to meet each other, give interviews with the press, and pose for portraits. "Today is not only about speaking to how we arrived at this moment, but also looking forward towards tangible solutions," Jurnee Smollett-Bell said. Solutions brought up throughout the day included women speaking up and telling their stories loudly, and including men in conversations about equality and change.