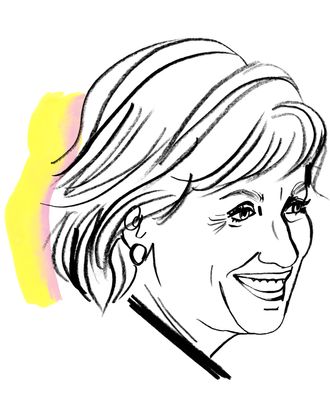 Illustration: Lauren Tamaki
Tina Brown is the former editor of Vanity Fair and The New Yorker, founder of The Daily Beast, and founder/CEO of Tina Brown Live Media, which produces the annual Women in the World Summit at Lincoln Center. She is the author of the biography The Diana Chronicles and the memoir The Vanity Fair Diaries, which details her years editing the legendary magazine. Brown lives in New York with her husband, Sir Harold Evans. Here, she shares how she gets it done.
On a typical morning:
I always get up at 6:00 a.m. and head straight to the gym. because if I don't, I'll never do it again. Then when I come back, I blow-dry my hair and grab my iPad and head around the corner to the Sutton diner on 57th and 1st. I peel Harry off his computer and he joins me there and then we like to sit in the diner for the next hour and a half, or sometimes two hours, devouring our news, I like to say. I go online and read every damn thing because I am a complete news junkie. [Harry and I] talk about it all the way through — we do our sort of "news duet" together.
On where she's getting her news these days:
I have a huge range actually — obviously the Times, the tabs, and then I'll go to the Journal, I'll go to the FT, which I like a lot. The Guardian, the BBC, Reuters, Drudge, Axios, Politico, Vox — there's nothing I'm not into, frankly. I'm a huge fan of the Washington Post and then there's the links that everybody's always sending me in people's Twitter feeds, so I have this big, omnivorous news orgy every morning.
On travel:
I travel quite a lot both for Women in the World and speaking engagements. In January, I went to Davos, the Monaco Business Forum, L.A. for the Women in the World Forum, then I came back and went to Washington. What are my secrets for travel? I hate the logistics of travel. I've learned to get a few things right in the sense of traveling with a suit bag always with one outfit in it so I don't have to press something when I arrive. I take a ziplock bag full of everything I think I might lose, like my passport, I.D., currency … it's the secret of the ziplock bag.
On packing effectively (or not):
The less you can take, the better — but I've never really managed to abide by that, unfortunately. I always plan to take very little and then have a panic attack about "what if, what if, what if?" and end up with too much.
On the skills journalists need: Intense curiosity, and an intense willingness to pursue leads with enterprise. Even now, I will make a tremendous effort to go somewhere if I think there's somebody there who's got a story that I want. Sometimes I think people think they can get everything on the screen, and they cannot get everything on the screen. I would advise young journalists to be constantly going to discussions, panels, events. Get out, get to know the people, take the business cards, make the connections personally, because you don't know when you're going to need them. Never throw away a bit of paper with a phone number.
On what she told her daughter when she entered the professional world / the art of the follow-up:
My daughter actually entered the news business, too. She's a booking producer at Vice Media, on the Josh Tyrangiel news show. She's actually a terrific journalist herself; she has a real news sense and an ability to track people down that I'm in great wonder of. I often say to her she should have joined the CIA. My advice? I'm a huge fan of the follow-up. It might sound very boring, but I'm just stunned at how few people know how to follow up on a connection. Make sure that you stay in touch with the people you're interested in, make sure they're aware of you, that you stay on their radar. To track a story, you need to stay on people's radar and be continually alert as to what's happening on that story, so you can continuously make contact even if they've turned you down once, they're not going to the next time. If you've forged a connection, chances are you'll be the one that gets the story when it breaks. It's remarkable how much these people appreciate hearing from you when you don't want something from them.
On what set apart this year's WITW lineup from years past:
I've always felt that it's the combination of things as much as it is the things alone that makes something really exciting. There's not many summits where you're going to see Asia Argento alongside Sally Yates alongside Viola Davis alongside Ronan Farrow alongside Hillary Clinton as a moderator on a panel about the rise of Russia. We've gone deeply into the global aspects of #MeToo but we're also deeply into the political uproar in the United States. We have Kirsten Gillibrand and Lisa Murkowski as well, who are going to be talking about what it is like right now in the moment of this crisis in the Trump administration to be in the Senate across the aisle from each other. Hillary Clinton has been to Women in the World eight or nine times now, and she likes to do something different each time, and this year she said she was up for moderating. I thought, how great it would be to have her asking the questions of these four global journalists who have been on the front lines of oppression regarding Russia, China, and Turkey.
On whether #MeToo would have taken off to this extent if Hillary Clinton had been elected: 
I think it was bubbling and boiling as we've seen with the Bill O'Reilly stuff, the Fox stuff — Gretchen Carlson was actually one of our speakers the year before, so I think it was all boiling away, and I think her loss and Trump's gain … it's not just that she lost, but that Trump, who is such a vocal, grossly demeaning person with regard to women, has just triggered something deeper, wider, and more explosive than it would have otherwise.
Her other projects:
My book, The Vanity Fair Diaries, was bought by Bruna Papandrea, the executive producer of Big Little Lies, and we're developing that into a streaming video TV property, so there are a lot conversations about collaborating on that, which is exciting. I'm also working on blowing out Women in the World as more of a multiple platform in other ways. And I'm thinking about another book, so there's a lot that's happening.
On sleep:
I don't get a huge amount of sleep during the week but then I have sleep orgies on the weekend. I can go four or five hours during the week, then come Friday I'm totally in a different zone, so I'll head out to our house in Quogue and I'll have an afternoon in front of the fire, where I might sleep four hours on Saturday or Sunday, and it's just so cozy and fabulous. I love that, with the fire raging in the winter. Catching up is all about the weekend, or rather, the weekend is all about catching up.