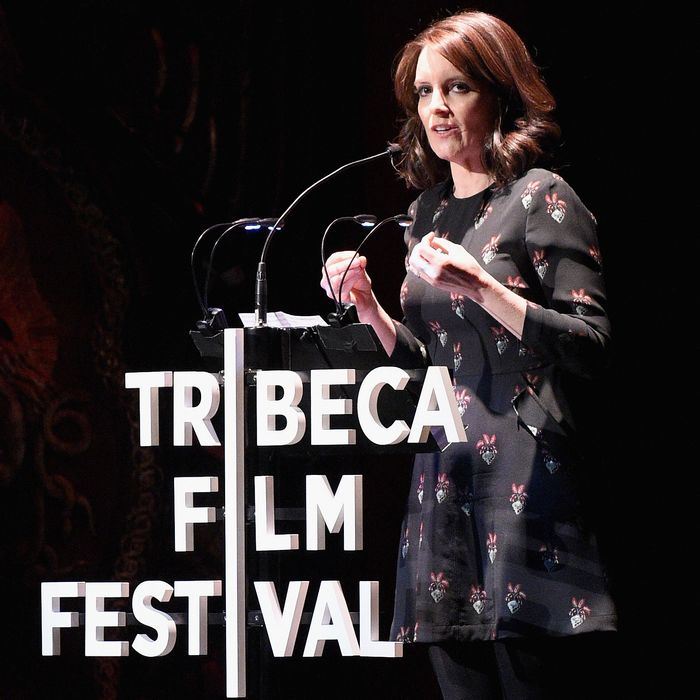 Tina Fey.
Photo: Dimitrios Kambouris/Getty Images for Tribeca Film Festival
On Wednesday evening, Tina Fey showed up to introduce the Tribeca Film Festival's opening-night film Love, Gilda, a documentary tribute to comedy icon Gilda Radner. In front of a packed house at the Beacon Theater, Fey spoke movingly about how Radner inspired generations of female comedians to come, and how her unapologetic individuality was a beacon to young women hoping to break into the boys' club of '70s comedy.
"I can personally attest, and I feel comfortable speaking for Amy Poehler, Maya Rudolph, and Rachel Dratch when I say that seeing Gilda as a kid," said Fey, visibly beginning to choke up. "[She was] so authentically herself and so regular in so many ways. She was not a piece of casting, she was who she was on TV. We all saw that and said, 'I want to do that, and it's possible because I see her doing that.'"
The film, directed by Lisa D'Apolito, chronicled Radner's too-short life — her rise to America's sweetheart as one of SNL's original "Not Ready for Prime Time Players," her tumultuous romantic entanglements, her struggles with eating disorders and low self-esteem, and her admirable resilience in the face of the ovarian cancer that ultimately killed her at age 43. Radner always had a unique ability to light up a room and make everyone fall in love with her, and the film was a testament to that singular magnetism – an irrepressible positive energy that not even terminal cancer could dim. The film included a wealth of archival footage, including audio recordings of Radner reading from her diaries and clips of her beloved characters like Roseanne Roseannadanna and Emily Litella, as well as talking-head interviews with Gilda's peers (Laraine Newman, Martin Short) and those who followed in her footsteps (Amy Poehler, Maya Rudolph, Melissa McCarthy).
"It was an early example for me of how important representation is, for everyone from every walk of life. Gilda was our equivalent of Michelle Obama," said an emotional Fey. "And that is why Lisa's film feels like a miracle to me: It felt like I was getting to spend time with someone that I never knew, that I very much would have wanted to spend time with."