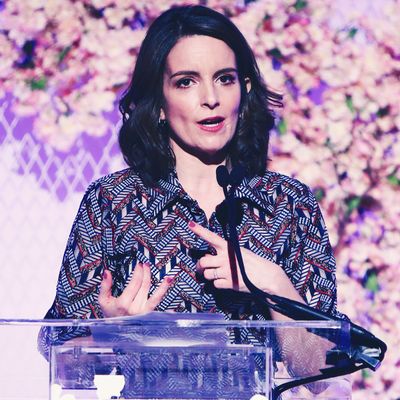 Photo: Amy Sussman/Variety/REX/Shutterstock
This year, Variety held its annual Power of Women event at Cipriani on Wall Street, presented by Lifetime television and sponsored by Karma Automotive and SheaMoisture. While the luncheon has always been an occasion to honor important women and the charitable causes they stand for, this year's event took on particular weight in the wake of #MeToo, as many presenters and honorees spoke passionately about the movement and its gains (while still managing to squeeze in some jokes). Here are the best quotes we heard from the day:
Host Samantha Bee, on the importance of hiring women:
Some of you may know me from my late night show Full Frontal, where I help fulfill the quota of late night shows not hosted by a Jimmy. I get to work with amazing women every day and produce the kind of segments that are important to us. James Corden came close to scooping us on our whole act about the rural maternal-health crisis but we totally beat him to the punch. Like: two segments on women's health during sweeps week would have been embarrassing. Maybe next time, chump! Plus, everyone loves our all-you-can-eat tampon bar at lunch.




So if you are in the position to hire people, take it from me and hire women. Sometimes you just gotta put your money where your mouth is and go for it. They're incredibly smart, they smell like flowers, and you save a fortune because they only cost a fraction of what you pay men.
Padma Lakshmi talking about her struggle to get adequate treatment for endometriosis, and why she founded the Endometriosis Foundation of America:
Most women with endo don't get properly diagnosed for a full decade …. I began to realize that I was being penalized because I have a uterus. I have a vagina. That's right a vagina, a love box, a pleasure cave, my privates, my punani, my down there, the Bermuda triangle, a coochie, a yoni and the C-word. Oh, and to put it in the words of our articulate commander-in-chief, a pussy.
Margaret Atwood, honored for her work with the Canadian Women's Foundation, inviting Americans to move to Canada:
I'm from the cold place to the north and I just want you to know that you're all very welcome. We'll have a nice hot cup of tea and a mattress in the church basement whenever you feel compelled to flee across the border. But right now I hope you'll stay, because we have been very impressed, looking through the one-way mirror — that's the one in which we can see you and you can't see us — we have been very impressed by the way American people have mobilized. It's quite encouraging.
… and on the prophetic nature of The Handmaid's Tale:
Who would have thought in 1985 when the book was first published that we would find ourselves in this difficult moment three decades later? Not me. I was drawing on the past. Everything I put in had been done to women sometime somewhere. I was not wishing to predict the future.




But at the end of the book in the historical notes we learn that the oppressive regime of The Handmaid's Tale did not last, there was a resistance, it is ultimately successful, because people did retain in their hearts the idea of what a free and fair society, a society rooted in truth and justice, ought to be. Let us hope that this part of my fictional future does come true.
Tina Fey, honored for her work with Reading Is Fundamental, on why women are not cappuccino machines:
When I first started out, female comedy writers were treated a bit like cappuccino machines, where if you tried to hire a few more between seasons, people would look at you like But we have one! It's you. We have one. And God forbid the one you had was a little bit broken because then it'll be like: Oh, you know, we had one before and it didn't work. We got rid of it.




Somewhere in that time early on in my career I kind of made a vow to myself to not accept that privilege of being the only woman in the room, to make sure that I was not a cappuccino machine, and to use any power that I had to create opportunities for others.
Viola Davis introducing #MeToo founder Tarana Burke and talking about how sexual violence disproportionately affects women of color:
"I don't think that people really understand that when sexual assault happens to a woman, she describes it like a death. Usually that's how it becomes, that's how it described. Let me tell you about the time and the day that I died. She leaves her body and the journey to becoming a survivor and overcomer, to bringing the oppressor to justice, is a long road. And more than likely she is suffering from PTSD, dissociative disorder, she has flashbacks, she has eating disorders, suicide, depression … it is traumatic.




And so if you could imagine how horrific that is, then also imagine that a black woman is 66 percent more likely to be assaulted again if she is raped before the age of 18. That 96 percent of the people who are sex-trafficked are women, and 77 percent of them are women of color. Which is why usually nothing is done about it …. if you can wrap your mind around it, if anything is lower than people see than being a woman, it's being a women of color.
Me Too founder Tarana Burke on changing the narrative of the #MeToo movement:
I'm so desperate to change the narrative about the #MeToo movement before it's too late. Right now the conversation is mired in misconceptions. People think this is about naming and shaming and that its about taking down powerful men, but they're wrong. Even the women who came forward around Harvey Weinstein, they didn't ask for what happened to him. They didn't even think it was possible. They were simply trying to be heard and be seen and believed.




That's all most survivors want, to not be the only one holding on to their truth. And finally we have a language that provides some space for that. With two words, folks who have been wearing the fear and shame that sexual violence leaves you with like a scarlet letter are able to come out into the sunlight and see that we are a global community.
Alicia Keys, honored for her work with the Keep A Child Alive foundation, on reasons for optimism:
We are more on fire than we've ever been — and look at all the action that's around us: women running for office in record numbers, women banding together in the entertainment industry, women demanding an end to disparity in the music industry, like equal representation on the Grammy stage. We were told we need to step up. Well, you feel that step up now?