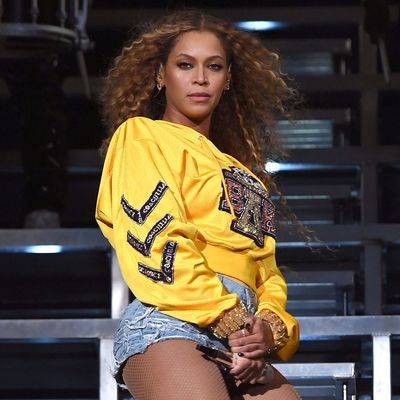 Beyoncé at Beychella.
Photo: Larry Busacca/Getty Images for Coachella
This weekend, Beyoncé treated the citizens of Earth to a performance that, like the Big Bang before it, expanded and reshaped the entire universe. Her Beychella set included, among other things, a Destiny's Child reunion, a dance-off with Solange, a Jay-Z appearance, and an HBCU marching band. But before her social-media-shattering set, Beyoncé's mom, Tina Knowles, worried that the predominantly white audience at Coachella just wouldn't "get" it.
In an Instagram post on Monday, Tina Knowles wrote that when she told Beyoncé she was worried the "predominantly white audience at Coachella would be confused by all of the black culture and Black college culture," her daughter answered:
 i have worked very hard to get to the point where i have a true voice and At this point in my life and my career i have a responsibility to do whats best for the world and not what is most popular
She added that she hoped her performance, and her references to the culture of historically black colleges and universities, would inspire young people "to research this culture and see how cool it is, and young people black and white would listen to " LIFT EVERY VOICE AND SING and see how amazing the words are for us all and bridge the gap."
Beyoncé's performance was immediately hailed as "iconic" and "groundbreaking,"and Tina Knowles concluded her post "I stand corrected."
In addition to her homage on the Coachella stage, Beyoncé also announced that she is donating $100,000 in scholarship money to four HBCU's — Tuskegee University, Bethune-Cookman University, Xavier University of Louisiana, and Wilberforce University.