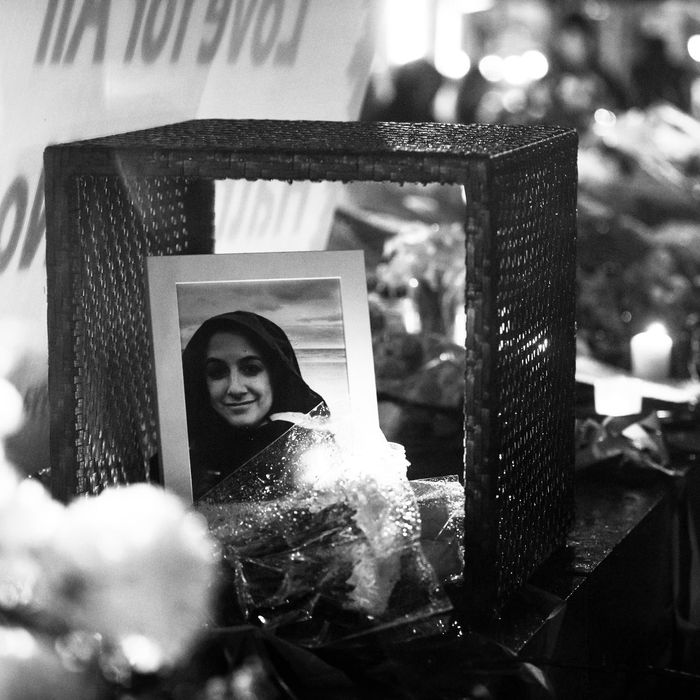 A photograph of Anne Marie D'Amico, a victim of Alek Minassian's attack, shown at a vigil on April 24, 2018, in Toronto, Canada
Photo: Cole Burston/Getty Images
By now, most of North America has heard about Alek Minassian's killing spree in Toronto on Tuesday, when he deliberately plowed his rented van into a crowd of pedestrians and killed ten people, most of whom were women. Police are still investigating the horrific attack, but much evidence points to the 25-year-old being motivated by misogynistic beliefs — held by "incels," short for involuntary celibate, an online subculture of angry, sexually frustrated men who blame women for their lack of a sex life. Minassian is currently in police custody awaiting trial.
Since the horrific attack, many have expressed shock and dismay at the fact that something like this could happen in Canada — a relatively nonviolent country that experiences almost none of the gun violence the U.S. routinely does. And yet, not only can it happen, it has happened time and again. In fact, Canada has a long history of gender-based mass killings; three of its worst mass murders committed in the last 30 years have been motivated by hatred of women.
In 1989, Marc Lépine walked into a classroom at Montreal's École Polytechnique armed with a rifle and a hunting knife, separated the male and female engineering students, and, after declaring that "feminism had ruined his life," opened fire on the latter. By the time he turned the gun on himself, a total of 14 women had died and another ten women and four men had been injured. The murders left the entire country reeling with disbelief.
In 1996, Marc Chahal walked up to the home of his estranged wife's family in Vernon, British Columbia, as relatives gathered for a wedding, and opened fire — killing the bride-to-be, his wife, and seven other family members. Chahal, who had been physically abusive to his wife during their marriage and had repeatedly threatened her since their separation, promptly returned to his motel room and killed himself.
There have been others. While not a single-event mass murderer, serial killer Robert Pickton is largely considered to be Canada's most heinous criminal. Pickton was a pig farmer who bragged about killing close to 50 women (he was eventually charged with the murders of six) and feeding their bodies to the pigs on his farm. Pickton largely preyed on sex workers and drug addicts, prompting some to accuse the police of a different kind of misogyny — dragging their feet on these investigations because many of the murdered women were indigenous and their files not treated with the respect and seriousness they deserved.
Indigenous women have long been targets of violence in Canada. Between 1989 and 2018, 18 young women (most of them indigenous) went missing or were found murdered along highway 16 in British Columbia; a highway known as the Highway of Tears. The Highway of Tears is part of a larger, national crisis of Missing and Murdered Indigenous Women and Girls (MMIWG). In 2015, after years of repeated requests, the Canadian government finally launched a national inquiry into these cases.
While many disagree on the exact number of victims, the Royal Canadian Mounted Police (RCMP) acknowledged in a 2014 report that it hovers around 1,200. Dawn Lavell-Harvard, former president of the Native Women's Association of Canada, refers to MMIWG as "a national tragedy and a national shame."
Canada has a well-deserved reputation for being an enviable, peace-loving, nonviolent, progressive place to live. Its Charter of Rights and Freedoms protects gender equality, more women than men are graduating from Canadian universities, and women's reproductive rights really aren't up for political debate. Prime Minister Justin Trudeau is a self-proclaimed feminist who gave the country its first gender-equal Cabinet.
But misogyny runs deep and even a pro-women's-rights and nonviolent country is not immune to the kind of woman-focused hate that can be radicalized and weaponized by online forums or an overwhelming sense of toxic male entitlement for status, power, or love.
And yet, despite all of this violence, Canadian society continues to display a strange reticence to refer to misogyny as a hate crime and continues to treat these mass shootings as isolated and exceptional incidents that in no way resemble a pattern. Instead, we see the Lépines, Minassians, and the Chahals of the world as committing confused acts of emotionally disturbed, socially awkward men who simply needed someone or something to blame for a life that didn't turn out the way they had hoped.
Given the prevalence of online misogyny, gender-based violence, and the continued online radicalization of disturbed young (predominantly white) men, isn't it high time we started discussing the redefinition of terrorism? Why can't we admit that misogyny, too, is an ideology? What is gender-based violence if not a form of terrorism?
It took years for the Montreal Massacre to be officially designated as a hate crime. It's too soon to classify the Toronto van attack as such, but one thing remains clear: the mass murder is part of a long line of tragic events in Canada to target women. In this sense, and despite its progressive, feminist international image, Canada is no different than America. Violent acts that are motivated by misogyny and toxic masculinity repeatedly happen in both our nations. It is, perhaps, in the way that each country chooses to tackle the problem and stem the violence that any differences will eventually be found.