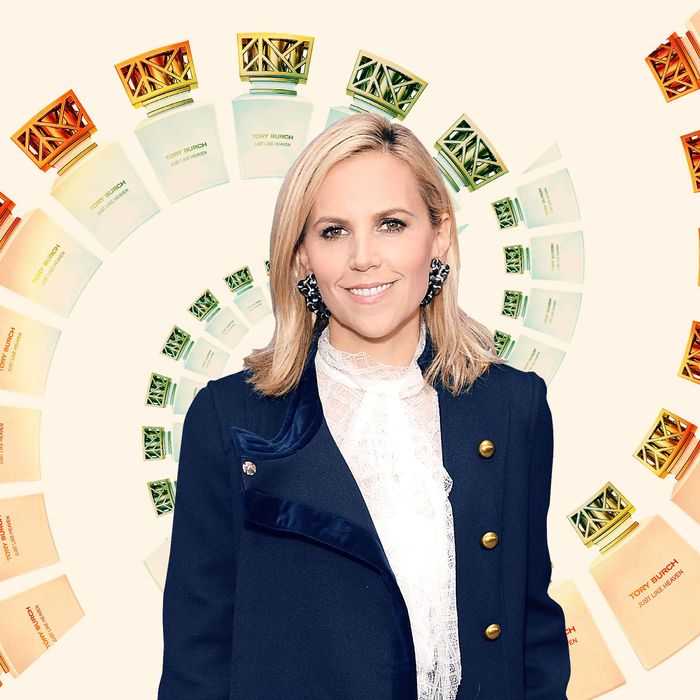 Photo-Illustration: Stevie Remsberg/Getty Images
Call it the Proust effect: Memories are best triggered by smells. Scientific studies confirm that out of all the senses, smells and fragrance evoke the best recall. Our new feature, Scent Memories, will ask its subjects to talk about the scents they associate with different emotions and thoughts. Next up is Tory Burch who just launched Just Like Heaven Extrait de Perfume (more concentrated than a typical scent). Named after her favorite high school song, Burch calls it "my favorite perfume we've done." Containing rhubarb (inspired by pie), mandarin orange, and hyacinth, Burch describes it as a bit sunny, ethereal, and classic in nature. Burch spoke with the Cut about her favorite scents, including the smell of an entirely purple island and the smoothest tequila.
My first scent memory: Vetiver. My father and brothers always wore it. He wore Vetiver by Guerlain every day. It makes me miss him, it has such a distinct smell. He had a version of it that was like a water that he would splash on himself. I have three brothers, they all wore it and so did I. That scent is definitely nostalgic and all of my perfumes now have an element of vetiver in them.
The smell I associate with love: It has to be the rose garden at Jardins de Bagatelles in Paris. I got engaged there.
Happiness smells like: Saltwater taffy. I'm a big candy person. I love old-fashioned candy. For me, I associate it with the boardwalk and always looking forward to penny candy. I don't like chocolate, I like anything bright, which is the opposite of my mother's taste in candy. Now I eat saltwater taffy with my three boys.
Loss or heartbreak smells like: Incense, like a church or funeral.
Regret smells like: Old Spice. No comment. I'm kidding! It's just a bad scent from high school that I remember.
Sunday morning smells like: Definitely fresh tennis balls. I like to play tennis on Sunday morning.
Monday morning smells like: Erasers and No. 2 sharpened pencils. I still do use them. Fried eggs and pencils remind me of school.
Friendship smells like: Tequila. My friends would know that. I take it straight up. I love Casa Dragones, it's a little too smooth.
A pleasant surprise smells like: Vanilla birthday cake. Just batter, vanilla icing — it's old-fashioned.
If you could have one smell on your hands forever, what would it be and why? Lavender, something I never get tired of. There's an island called Hvar, it's where lavender is from. I remember visiting it in college during a semester at sea, and the whole island was purple.
I smell like: Besides Just Like Heaven, hmm. I always use this soap that my kids do say reminds them of me. It's a fresh scent. It's Sea Mud soap by Laszlo, it smells like the sea. It's the soap your grandmother used, and my mother.
If you buy something through our links, New York may earn an affiliate commission.