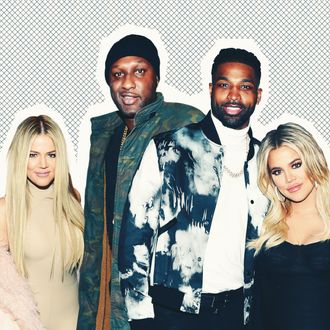 Well, here we are again: Just one week after Tristan Thompson, Devil (TTD) was caught cheating repeatedly on Khloé Kardashian — the (second) mother of his (second) child — we've since seen the birth of said child, the reveal of that child's name (more on that later), and two trips to and from Cleveland for Kourtney and Kim Kardashian.
As I'm sure you've seen, the child's name in question is True Thompson. If Khloé loves anything, it's alliteration and holding on to the remnants of tradition in a way only a woman having a child out of wedlock with a cheating father can. No shade, just admirable facts, dolls.
While True's parents are experiencing anything but a True romance, it's clear the irony of this infant's name has completely rattled me and everyone online to our cores. Sensing our skepticism, Kris Jenner was quick to point out that True's name stems from her own familial lineage, back in the early Hought(on)s, the time before Kris Jenner was a Jenner or a Kardashian. Kris's father, it turns out, was named Robert True Houghton and his father, True Otis Houghton. Khloé obviously hit up Ancestry DNA for some name ideas — cute, but still suspect.
You should know that Kris Jenner calls Robert True Houghton her "real dad" (as in "biological"), because she was raised by her stepfather, Harry Shannon, after her mother, Mary Shannon, and Robert Houghton divorced when Kris was a child. Sadly, Robert Houghton died in a car crash — which is something Kris's children didn't even know about until an episode of Keeping Up With the Kardashians last season. Yes, the name is historical but an interesting choice, given the fact Khloé and the rest of the Kardashian crew have as solid of a relationship with that man as they do with my dad. For now, that's all I'll say on the name — I've already made it to The Shade Room and I really don't want to get blocked, especially by an infant with her own Instagram account.
The more pressing issue is the future of Khloé and TTD. Since True's birth, there have been an insane amount of reports, which range in their alleging from Khloé having already forgiven TTD to claiming that her relationship is "severely fractured." But Khloé's posted two birth announcements for True using a lot of "we" language, which could indicate that she and TTD are on good terms.
Not unexpectedly — for anyone with relationship problems or a brand-new baby — Khloé has been surrounding herself with family and friends since welcoming her first child. Kris, Kourtney, Kim, and Everybody's Favorite Best Friend (EFBF) Malika were all in the room when True was born, with Kris and Malika hanging back in Cleveland through the weekend. Because Coachella and reposting old Instagram photos called, Kim and Kourtney took a flight out to California on April 12 (True's birthday), then returned yesterday with Kendall Jenner in tow. Like most, I assumed they were planning to give their sister some time to rest and then would take her back to her rightful home of Calabasas before True's first words were "middle class."
But on Tuesday, Kris, Kourtney, Kim, and Kendall all made their way back west … sans Khloé and True. However, it's still being reported that as soon as Khloé is medically cleared to fly, she's making her way back home. Will she eventually run from Cleveland and TTD? Like Oprah, I must ask: What is the Truth?
Unfortunately, the exact reason — True's birth — TTD's crimes are so heinous is the same reason he might get away with them. And just as Rizzo sang in Grease, there are worse things he could do. Though TTD would prefer a Sandra on his D than act like one, he's found the perfect opportunity to take advantage of Khloé's already unstable relationship with stability and reciprocal love and respect. There are only two words I need to prove my point: Lamar. Odom.
Anything short of not dying from a drug overdose in a brothel after years of cheating is essentially a win in the Khloé Kardashian book of love. I mean, even after Lamar miraculously came back to life and off of life support after his drug overdose in 2015, Khloé told Howard Stern in 2016 that their relationship "was just the most intense relationship [she's] ever had — in a great way." (Emphasis is my corpse's.)
And that's Khloé looking back in hindsight, that's her 20/20. In the same discussion with Stern, Khloé also said of of her time with Lamar, "He was really crafty … All of these rumors were coming out in the weeklies … and I was like, 'Where there's smoke, there's fire.' Something has to be right here." A feeling she surely felt last week, and back in October when I'm sure she saw the original footage of TTD motorboating to women in a club.
These high remarks came on the heels of Khloé needing to recover from a hospital-borne staph infection after spending so much time at Lamar's bedside. The same infection that killed her step-grandfather, the one True's not named after. Like, honestly, who do you love enough to look them in the eyes after their circumstances gave you a staph infection? I'll wait.
Even after that, Khloé took care of Lamar, renting him a 6,000+-square-foot home in her gated community of Calabasas and supporting him while he was rehabbed back to health. This nearly fatal infection and Khloé's doting only stopped when a crack pipe was found in Lamar's Kardashian-sponsored rental. For those without Khloé's incredible resolve and ability to forgive (most of us), Lamar would never have gotten a second chance after he was first exposed. But, unlike Khloé, and many other women in the public eye who've taken men back, we're not famous. It's almost as if being discreet is worth more than fidelity, but I'm no one's therapist!
I will say that, for Khloé, I'm sure there's added stress and less lenience when it comes to TTD's scandals. There's a baby involved now! And much like Khloé, we've wanted this happiness for her for so long, which is why TTD's actions hurt so bad. What will it take for Khloé to do away with TTD, now that they have a child together? For better or worse, the Kardashians always make an effort to keep the fathers, or mothers, of their children in their kids' lives even after defamation lawsuits, having children with their sibling's boyfriend's baby's mother, substance abuse, and dating people just a few years older than their own kids. TTD hasn't reached the tip of the terrible crimes iceberg, so methinks he has a few more notches to go before he's written off.
Personally, I'm still holding out hope. Because even though the Kardashians have jet-set back to the motherland, Everybody's Favorite Best Friend Malika Haqq is still posted up in Cleveland, ready to take her girls home when the time comes. Malika will guide us home, and that's True.