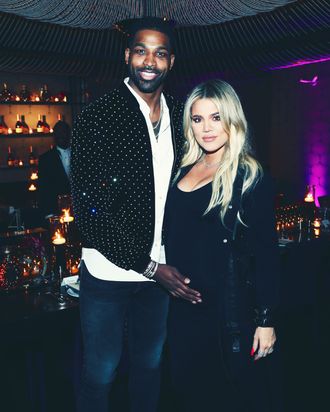 Tristan Thompson, Khloé Kardashian.
Photo: Jerritt Clark/Getty Images for Klutch Sports Group
In addition to cheating on Khloé Kardashian in her third trimester, Tristan Thompson also plays basketball for the Cleveland Cavaliers. Yesterday, he played in his first game since multiple outlets published photos and videos of Thompson with women who are not Kardashian. Thompson was booed when he walked onto the court.
If you thought that the people attending the Cavaliers-Knicks game would have ignored the scandal, you thought wrong. One dedicated fan brought a sign reading, "We <3 Khloé."
Kardashian is currently "nesting" in Cleveland and due to give birth to her daughter very soon. Her mother, Kris, flew out to support her post-scandal. Kardashian has not publicly commented yet.
In addition to the public disapproval, Thompson played for 30 minutes, and the Cavaliers lost the game. Karma is a powerful thing.