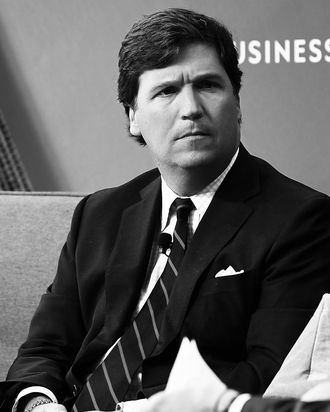 Tucker Carlson.
Photo: Roy Rochlin/Getty Images
Today wasn't exactly the slowest of news days: A sitting senator gave birth while in office for the first time ever, the Bill Cosby retrial started, and FBI agents raided the home and office of Donald Trump's personal lawyer. But Fox News host Tucker Carlson didn't want to get into any of those boring stories. Instead, he wanted to expose pandas for what they really are: horny.
"Pandas are sex-crazed and aggressive," reads the lower third headline on Monday night's episode of Tucker Carlson Tonight, which featured video footage of a panda who did not appear to be sexually aroused. Inspired by the recent Wall Street Journal story, "The Uncuddly Truth About Pandas," Carlson was eager to disprove all the #fakenews about the bears.
"You know the official story about pandas — they're cute, they're adorably helpless, which is why they're almost extinct," he started off. "But like a lot of what we hear, that's a lie. The real panda is a secret stud with a taste for flesh and a fearsome bite."
He didn't stop there.
"They're not against sex, either, they just hate unsexy zoos," he said. "But when they're in the wild, male pandas engage in a fierce sexual contest — the winner has sex 40 times in a single afternoon."
To everyone who's still in disbelief: Yes, the clip is real.