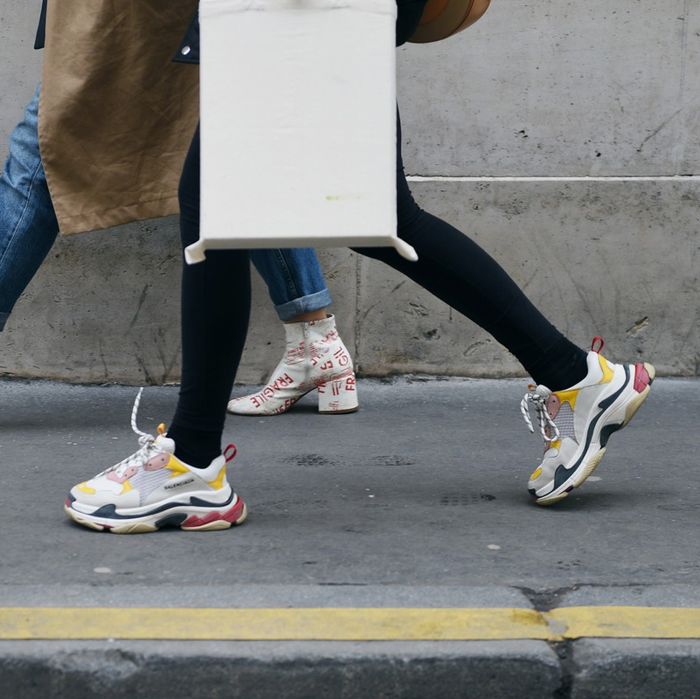 At the end of March, Kim Kardashian West braved the Los Angeles heat in a pair of particularly hideous high-heeled thong sandals designed by her husband. Barely a month later, thong high-heeled sandals are cropping up on shopping sites like Shopbop, giving us yet another variety of ugly shoe to wear this summer.
Fashion's preoccupation with ugly shoes has been going for several years, but now it seems to be coming to a head. Just look at the onslaught of "dad" sneakers like Balenciaga's Triple S shoes, which come intentionally streaked with brown stains and are sold out across virtually every retailer. Or consider the Birkenstock, which is now so accepted as a fashion piece that the brand recently collaborated with Barneys New York and Rick Owens.
Of course, the particular kind of ugly projected by a chunky sneaker is different from the kind of ugly put forth by a hippie staple. Which raises a question: Which ugly shoe is right for you? Scroll down for 12 options, all Cut-approved.
Dad Sneakers, Ranked From Entry-Level to Advanced
These are Ugly Shoes 101. The Nike Air Max is a classic, and the confetti style makes a statement without requiring you to do too much work. (Here's how to style them.)
Looking for a more feminine, fashion-girl take on the trend? Try Topshop's version.
If you're willing to go a little bigger, try these. The soles are super exaggerated and bulky, which is exactly what you want from a dad sneaker.
For those fully invested in the craze, here's a designer version with an eye-catching color palette.
Or Try a Senior-Citizen Sandal
Grandparents love Birkenstocks because they're good for your feet. Fashion girls love these Birkenstocks because they're lined with pink shearling.
You either love or hate Tevas, but the all-red colorway looks infinitely more stylish than the print version. Try them with socks if you dare.
Dr. Scholl's is best known for insoles, orthotics, and wooden sandals. The brand worked with Urban Outfitters to reimagine their classics with six new styles, like this surprisingly adorable jelly clog.
What If You're a Hypebeast Who Hates Shoelaces?
Then these orthopedic Air Force Ones are perfect for you.
Clogs have their own cult status now, and if you want to live your best #cloglife, consider Swedish Hasbeens your entry ticket. The best way to make them look elevated is to pair them with tailored yet relaxed jeans or trousers in neutral palettes.
OK, But What If You Love Kim Kardashian West?
Can't wait until the release of Yeezy's high-heeled thong? Here's the next best thing.
What If You're Still Mourning Phoebe Philo Leaving Céline?
Seoul-based brand Reike is a favorite of the Cut's fashion team. The ugly cool vibe here is very Céline.
What If You Just Really Love the '90s?
Remember when every kid had a pair of jelly sandals? Here's the sophisticated designer version. It's a '90s-PVC-jelly-meets-gorpcore sandal that's quirky enough to make any pair of culottes look more interesting.
If you buy something through our links, New York may earn an affiliate commission.