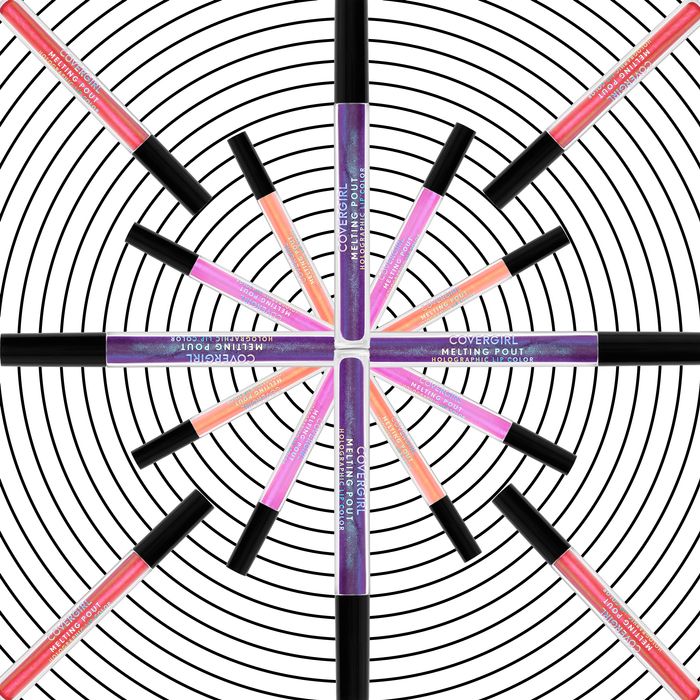 CoverGirl's new metallic lip glosses are a shock to the dark, matte lipsticks of winter, but they're perfect for warmer months. The limited-edition Melting Pout Lip Color glosses have a holographic finish for a casual glam look that doesn't even need an app to make it look iridescent. These glosses make achieving a spring-ready look a breeze so you have more time to focus on the best way to achieve effortless beach waves.
The lip glosses come in eight intense shades: Unicorn Moment (holographic white), Passion Fruit (bubblegum pink), Tingles (baby pink), Kindle (mauve), Diversion (coral), Bang Bang (peach), Revelry (Green), and Debauchery (blue). The glosses can be worn alone or layered on top of lipsticks for added dimension, and because the glosses aren't sticky, they won't pick up or remove any color you used as a base. CoverGirl infused the formula with conditioning castor, jojoba, and sunflower seed oils.
To show exactly what the glosses can do, CoverGirl's brand ambassador Jazmina Daniel created looks for the campaign. Daniel is a lip artist and is most known for her detailed portraits of Rihanna and Beyoncé that she paints on her lips. As the brand ambassador for CoverGirl, she shares the new products on social media, and this time she created a metallic pink look using the Unicorn Moment and Passion Fruit shades.
The lip glosses are exclusively available now on Ulta Beauty's website and will be available in Ulta Beauty stores April 15.
If you buy something through our links, New York may earn an affiliate commission.