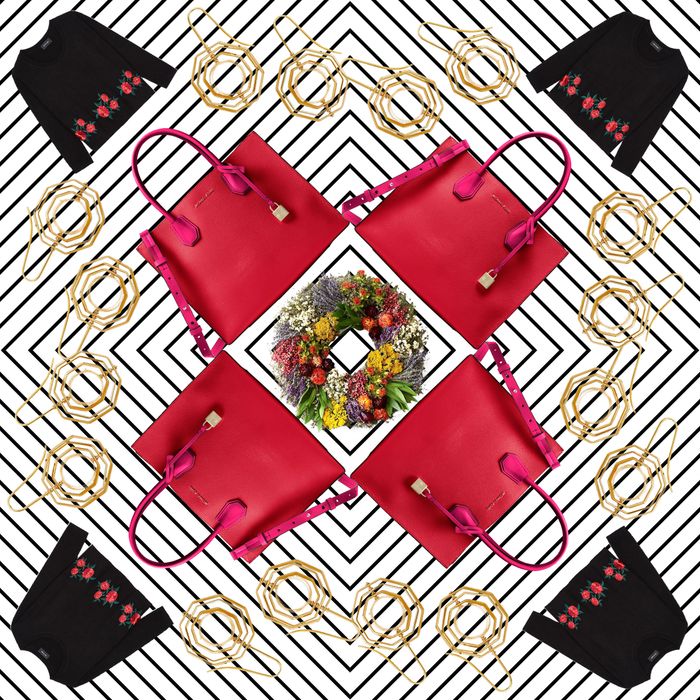 This Mother's Day, don't fall for the trap of "You don't have to get me anything!" And definitely don't fall into the trap of just getting a card and calling it a day. No matter what she says, your mom deserves a thoughtful present. If you're at a loss for what to get, we've rounded up 36 unique Mother's Day gift ideas that she'll love. Whether she's into yoga, gardening, or cooking, we have you covered below.
For the Mom Curious About Matcha
Get her a starter kit with everything she needs to brew a frothy cup of tea. This one has a whisk, a holder to preserve its shape, and a spoon for measuring out the right quantity of powder.
For the Mom Who Gardens Outdoors
This fun metallic visor will keep the sun out of her face, while the open top will help keep her cool.
For the Mom Who Loves Good Seasoning
These elegant bottles are a nice way to stash spices and herbs. If you want to go the extra mile, consider ordering a fancy salt as well.
For the Mom Who Loves HGTV
If she's already decorated her home in the style of Chip and Joanna, why not extend that to the food she makes?
For the Mom Who Loves a Trendy (But Not Too Young) Shoe
Dad sneakers might be the shoe of the moment, but these loafers are some of our favorite flats.
For the Mom Who Deserves a Relaxing Day in Bed
The dark navy color coupled with the white piping make these look extra expensive.
For the Mom Who Loves to Show Off Her Cooking
Good for baking or serving one of her many delicious side dishes.
For the Mom Who Loves Makeup
One for her big tote, one for her desk, and one for her micro-bag.
For the Mom Who Wants Soft Skin
These super moisturizing sheet masks are the perfect complement to a lazy Sunday afternoon.
A muted mat plus carrier will make her the most stylish person in her vinyasa class.
For the Mom Who Loves Her Slow Cooker
Has This is Us scared your mom off of using her slow cooker? Consider getting her the Wonderbag — a specially-insulated bag that acts as an eco-friendly alternative to the appliance. All you have to do is bring whatever you're making to a boil and place in the bag, and it'll keep cooking until you're ready to eat.
For the Mom Who Gardens Indoors
A fast-growing, indoor tree is a fool-proof gift for the mom experimenting with a green thumb.
Fun fact: these patterns are inspired by the marbled end papers found in old books.
Photo: Jason Jamal Nakleh/© 2017 Jason Jamal Nakleh
Available in ten shades, this densely pigmented lipstick has a luxurious cream finish and won't settle into fine lines.
For the Mom Who's Hard to Please
Because you can never go wrong with cashmere in a lovely shade of pale pink.
For the Mom Who's All About Robe Life
In soft shades of blue, she'll love lounging in it while catching up on her favorite tv shows.
She can create a bespoke scent by mixing any combination of the four fragrances together.
For the Mom Who Always Gets Flowers
Mix it up with this wreath that combines both blooms and herbs — her home will smell extra nice all week.
For the Mom Who Loves Beyoncé
Just explain that Olivier Rousteing, the designer behind Balmain, also designed Beyoncé's Coachella outfits.
An elegant, Gwyneth Paltrow–approved French press is sure to make her morning cup more enjoyable.
For the Mom Who Travels a Ton
This vest won't just keep her warm, it also folds into a pouch and becomes a travel pillow.
For the Mom Who Wears All Black
Your mom will love explaining that her pullover is from the über cool, French-girl-approved label The Kooples.
For the Mom Who Follows Trends
Every trendsetter worth their salt has a pair of sculptural, oversize earrings.
For the Bath Aficionado Mom
Think of them as tea bags for the tub. Each pouch is filled with dried flower petals and oil extracts.
For the Mom Who Wants a Nice Bag
The red-and-pink color blocking makes this a cheery, elegant update to her everyday work tote.
For the Mom Who Loves to Decorate
For the Mom Who Loves to Dress Up
Colorful ribbon slides feel appropriately festive for any occasion.
For the Mom Who's Getting Into Wellness
A sleek, porcelain diffuser is an elegant addition to her home — especially if she's just discovering Goop.
For the Beauty-Obsessed Mom
For the Mom Who Loves a Crisp Blouse
This is a cool spin on her favorite white button-up.
For the Mom Who Walks Everywhere
These suede slip-on mules will match almost every outfit.
Photo: Brown, Indya
Whether she's listening to podcasts, Pulitzer Prize–winning albums, or streaming The Crown, these lightweight headphones will make the experience more stylish.
For the Mom Who's Always Cold
What mom doesn't need an extra cashmere throw lying around?
For the Serious Skin Care Mom
Not only will it clean her face better than a washcloth, it massages as well.
For the Mom Who's Into Fashion
A silky blouse in a vibrant green leaf print will please her finicky tastes. Plus, you can "borrow" it.
For the Eileen Fisher Lover
A cheery red shirt dress is exactly what she'll want to wear all summer long.
If you buy something through our links, New York may earn an affiliate commission.