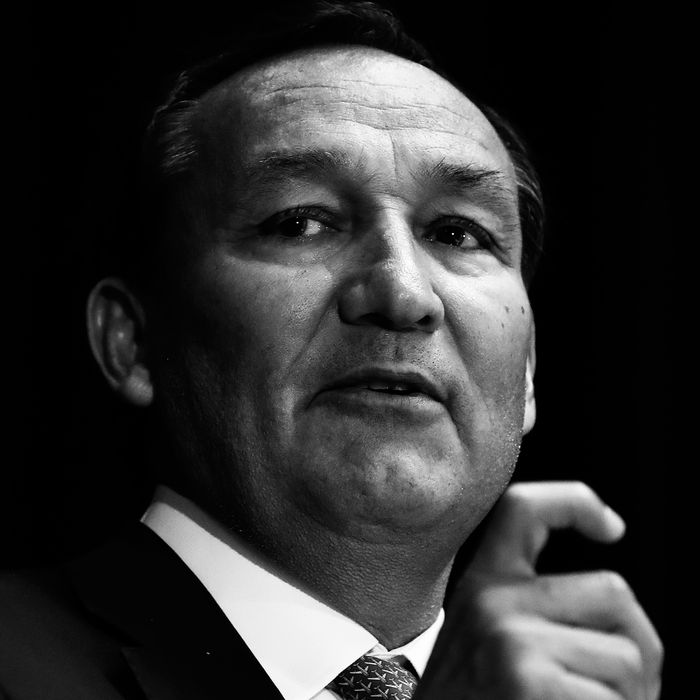 Oscar Munoz.
Photo: Jim Young/Getty Images
Oscar Munoz is the CEO of United Airlines, the company best known for violently removing customers, slut-shaming teens, and being the place adorable, fuzzy animals go to die. While most of his time seems to be spent putting out his company's PR fires, Munoz has recently gotten himself embroiled in his own controversy: The CEO is allegedly stealing sand.
According to a report from Florida's First Coast News, the Florida Department of Environmental Protection (DEP) sent a letter to Catherine Munoz on March 28, asking her and her husband to stop taking sand from a public beach in order to build protective dunes outside their $6.8 million Ponte Vedra home.
During Hurricanes Matthew and Irma last year, the coastline Ponte Vedra and much of northeastern Florida was severely eroded, leaving many of the beachfront properties vulnerable. But video shot by an anonymous neighbor last week showed heaving machinery illegally scooping sand from the public beach and moving in to the front of the multi-million dollar mansions of Munoz and three of his neighbors.
"We're outraged about this," neighbor Bill Hudson told First Coast News. "It's a poor reflection on the whole community that someone would be that presumptuous to virtually steal something that belongs to the public and use it for personal gain."
The Munozes were given 15 days to arrange a meeting to settle the matter. Munoz has yet to comment publicly on the matter, but hopefully he comes up with a better line than his puppy apology.