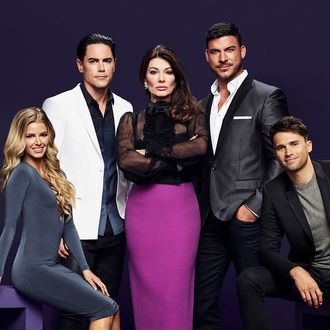 Photo: Bravo/Tommy Garcia/Paul Drinkwater/Bravo
Time is a funny thing. In the arms of a lover, a day can pass in an instant. In Playa del Carmen, with the main cast of Vanderpump Rules (and Peter) celebrating Jax's birthday even though he already had a birthday party at Hooters, four days can force one to consider the possibility that the popular reality series about L.A. bartenders had relocated their stars to Mexico, without a plan for return, and was now waiting to see if any of them — at least Ariana? — would notice. But no. Last night, Scheana dropped the bombshell everyone has been waiting for, the piece of information keeping us on the edge of our seats for literally an entire month: how long the cast has been in Playa del Carmen. It was, as we've already discussed: four days. Amazing.
Remember when the cast went to the "other" SUR? That was within the past four days.
Remember when Lala had a baby bottle? That was within the past four days.
Remember when Jax broke the news to Tom and Tom that he was considering relocating to Tampa, Florida, because he was offered his dream job doing social media for a hockey team, and then everyone was mad at him because he forgot what Brittany wanted to do for a living, which is work with mentally disabled children? That was within the past four days.
Remember when Scheana was like, I don't like presents? Four days.
Remember when they were in that natural pool or whatever, jumping off cliffs and shit? Do you even remember?!
Remember when Brittany had her top off in the little private pool? That was recent!
Penis flutes? Four days.
James? RECENT!
This show is incredible in ways the mind can't even comprehend.