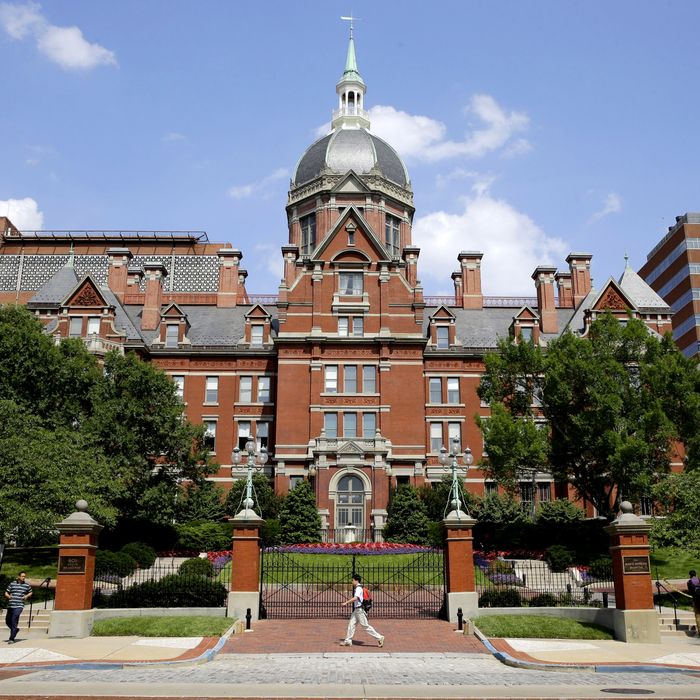 Johns Hopkins University.
Photo: Patrick Semansky/AP/REX/Shutterstock
Doctors at Johns Hopkins University performed the world's first total penis-and-scrotum transplant last month, on a U.S. military veteran who lost his legs and genitals in an IED blast in Afghanistan.
During the 14-hour surgery, nine plastic surgeons and two urological surgeons transplanted the penis, scrotum, and part of the abdominal wall from a deceased donor onto the vet, connecting blood vessels and nerves from the patient to the donor's tissue "to provide complete blood transfusion and sensation." This is different from previous genital transplants, which have only included the penis. Because of potential ethical issues, doctors first removed the donor's testes before the transplant.
The patient, who has asked to remain anonymous, is set to be released from the hospital later this week, and is expected to regain "near-normal" urinary and sexual functions. In a statement released by Johns Hopkins, he wrote:
"It's a real mind-boggling injury to suffer, it is not an easy one to accept. When I first woke up, I felt finally more normal … [with] a level of confidence as well. Confidence … like finally I'm okay now."
According to the Baltimore Sun, 1,367 male service members were placed on the Department of Defense Trauma Registry with genitourinary injuries between 2001 and 2013.
Johns Hopkins covered the cost of the transplant, which was between $300,000 and $400,000, and is assessing whether other patients are eligible for the procedure. Currently, the university is only considering injured service members for the transplant, not transgender individuals, or those born with defects.