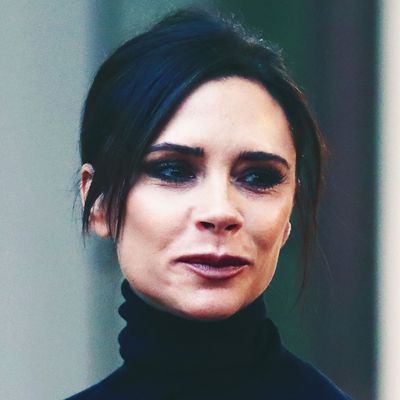 Victoria Beckham.
Photo: JP Yim/Getty Images
Back in February, a source close to Victoria Beckham really wanted us all to know that she had become "chummy" with Meghan Markle. Shortly after, we learned that the Spice Girls would be performing at Markle's upcoming royal wedding to Prince Harry, so we assumed that Beckham would be attending her new best friend's ceremony as well. Now, during a Thursday appearance on The Late Late Show With James Corden, Beckham basically confirmed as much.
First, Corden jokingly asked Beckham "how designing the dress was going," clearly a ploy to get her to admit she's designing Markle's wedding dress (as we're all still in the dark about that, which is rude in my opinion). "Well maybe you know something I don't," Beckham replied. "I'm not doing the dress."
He then brought up the fact that Beckham is high up on the list of potential designers for bookies placing bets on the dress. "I'm sadly not, but I'm sure she will look incredible in whatever she wears," she replied.
But when asked whether she was actually going to be attending the event, Beckham got a bit cagey. "I … I … I don't know," she said nervously, to which Corden replied, "She's totally going!" and "How exciting." Beckham then said, "Yes. I think England is so excited. It's so great, isn't it? They look so happy."
Right, how exciting for England … and Victoria Beckham.