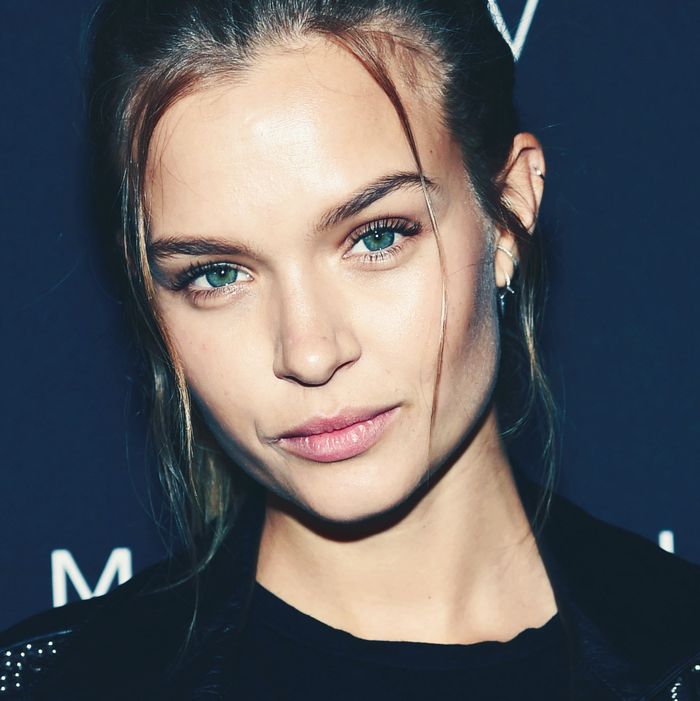 Photo: Jamie McCarthy/Getty Images
Josephine Skriver is one of the most popular Victoria's Secret Angels (she has 4.8 million followers on Instagram), and the co-creator of Joja, an account that follows her and VS Angel Jasmine Tookes's insane lifestyles. Now, she's also a Maybelline New York spokeswoman. The brand announced that Skriver will be the newest woman to front the brand, which already works with Gigi Hadid, Jourdan Dunn, and Christy Turlington.
To promote the news, Maybelline and Skriver shared a video that goes through Skriver's "best day ever," which starts with her applying some lipstick in the back of a taxi headed to JFK Airport. In the quick video, she takes a red-eye flight, does a photo shoot, finishes a grueling workout at a kickboxing gym, then finally swipes on a subtle nude lipstick, proving maybe she's born with great genetics, but she also works hard every day and uses some Maybelline as well. The video ends with her in a hotel room that's filled with flowers and balloons from Maybelline.
Skriver's official title is global spokesmodel, and judging by the looks of her Instagram caption, it looks like she might be part of a social campaign called "Make It Happen." She said, "I am honored to represent not only Maybelline, but all of the girls who are wearing Maybelline, because these young girls are the future. They are powerful and beautiful, and that to me is what Maybelline stands for. I could not be prouder to represent them and make it happen."
The brand hasn't said what the campaign is or which products she'll promote, but Skriver will make her official debut in May.