Milan's furniture fair, a.k.a., Salone del Mobile, which ran from April 17 to 22 this year, was the most energized, bountiful, and populated of design happenings in recent memory. Just winding your way through the Fiera (imagine the Javits Center times 20, comprised of over 2.5 million square feet of exhibition space) in the small town of Rho felt like navigating the NYC transit system at rush hour, ditto, making your way through Milan's streets for off-site events and exhibits. It was exciting, fast-paced, and satiated design-crazed appetites, for a spell anyway. While the Fiera hosted iconic companies like Molteni Mobili, and Poltrona Frau with mind-boggling installations as large as city blocks, the city harbored treasure hunts behind the normally closed doors of its private palazzos, villas, and decades-old apartments. Meanwhile, many of its public squares and industrial spaces featured enthralling installations, not to mention that the Prada Foundation revealed the latest jewel in its design crown, the new tower designed by Rem Koolhaas along with other OMA designers. Here are Design Hunting's top picks.
The talk of Milan was Villa Borsani: Casa Libera! Seen above, the magnificent Villa, designed and built by Osvaldo Borsani between 1939 and 1945 as a family home in the town of Varedo, has been opened to the greater public for this exhibition. Borsani co-founded the design company, Tecno, in 1953 with his twin brother, Fulgenzio, and together they put their stamp on marrying artisanal and industrial design in Italy. The family invited Ambra Medda to curate the Villa opening during Salone. There will be an exhibition of Osvaldo Borsani's work at the Triennale di Milano (May 16–September 11). The entrance to the Villa, seen here, is revolutionary, in the sense that most entrance halls welcome you with an inviting view toward the ascending stair, but here I was struck by how you are immediately confronted with a fantastic profile of the suspended modernist design. The invitation is of a different kind: it is to admire the beauty of the design.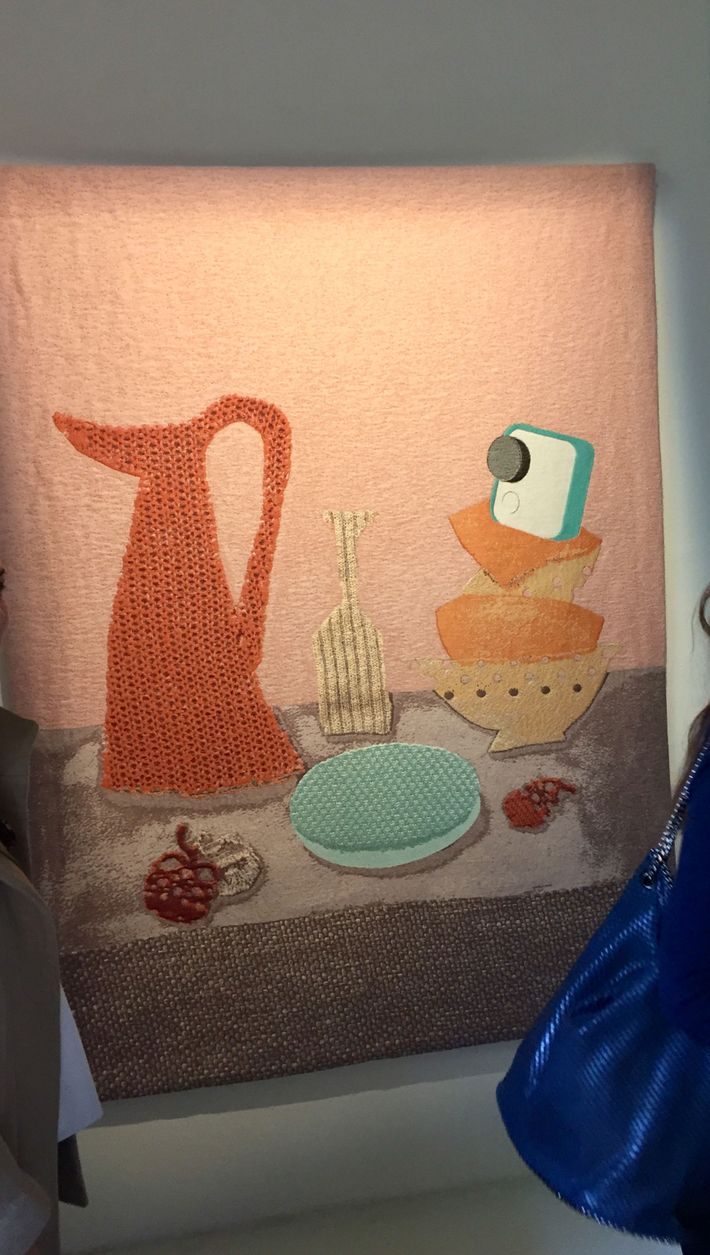 The first stop in Milan right off the plane, and sure to banish jet lag, is my annual pilgrimage to Rossana Orlandi. There I found an installation of Google's softwear launch curated by future forecaster extraordinaire, Lidewij Edelkoort. In short, "an installation that brings to life the sensorial experience of hardware." Kiki van Eijk created six wall hangings, one shown here, with a jacquard woven technique that looked somewhat 3-D.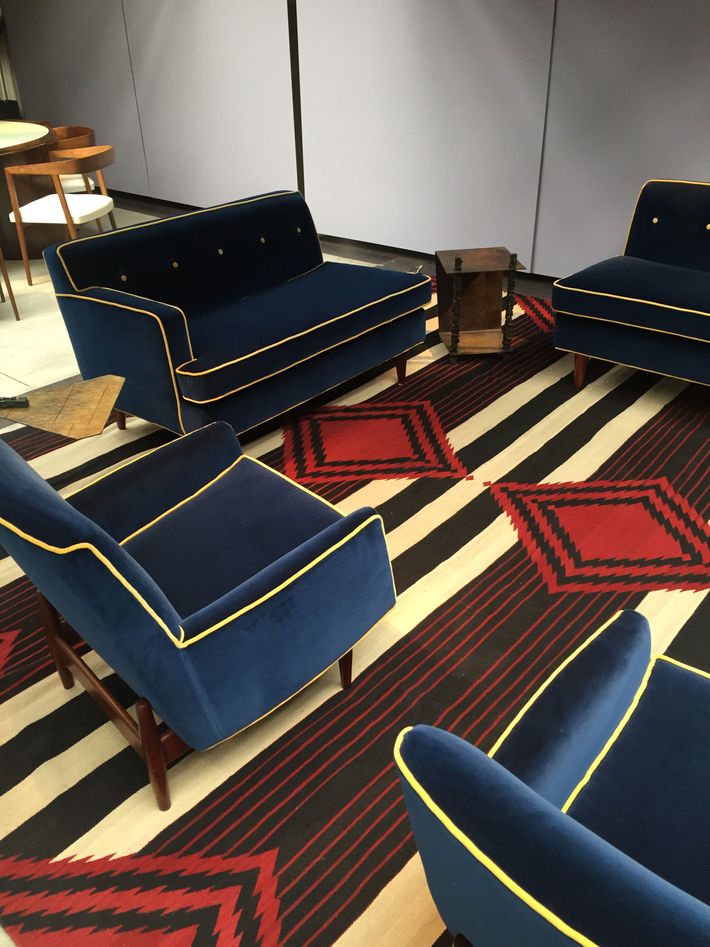 In 2015, gallerist Nina Yashar threw open the doors of her massive warehouse, Nilufar Depot, where she squirrels away mid-century and contemporary decorative and furniture treasures for her gallery in the city. Her legion of fans can now wander around and purchase everything in sight, or just get a design education like no other. Yashar's editorial eye creates vignettes such as this little gathering of piped velvet furniture resting on top of a Navajo rug. Perfection.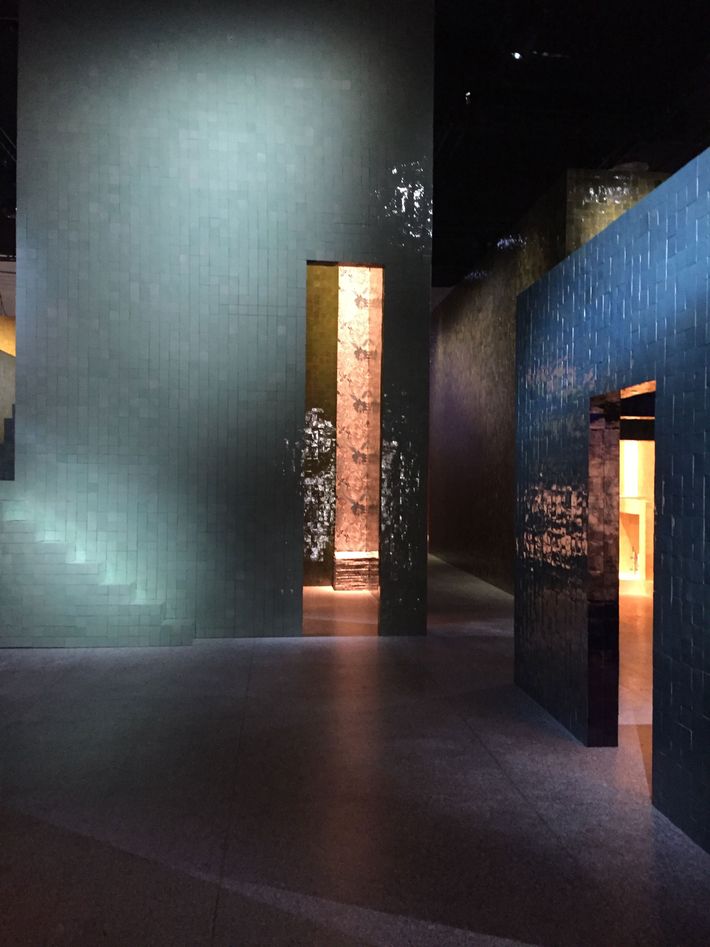 There is nothing quite like an Hermès installation, and this year's extravaganza at La Permanente Museum to showcase the new collections of tabletop, textiles, and wallpapers confounded as usual. The dramatically lit interior of the massive hall was transformed into a mythic village of towering Moroccan-tiled walls containing rooms for each new collection. It was in a word, spectacular. The woven cashmere textiles are worth saving your pennies for.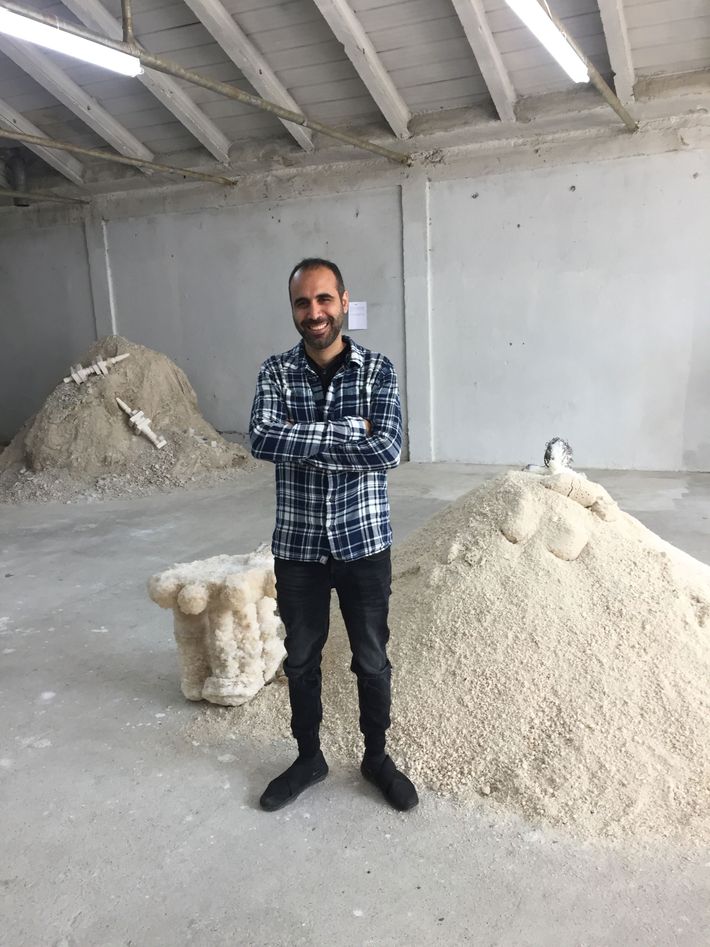 My friends Ivano and Kyre, who live in Sardinia and have created a fantastic design lab called Pretziada, led me to places that I would never have found on my own, and what a gift that was! I went down the rabbit hole to discover 5vie art + design's many exhibitions. First I went to the abandoned garage in San Remo for a show curated by Maria Cristina Didero and produced by Aline Radice Fossati, a co-founder of 5vie art + design. I met artist Erez Nevi Pana pictured here with his installation of one of his vegan projects involving salt. Erez's designs are driven by his lifestyle as a vegan, and until I spoke with him I had no idea how many animal products went into furniture production. "The practice of vegan design is moral, it's ethical, and it's just," Erez told me. I felt enlightened. Erez is going to be showing this work at Friedman Benda next month.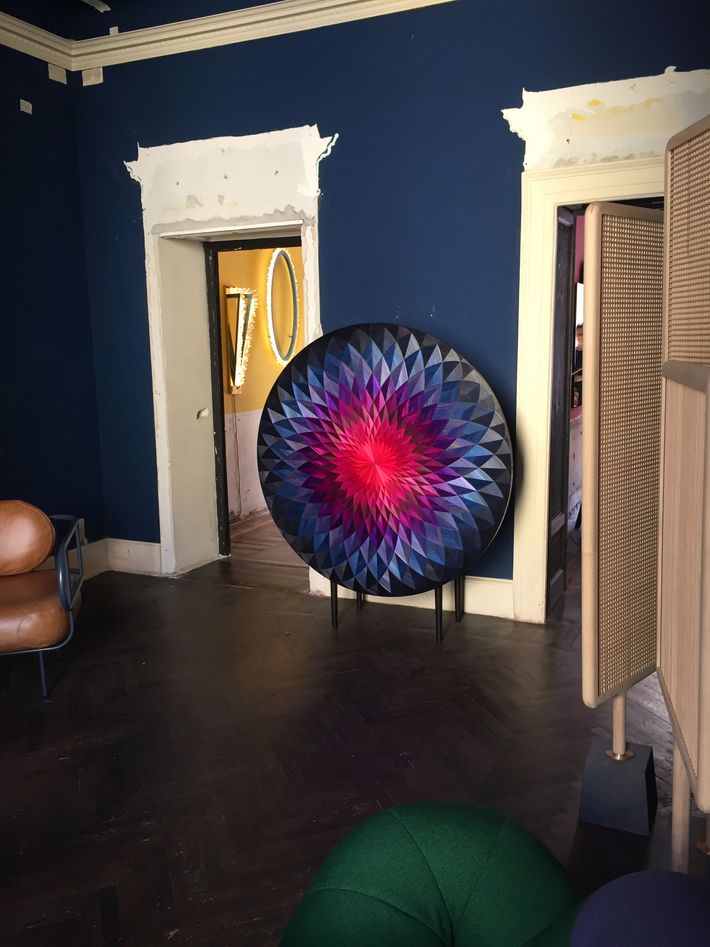 Above, at a design space on Via Cesare Correnti, an elegant fraying house where I loved every distressed wall, door molding, and creaking timber. This room includes a spectacular marquetry cabinet by Adam Goodrum and Arthur Seigneur.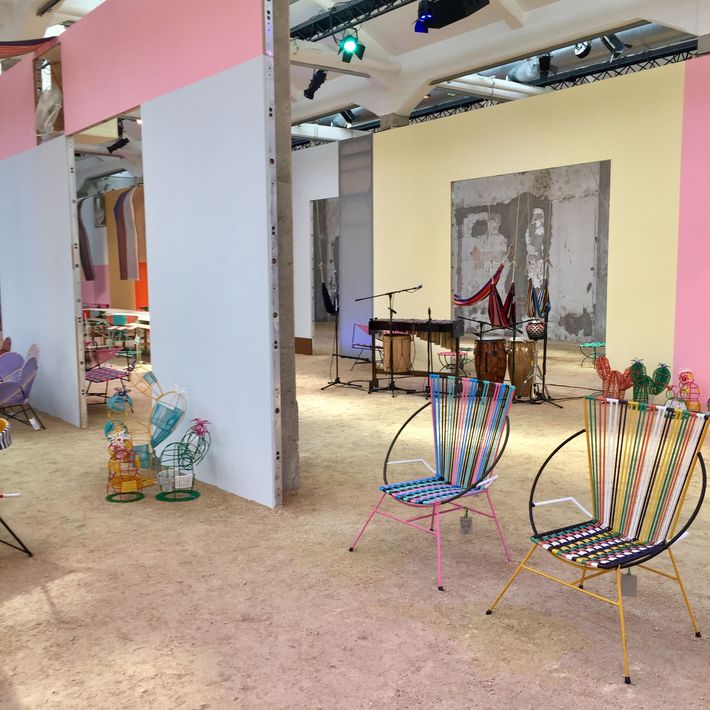 Visiting the Marni installation, La Vereda, was sheer happiness. Marni's continuing collaboration with Colombian artisans produced colorful textiles, furniture, and accessories, and it was all for sale.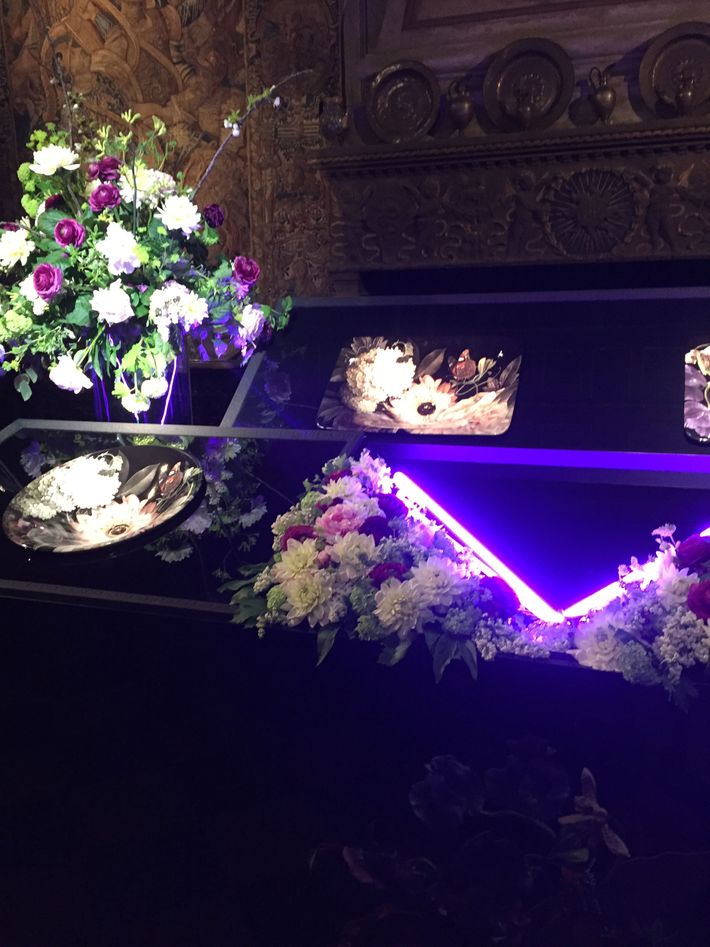 Kohler presented its newest designs in bath luxury in a take-over of the Museo Bagatti Valsecchi. Treasures included a centuries-old bathroom featuring Milan's first shower. Here, I tried to capture the dramatic installation of lush floral-designed Dutch Master sinks in an equally dramatic setting.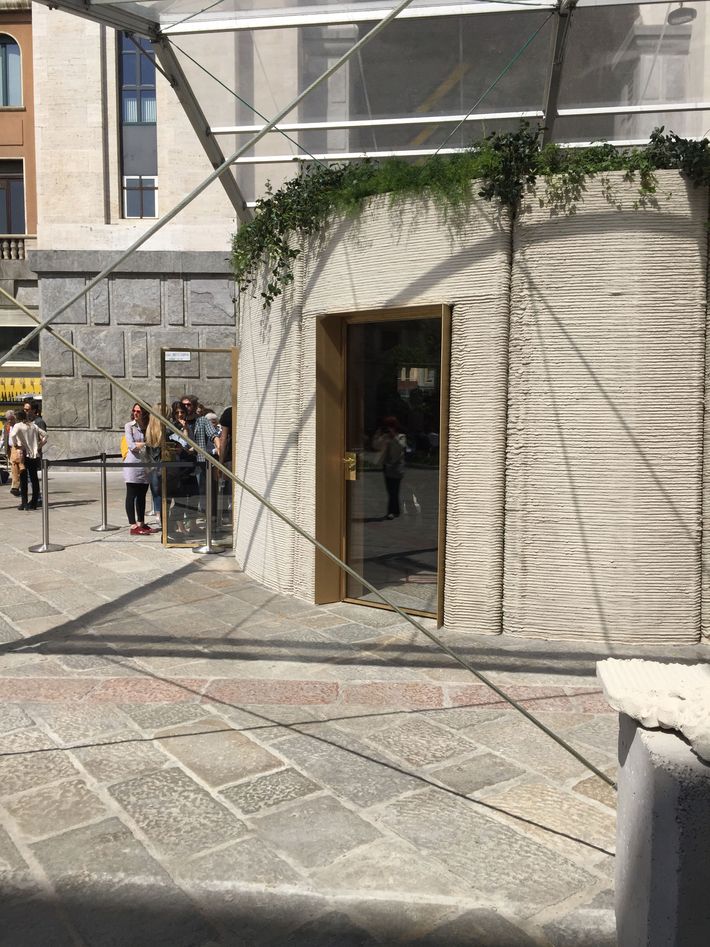 Massimiliano Locatelli teamed up with Arup, Cybe, and Italcementi HeidelbergCement Group to create an elegant 3-D-printed, one-bedroom house complete with kitchen, bath, and dining room, proving that 3-D printing is now ready for its close up and big time designer attention.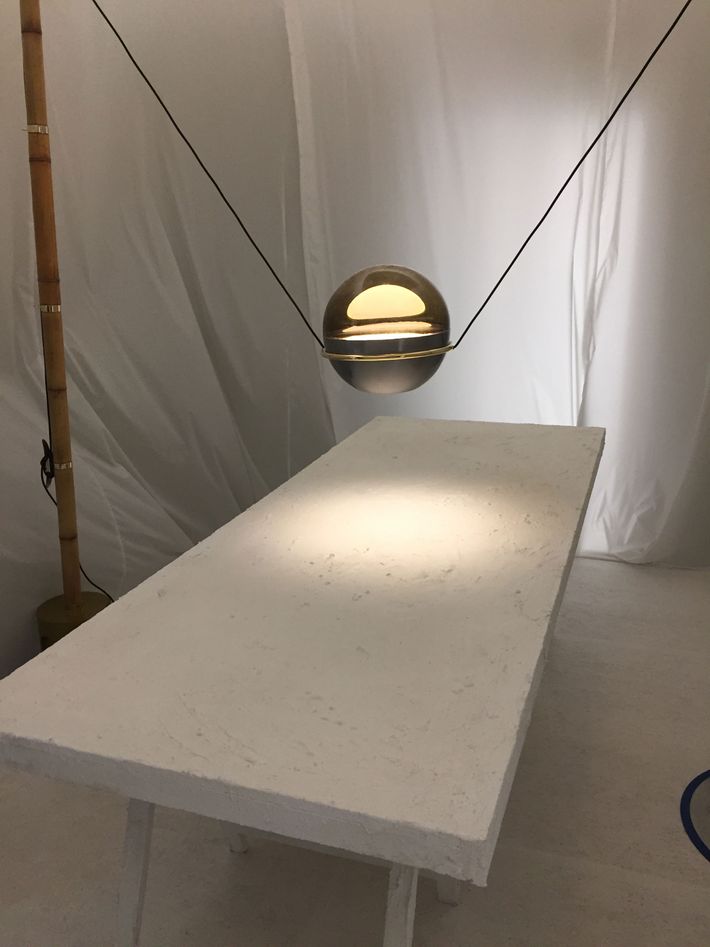 You know how you can know someone for ages, then all of a sudden find that you've fallen in love with them? That is exactly how I felt wandering through the rooms created by Emiliano Salci and Britt Moran of Dimore. I knew their brilliant work, but all of a sudden they came alive for me. The whole journey was beautiful and baffling and totally wonderful, so much so that the great designs, one light pictured here, seemed secondary to the atmosphere that was at one turn Warholian, then echoed the spirit of Louise Bourgeois and Federico Fellini.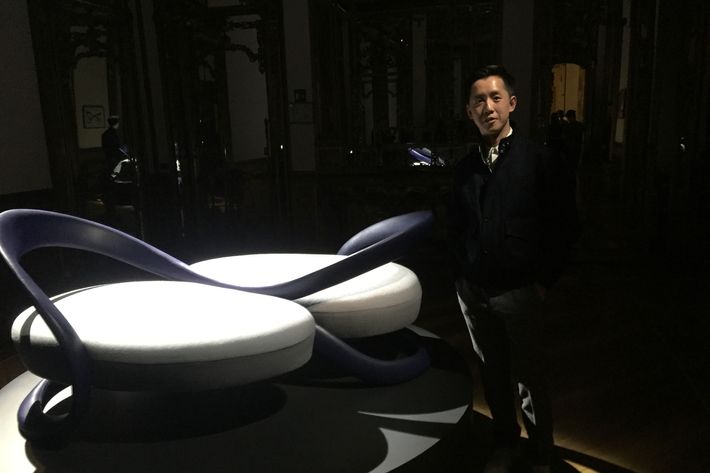 If I hadn't run into wunderkind designer André Fu, pictured here, with his brilliant tête-à-tête Ribbon Dance, for Louis Vuitton, I might have missed it and him!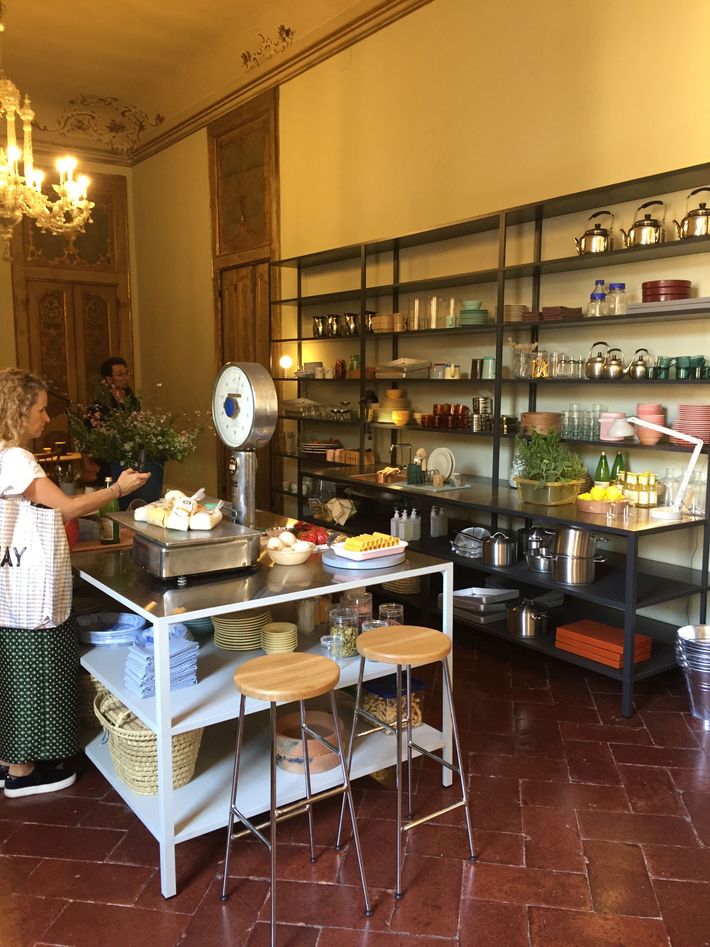 HAY's takeover of the Palazzo Clerici epitomized the genius of inserting modern design into historic settings. The kitchen installation, pictured here, was so inviting and effortlessly modern, all the while befriending the historic walls. This is design at its best: blending eras, and juxtaposing objects to reawaken our eyes.
Until next year, Milano!