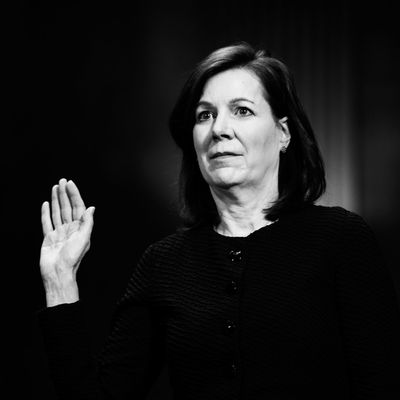 Wendy Vitter.
Photo: Bill Clark/CQ-Roll Call,Inc.
Wednesday morning, the Senate Judiciary Committee started the confirmation hearing for Donald Trump's latest judicial nominee, attorney Wendy Vitter. Were she to be confirmed, she'd serve as U.S. district judge for the Eastern District of Louisiana in New Orleans, where her anti-abortion ideology could jeopardize the reproductive rights of countless women.
Below, here's what to know about Trump's controversial nominee:
Unsurprisingly, she's not qualified
While Vitter technically works as an attorney, in her decades-long career, she has tried only one federal case, 25 years ago, where she was co-counsel to the lead attorney. So, just like the majority of Trump's nominees, she's wholly unqualified for the position.
She once linked birth control to "violent death"
Vitter is best known for her anti-reproductive rights advocacy record. In 2013, she led a Louisiana Right to Life–sponsored panel called "Abortion Hurts Women's Health," where she promoted the brochure "The Pill Kills." Issued by the anti-abortion Breast Cancer Prevention Institute, the literature is replete with pseudoscience linking abortion to breast cancer, and argues that taking birth-control pills can lead to suicide or "violent death." (The brochure also claims that women who take oral contraception are less attractive to men.)
The same year, Vitter also spoke at an anti–Planned Parenthood rally in New Orleans. Referring to the reproductive-health organization, she said, according to the Clarion Herald, "it is the saddest of ironies that they kill over 150,000 females a year."
She failed to disclose crucial information on her Senate questionnaire
As part of the confirmation process, nominees are required to submit a Senate questionnaire that explicitly details every speech, interview, panel, and article they've given or written. While Vitter turned in the form, according to Vice News, she omitted at least three speeches, an interview, a letter to the editor, and a campaign ad, many of which were related to her anti-abortion advocacy. (The 2013 panel was one such event that she left off the questionnaire.)
Reproductive rights groups vehemently oppose her nomination
Following today's hearing, NARAL Pro-Choice America vice-president Adrienne Kimmell issued the following statement:
"Like many of Trump's nominees, Wendy Vitter is dangerously biased and unqualified to serve on the bench. She has a long record of extreme comments targeting women and our access to health care, and has spent her career peddling the myth that abortion is dangerous. Her beliefs are rooted in junk science, far from the standards of evidence we rely on judges to uphold. Vitter's record leaves no doubt that she'll impose her extreme, anti-choice beliefs instead of protecting the fundamental freedoms of all women and families. If confirmed, Vitter would influence our country's policies and laws for decades to come, and we're confident she would use her power to further the most brutal aspects of Donald Trump's backwards ideology."
Planned Parenthood vice-president Dana Singiser echoed the above sentiments in her own statement, and stressed the detrimental nature of Vitter's extremist ideologies.
"Wendy Vitter is dangerous, untrustworthy, and unfit for a lifetime appointment as a federal judge," she said. "Vitter's record of opposing women's health and rights is far outside the mainstream. The bottom line is that Vitter can't be trusted to be unbiased or fair-minded."