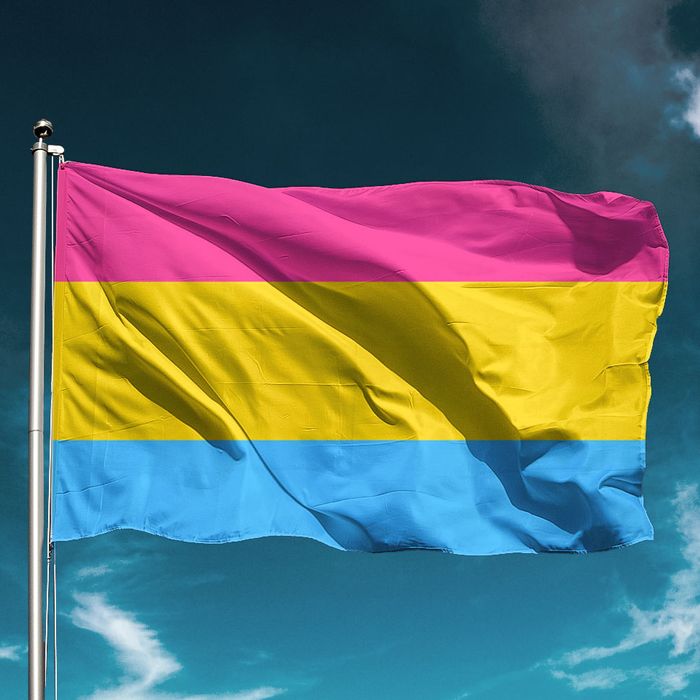 The flag for pansexuality.
Photo: Rosy Rainbow
In a Rolling Stone cover story out today, Janelle Monáe spoke candidly about her sexuality. "Being a queer black woman in America … someone who has been in relationships with both men and women — I consider myself to be a free-ass motherfucker," she says. The magazine reveals that she first identified as bisexual, but then she later clarifies: "I read about pansexuality and was like, 'Oh, these are things that I identify with too.' I'm open to learning more about who I am." Fans have long speculated about Monáe's sexuality, though the star has refused to address it directly, deflecting it with quips like "I only date androids." She did, however, confirm to Rolling Stone that she has dropped hints about her sexuality in her music: Her two songs, "Mushrooms & Roses" and "Q.U.E.E.N." apparently portray a woman named Mary as her love interest.
In recent years, several celebrities have come out as pansexual, including Miley Cyrus, Jazz Jennings (of TLC's I Am Jazz), and rapper Angel Haze. Our culture's increasing acceptance of fluid sexualities has made pansexuality somewhat easier to talk about, but there's still some confusion over what it really is. So, what is the definition of pansexuality? Everyone experiences sexuality differently, so it's hard pin down a single definition for "pansexuality." That said, GLAAD has defined it as "being attracted to all gender identities, or attracted to people regardless of gender."
Of course, some people may choose to not label themselves at all. According to a 2016 survey of Generation Z, the generation born between approximately 1995 and 2012, labels are kind of becoming a thing of the past. The survey, conducted by J. Walter Thompson Innovation Group, found that only 48 percent of Gen-Zers identify as exclusively heterosexual, compared to 65 percent of millennials. More than a third of Gen-Zers also indicated that they were somewhere between "completely straight" and "completely homosexual," so their sexuality is fluid to some degree. By contrast, only 24 percent of millennials felt this way.
Hopefully more celebrities like Monáe will come out and pave the way for even more LGBTQ+ acceptance in the future.
Update: This article has been edited to correct an erroneous definition of bisexuality. We regret the error.