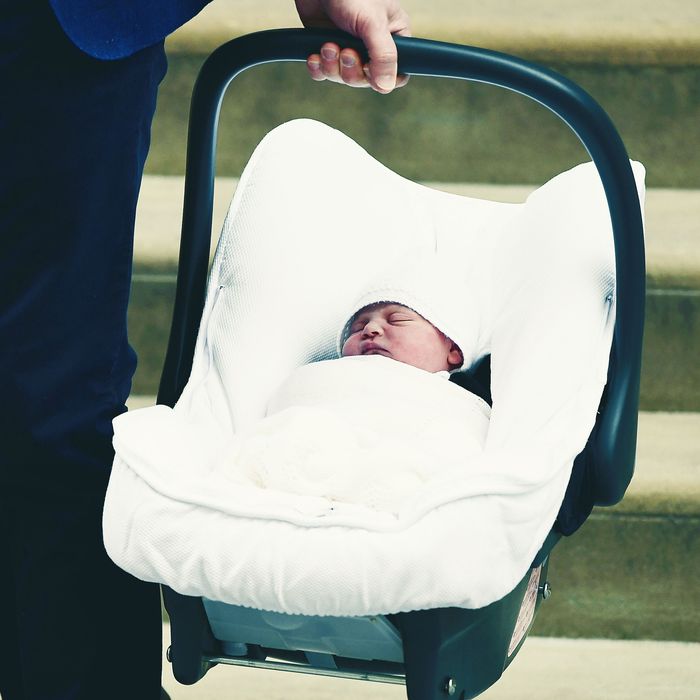 Little baby TK.
Photo: Gareth Cattermole/Getty Images
While everyone agrees "Kelly" would be a perfect name for Kate Middleton and Prince William's big new baby boy — strong and beautiful, first name and last name, masculine and feminine, meaning "war, lively, and aggressive" and "wood" — the twosome have allegedly yet to decide.
"Still working," ehh? Carrying the twos, etc.? Picking at your plate of alphabet soup, wondering if you might take it home, hmm? Interesting. (For the sake of full disclosure I must also tell you that there is this tweet:)
Arthur, ehh? What's the holdup, hmm? I asked resident Royal expert Lisa Ryan and she said, "people were saying it's because Charles was in France and hasn't met the baby yet." Is it because of that? In case it isn't, I've thought of a few other potential reasons:
• Hiring a skywriter to write "Kelly" across the sky is taking longer than planned.
• Royal sash with "BABY KELLY RULES" stitched on it, for the baby to wear, is still in production.
• Everyone fighting about who gets to tell the Kellys they know first.
• Something like … maybe like … one of them wants to call the baby one thing, and the other one is like, "No — it has to be Kelly."
• Ehhh, maybe like … there's some sort of curse, and once they give the baby a name the curse is enacted.
• Maybe the thing Lisa said, although when she told me she didn't seem to believe it held much water.
Or maybe something else? Maybe the baby will never have a name. Right now it's up in the air, and we can only pray we live to find out.
Update 4:06 p.m.: Is the baby going to be named PRINCE ALBERT? Oh no. The Daily Mail seems to think so, citing the "Access Denied" message you get when attempting to access www.royal.uk/prince-albert — the same message you get when trying to access the pages of the unnamed baby's siblings. Maybe we will find out what the baby's name is, after all …