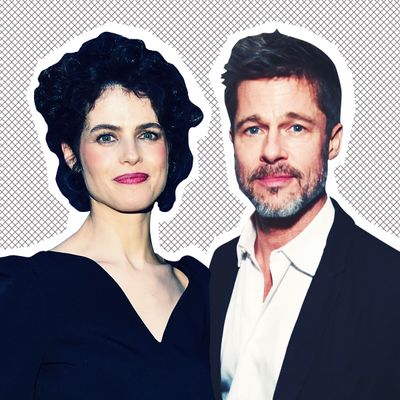 Brad Pitt and Neri Oxman.
Photo: Getty Images
Welcome to You Know What I Heard, the Cut's weekly celebrity gossip column about the peregrinations of the rich and famous.
The last time we discussed Brad Pitt in this column, he was reportedly embarking on a yearlong vow of celibacy. That seems to have gone out the window (if it was ever really happening in the first place), because now the tabloids are reporting that he's been spending time with a woman named Neri Oxman. For the last week and a half, People, "Page Six," and Us Weekly have been slowly revealing information about Oxman and the nature of her relationship with Pitt. What we know, for sure, so far: She's an architect and professor at MIT, and she and Pitt have become "friends."
Many sources have claimed that the relationship is much more than friendly, however. People reported last week that Oxman could be Pitt's "Amal Clooney," and that Pitt has been flying to the East Coast frequently to visit her at MIT. An Us Weekly source said, "Brad is absolutely smitten by her. Their chemistry is off the charts." Based on reporting from all the tabloids, it sounds like this potential new couple has been doing whatever they're doing for about six months. Here's a photo of Pitt visiting MIT last November:
And yesterday, Oxman was papped for the first time, which means she's officially entered the gossip world. So far, Pitt hasn't done much to shut the romance rumors down; his reps have simply maintained that he and Oxman are "friends" and that Us Weekly's report about him being "smitten" was an "exaggeration." As Lainey Gossip pointed out last week, "exaggeration" is meaningfully different from, say, "fabrication."
How long until Pitt gets papped ducking into a classroom in Cambridge?
Gwyneth Paltrow, who dated Pitt back in the '90s, is preparing for her big, goop-y wedding to producer Brad Falchuk. She went on a bachelorette party in Cabo (!) last week, and over the weekend, Falchuk's Glee co-creator Ryan Murphy hosted an engagement party for the couple at the Los Angeles Theater. Paltrow met Falchuk when she guest-starred on Glee in 2010, well before she consciously uncoupled from Chris Martin, which everyone seems to forget.
Several A-listers showed up to the black-tie party, including Julia Roberts, Jennifer Aniston, Reese Witherspoon, Cameron Diaz (with husband Benji Madden), and Kate Hudson. There are rumors that the party was actually a surprise wedding, but my gut tells me that this was just a precursor to an even more elaborate event. "Page Six" reports that Paltrow and Falchuk are planning a wedding in the Hamptons, to take place later this year.
Martin was not seen at the party. By all accounts, he's still dating Dakota Johnson. The two were last spotted together in March, riding around in a golf cart in Malibu.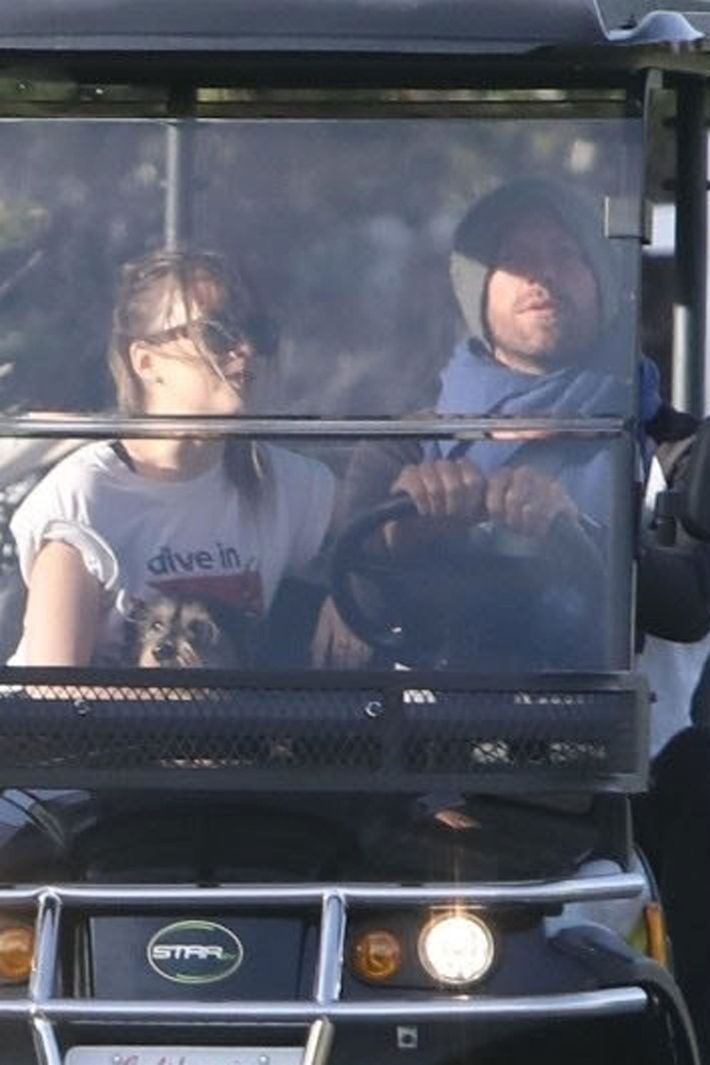 The Instagram models were out in full force at Coachella this weekend, and they canoodled with celebrity men of varying levels of fame. Bella Hadid was spotted "packing on the PDA" with her ex-boyfriend the Weeknd at the Poppy nightclub pop-up on Friday. This reunion happened despite the fact that the singer cried on stage about his more recent ex, Selena Gomez, hours before. (For what it's worth, Hadid commented on Instagram that someone was making out with the Weekend at Coachella, but "it wasn't me.")
The model Meredith Mickelson spent time with Brooklyn Beckham, who is fresh off a breakup with Chloë Grace Moretz. This is not the same model that Beckham was spotted kissing last week; that was Lexi Wood.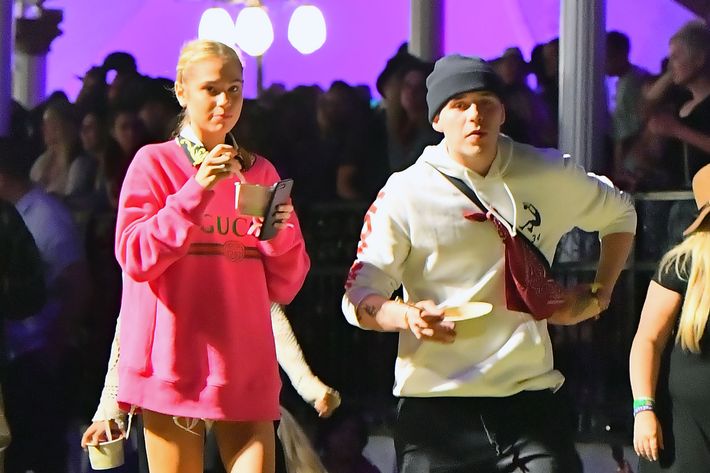 Cami Morrone, the 20-year-old model and stepdaughter of Al Pacino, was once again spotted cuddling with Leo DiCaprio. The couple was photographed several times, despite DiCaprio's attempt to fly under the radar by wearing 3-D glasses.
DiCaprio's most loyal Pussy Posse member Tobey Maguire was not seen at Coachella, even though he's recently been spotted hanging out with the model Tatiana Dieteman. Feels like a missed opportunity.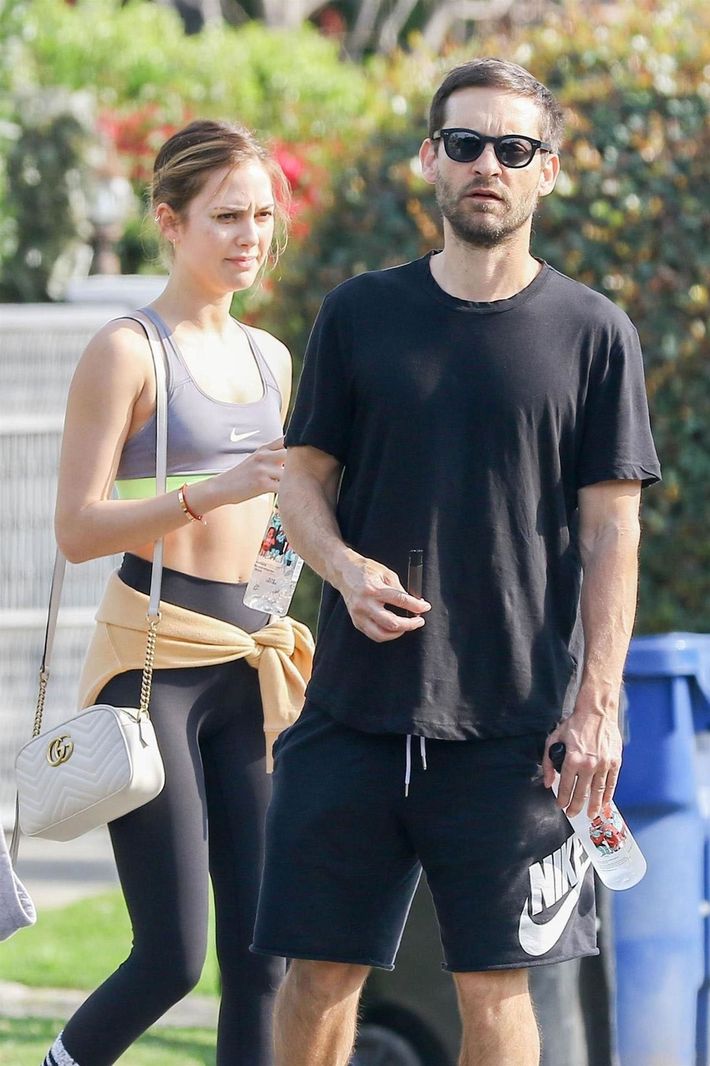 One small blessing from this week:
Hilary Duff got a latte with her face in it.
Finally, I'll leave you with these videos of Justin Bieber performing "worship songs" at a Christian event during Coachella. We know that he's become even more involved in the celebrity-friendly megachurch Hillsong in recent months. I think we are now about two months out from him starting his own church. Would you join?
Thanks so much for gossiping this week. If you'd like to get this column in your inbox every week, subscribe in the box up top. And don't forget to email me at allie.jones@nymag.com, send me a message on Twitter, or contact me on Signal, if you'd like to chat.