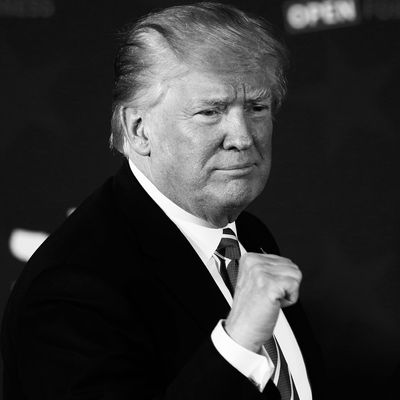 Donald Trump.
Photo: Luke Sharrett/Bloomberg via Getty Images
While it's widely known that Donald Trump is a big fan of Fox News's program Fox & Friends (and live-tweets about it all the time), it turns out a different show on the network is actually his favorite: Justice With Judge Jeanine. In fact, the president loves it so much, White House officials have to appear on the program weekly to prevent him from calling in, the Washington Post reports.
According to the Post, Trump refuses to miss an episode of Jeanine Pirro's Saturday night show. He apparently makes a point to watch it live each week or record it, whether he's in Washington, D.C., or at his Mar-a-Lago estate. And it's not surprising that Trump is a fan of Pirro — she's been an outspoken supporter of his, and even did a bizarre segment in which she went to the woods of Chappaqua, New York, to search for Hillary Clinton.
On top of that, Trump regularly gets legal advice from Pirro on the Russia investigation and other matters. He has also reportedly been participating in on-the-record interviews for a new book she's writing about him, and even called into her show in February for an unhinged rant about everything from Jeff Sessions to gun legislation. So lately, White House staffers have been going out of their way to ensure he won't call in again. Per the Post:
In the White House communications shop, officials rotate going on Pirro's show because they know Trump will be watching — and partially to prevent him from calling in himself, several officials said, as he did earlier this year. "Someone has to be on the show every week," an official said.
Well, we're sure she'll still get an invite to one of his dinner parties.