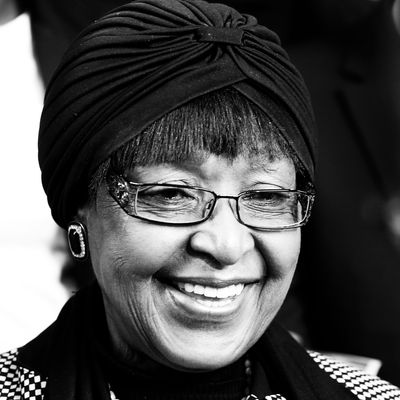 Winnie Madikizela-Mandela.
Photo: J. Countess/Getty Images
Winnie Madikizela-Mandela, an iconic anti-apartheid campaigner in South Africa, died on Monday at the age of 81, her spokesman announced.
The South African Broadcasting Corporation reports Madikizela-Mandela was admitted to Netcare Milpark Hospital in Johannesburg over the weekend after experiencing flu-like symptoms. In a statement on Monday, her spokesman Victor Dlamini said she died "after a long illness, for which she had been in and out of hospital since the start of the year."
Madikizela-Mandela was a prominent activist in the anti-apartheid movement, and the second wife of South Africa's first black president, Nelson Mandela. The couple were married for 38 years, though they had been kept apart for much of that time while he was imprisoned. Madikizela-Mandela, who had been trained as a social worker before meeting her ex-husband, became known as the "mother of the nation" and emerged as a symbol for the movement while Mandela was jailed.
However, Madikizela-Mandela was not without controversy. During a 1986 rally, she voiced support the practice of "necklacing" — putting a burning tire around a traitor's neck. She was also later found guilty of kidnapping and sentenced to six years in prison for her alleged involvement in the death of a 14-year-old township militant (she denied the allegation and her sentence was lowered to a fine).
Nelson Mandela was released from jail in 1990; he became president in 1992. He testified in the couple's 1996 divorce hearing that Madikizela-Mandela had been having an affair with one of his colleagues.
Madikizela-Mandela will be remembered for her fierce and important activism. Retired archbishop Desmond Tutu called her "the defining symbol of the struggle against apartheid" and said that "her courageous defiance was deeply inspirational to me, and to generations of activists." African National Congress chairperson Gwede Mantasha also said, "With the departure of Mama Winnie, [we have lost] one of the very few who are left of our stalwarts and icons. She was one of those who would tell us exactly what is wrong and right, and we are going to be missing that guidance."