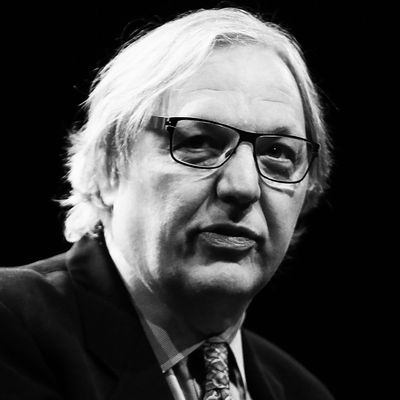 Photo: Astrid Stawiarz/Getty Images
In between the well-worn recitations of regret in public letters released Tuesday by New York Public Radio CEO Laura Walker and her board of directors — "I accept responsibility"; "we as an organization have fallen short and must do better"— were sentences that sounded more like sighs of relief, or hands brushing off the last motes of blame.
The occasion was the public release of an "independent investigation" into a conflagration sparked last December by Suki Kim's damning story on harassment and bullying by John Hockenberry at The Takeaway — leading quickly to the firing of two other prominent hosts, Leonard Lopate and Jonathan Schwartz. The new report, written by two investigators with the law firm Proskauer Rose with "no involvement" from management, presumably looked into those cases — though we don't know, because there are no names in it — and found no "systemic" discrimination or harassment at the public-radio behemoth.
"As the investigation indicated," Walker wrote in yesterday's letter, "I took prompt and significant action when learning of discriminatory behavior, but we need to take further steps." The board's letter expressed its full support of the station's first and only CEO, whose leadership was deeply shaken by a sense that, for years, employee concerns were subordinated to the demands of growth. In February, Walker announced the demotion of her chief content officer, Dean Cappello, along with many initiatives to address what she acknowledged was a broken office culture.
My own reporting on that culture two months ago revealed a history of distrust between employees and a human-resources department that seemed more concerned with policing staff than protecting them. Proskauer Rose acknowledges that distrust head-on, but never identifies its source: "Whatever the merits of the concerns about the human resources department, it is important that employees have confidence that it will protect their right to a respectful and discrimination-free work environment."
Isn't it also important to determine what the merits of those concerns are? Employees told me repeatedly — told each other, too — that HR didn't seem eager to help, and that even when they tried, they didn't seem to know what they were doing. Proskauer says they were understaffed, which is surely true. But they were also highly effective at resolving sticky situations — such as the three black co-hosts in a row whom Hockenberry bullied out of their jobs — in favor of the management-mandated status quo.
To its credit, Proskauer Rose highlights many of the concerns employees brought up to me — including a lack of clarity on whether harassment reporting is mandatory (it is); what constitutes actionable behavior; and what happens in the course of an HR investigation. Some of its findings are refreshing, including the assertion that "being an 'equal opportunity abuser' is no excuse" for behavior, like Hockenberry's, that disproportionately hurts minorities. Others are depressingly overdue. I wasn't surprised to learn that WNYC was terrible at communicating about its protocol for harassment investigations; I was shocked to learn that that was because no such written protocol exists.
It's difficult to take on faith the parts of the Proskauer report that absolve leaders of responsibility. One of its essential findings is that complaints weren't dealt with because lower-level managers didn't send them up the chain of command — though when they did, everything supposedly worked fine. Senior management is only mentioned in the course of exonerating it. Never mind that Walker did know about Hockenberry's bullying and some of his harassment, yet almost nothing was done for years.
The board wrote Tuesday that it had been briefed "in detail concerning specific allegations" but "decided to protect employee privacy and comply with legal obligations" by stripping the report of any detail. As with, say, redacted government documents, it's impossible to parse whether information was left out to protect victims or to protect the institution from embarrassment. It's telling that Proskauer, which has a reputation for siding with management in cases like this, proposes many fixes — often in the service of limiting liability — without seriously assessing culpability.
It's also telling that only 36 people were interviewed — fewer people than I spoke to, and far fewer than work on shows where harassment has occurred. Among the employees past and present who've openly expressed their disappointment on social media was former Takeaway producer Kristen Meinzer. She helped start this conversation in December by telling Suki Kim about Hockenberry's unwelcome advances. But Proskauer didn't talk to her. (WNYC reporters soon discovered that she was sent a message, but she never saw it and there was no follow-up.) Meinzer was far from the only accuser they didn't hear from. One of the employees in my piece, who'd complained fruitlessly for months about a co-worker having vocal phone sex, wasn't interviewed either. After reading the investigation's results, she wrote to me that she was "infuriated and insulted by the report. I'm not sure how they could find that there was not a 'systematic problem' through a sample size of THIRTY-SIX people."
This employee is one of several women—as many as ten—who've left WNYC since the beginning of the year. Many of those who remain are reportedly dismayed at the report's lack of accountability. But again — as in February, when Cappello was sidelined but not fired and Walker's position reaffirmed — it's hard to say a tipping point has been reached, or a mass exodus imminent. Maybe it's just a matter of expectations. "Disappointed but not surprised," texted one employee who had considered leaving — and may still, but not yet. "It didn't say anything we don't already know."