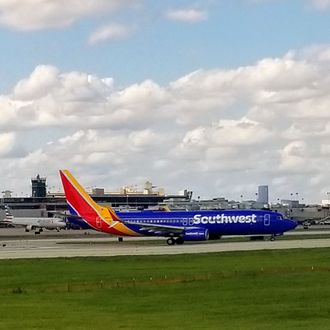 A Southwest airlines plane.
Photo: Daniel Slim/AFP/Getty Images
Look, let's just get right to it: a woman was partially sucked out of a plane while it was mid-air. Yes, I agree, ahhhhhh!
The reported incident occurred on Southwest Airlines flight 1830 from New York to Dallas. A piece of the plane's engine fell and broke a window, leading the plane to become depressurized. "One passenger, a woman, was partially … was drawn out towards the out of the plane … was pulled back in by other passengers," one passenger's father-in-law, Todd Baur, told NBC10. One passenger was critically injured, while seven others sustained minor injuries.*
The plane managed to make an emergency landing in Philadelphia shortly afterward. Congratulations to the pilot on the safe landing, and congratulations to the world for finding innovative new ways to terrify us every day.
*Update, 3:27 p.m: National Transporation Safety Board chairman Robert Sumwalt said that one of the passengers has now died, though they have yet to be identified.
Update, 4/18, 9:45 a.m.: The passenger who died has been identified as Jennifer Riordan, a PR specialist for Wells Fargo who lived in Albuquerque, New Mexico.