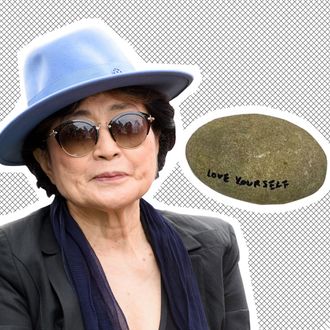 Yoko Ono, the missing rock.
Photo: Getty Images
Our neighbors north of the border are currently preoccupied with an especially upsetting case: some hardened criminal has stolen a rock on which Yoko Ono once wrote the words "love yourself."
According to the Toronto Star, the theft took place the evening of March 12 at Gardiner Museum in Toronto. The rock was part of an exhibit in which "visitors are invited to pick up a stone and hold it, concentrating on the word [written on it], and then placing the stone upon the pile of other stones in the center of the room." But, according to a Toronto police spokesperson, one visitor estimated 55–60 years of age "just picked it up and walked away with it."
The "love yourself" rock is valued at $17,500. As police continue their investigation and we wait anxiously for the rock's return, here are some Yoko Ono tweets to help us through this trying time:
Stay strong, everyone.