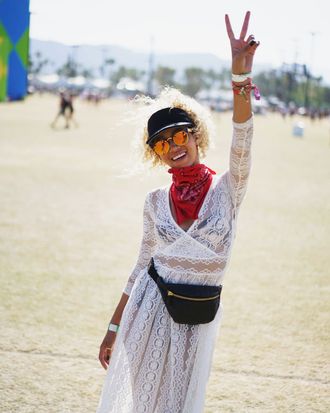 We all know what you're supposed to wear to Coachella: a fringe top and a tiny pair of denim shorts. But while this dress code has been going strong for years now, I'm here to tell you there's another way. I go to Coachella every year, and I've got packing down to a science. Read on for my time-tested list of what you'll need to bring, whether you're lounging by the pool, going to parties, or, you know, actually experiencing live music.
I take this tote with me whenever I travel because it's lightweight and provides ton of storage. Also, the cross-body strap comes in handy.
I wish I owned an expensive Céline luggage tote, but I'll feel a whole lot better carrying this chic $85 bag when it gets filled with dust and sand.
Since you'll need outfit changes for day and night, a suitcase that helps you stay organized is key. No one does that better than Away.
In such a hot desert climate, you'll want one of these in your bag to keep your makeup and overall well-being intact.
After a day in the sun, the damage to your skin can be shockingly visible. I use this highly versatile moisturizer as a cream, a wash-off mask, and an overnight mask when my skin needs more moisture.
We've already raved about how hydrating this mask is. Trust me, in the middle of the desert, you'll need it.
After a long night out, a bright striped shirt is the perfect solution if you don't have the energy to throw an outfit together.
Photo: FUENTES
If color isn't your thing, this Baja East tie-dye T-shirt is a fun monochromatic choice.
This swimsuit has a ribbed texture, almost like a cheaper version of Spanx material.
Striped bikinis are trendy, and Solid & Striped makes the most comfortable, seamless ones out there.
Because the gingham trend is still going strong.
You'll need clean, comfortable sneakers to wear, and these Superga ones are only $65.
They're great for walking, but also an easy slip-on shoe for lounging by the pool or at brunch with friends.
Photo: REVOLVE STILLS #2
A bright party shoe that looks equally fun with a colorful look or a plain black dress.
Pull on this breezy, sweet polka-dot dress, add a pair of sneakers, and voila: a concert outfit you can wear all day.
Photo: Fuentes
An easy maxi dress for daytime, and since it already has such an eye-catching silhouette and pattern, all you have to add is black sandals.
This one-shoulder dress might feel a bit fancy for the desert, but you never know when you're going to wind up at a party full of celebrities.
I never wear expensive sunglasses to concerts since they're liable to drop on the ground or get left behind. These aviators are only $10, and they come in five colors.
Even if you're not the bandana type, it comes in handy with all the dust.
Photo: REVOLVE STILLS #2
Literally everyone at Coachella is going to be carrying a mini woven bag. Give in to the trend!
This will match every swimsuit you own, no matter what shape or color.
This is more of a tunic than an actual cover-up, but that just makes it feel more chic.
If you're looking for something more fitted, this sheer dress might be what you're looking for.
If you buy something through our links, New York may earn an affiliate commission.