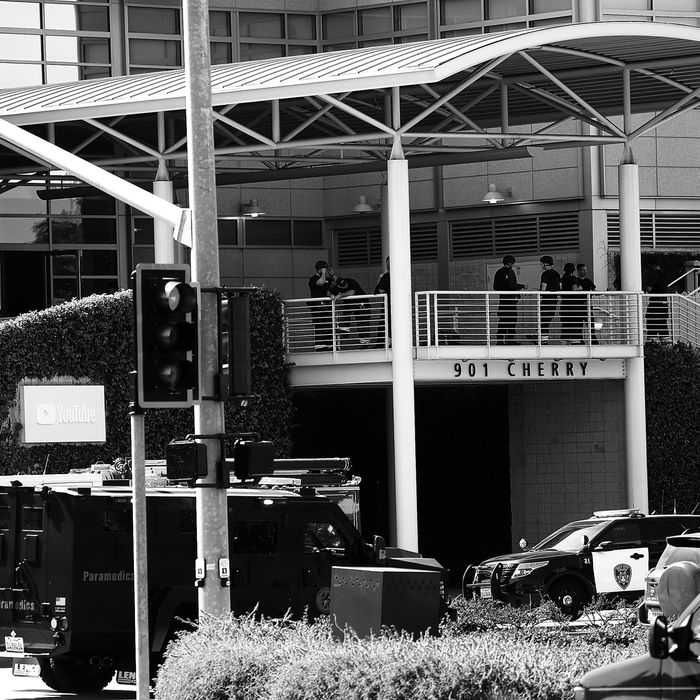 YouTube's headquarters in San Bruno.
Photo: Justin Sullivan/Getty Images
On Tuesday afternoon, a woman opened fire on YouTube's headquarters in San Bruno, California, sending the campus into lockdown. While details are still unfolding, here's everything we know about the YouTube shooting so far:
Who was the shooter?
Late Tuesday evening, the NBC Bay Area Investigative Unit released the identity of the suspected shooter: Nasim Aghdam, a 39-year-old woman who was a resident of Riverside, California. (It has not yet been reported whether she was a YouTube employee.)
According to NBC News, she approached an outdoor patio area at YouTube's headquarters, where she began to shoot. The make and model of her gun are not yet known, but San Bruno Police Chief Ed Barberini said it was a handgun. It is being reported that Aghdam died from a self-inflicted gunshot wound.
How many people were injured?
Police have identified three people who were injured by gunshot wounds. Brent Andrew, a spokesman for Zuckerberg San Francisco General Hospital, said at a news conference that a 36-year-old man was in critical condition, a 32-year-old woman in serious condition, and a 27-year-old woman in fair condition, the Times reports.
Do we know why the shooter opened fire?
According to local police, the shooting is being investigated as a domestic dispute. One of the victims was reportedly the shooter's boyfriend, whose identity has not yet been released.
Have any politicians responded to the shooting?
A number have, including Donald Trump, Senator Dianne Feinstein, Representative Jackie Speier, and Senator Kamala Harris.
Is there any remaining threat to the community?
At this time, police are saying there is no remaining threat.