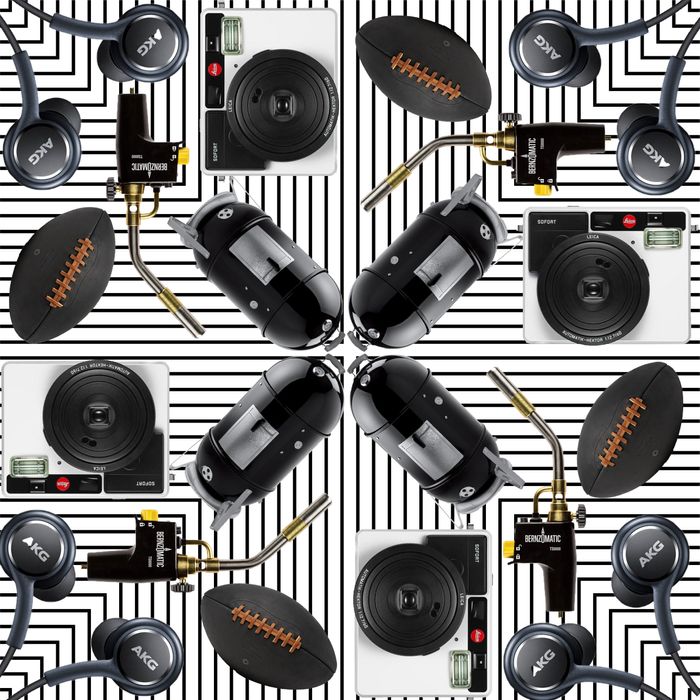 If you really want to please your hobbyist dad this year, you've come to the right place. We've looked beyond the classic gifts like whiskey sets and patterned shirts for showstopper items for the particular or difficult-to-please dad. We guarantee he won't have these gadgets, collector's items, or fancy clothes.
For the Dad Who Loves Home Improvement
You can't get much more precise than a digital tape measure.
Whether he's a big Kendrick Lamar fan or just heard about him through the Pulitzer, this vinyl special edition is a "wow" present. He will need a record player (unless this is just for collector's purposes).
For the Beer Sommelier Dad
With this pressurized growler, his favorite beer will stay cold for 24 hours and always be on tap.
What makes these earbuds more special than other earbuds? They're stylish, comfortable, and promise a "tangle free" cord.
For the Dad Who's Always Talking About Java
You're lucky you're snagging this espresso maker at half the price. The Nespresso is loved by culinary types and you can't beat that sleek design.
For the Dad Who Is "Summering"
If your dad uses "summer" as a verb, odds are he needs another linen tee. Get a high-quality crewneck in an unexpected tangerine color to make sure he stands out on the beach.
If he prefers a shot of wheatgrass to an espresso, get this heavy-duty juicer to show that he means business when it comes to green juice.
For the Dad Who Is Really Into Football
Maybe he still plays, maybe he played in college, maybe he's the NFL's No. 1 fan. Either way, this football could be used as a tasteful piece of bro-y décor or, I guess, actually for sports.
If he knows how to set up Bluetooth and is pretty good at not losing things, AirPods are the perfect gift.
This color blue is so gorgeous, even people that don't spend time on lakes will appreciate it. Reviews say it's a good kayak for beginners.
If he knows what "sous vide" means, he'll want this. This sleek little tool heats up water for the perfect temperature and connects to your Android or iPhone to let you know when your food is done. *Chef's kiss.*
If he's already tried kickboxing, yoga, weight-lifting, running, and swimming, get him a bike to start learning cycling instead. Next thing you know, he'll be into triathlons.
For the Dad Who Wants a New Hobby
This portable electric guitar is perfect for beginners. Jamstik+ also has guitar lessons on apps for iOS and Mac.
Match his taste level with a color-blocked jacket from Vince. It's guaranteed to fit almost any style.
For the Dad Who Misses the '80s
While you can't travel back to the era of Michael Jackson and neon leggings, you can make him feel like it's a simpler time with a film camera.
Appreciate his fandom with a cute box set of socks featuring Star Wars characters. The Stance brand has a wide range of themed socks outside of the Star Wars universe, also.
This mini-grill still packs maximum smoky flavor. Perfect for smaller outdoor spaces or empty nesters.
If your dad is a Golf Dad, you're probably used to getting him golf balls every year (he loves them, he promises!). This year, go big or go home with a golf bag by Tumi. He'll get enough wear out of it.
If you buy something through our links, New York may earn an affiliate commission.