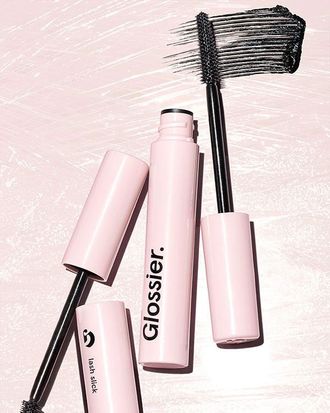 Glossier's newest product, Lash Slick, was released yesterday to a bit of confusion. Now that it's been settled that it is most definitely not vegan, people want to know the other big question — how is it? To find out how the mascara plays to different lash types and personal preferences, the Cut distributed multiple tubes and asked everyone to weigh in. Here are the reviews — and why most everyone agrees that it's an "everyday" rather than a "night out" mascara.
Allison P. Davis, senior culture writer
Before I tried the mascara on my own face, I let a friend of mine put it on first so I could know what to expect (also because we were at happy hour and whatever, it just felt right). When she put it on (two coats, blink method) her eyelashes were just like BLAM! A lashplosion. When I applied a hasty, single coat, it didn't do a ton for me, thereby confirming a thing I felt I knew in my heart to be true: While I buy all Glossier products, it really is just makeup for people who are already beautiful and need close to nothing. So, of course, the new mascara is made to just slightly enhance someone's already perfect long, lush lashes. I have stubby eyelashes. I hate everything.
But like I said, I'm a Glossier stan, so I decide to give it another try —this time in my bathroom, and not at a bar. I did multiple coats using the wiggle method and was really surprised to find that while it wasn't quite the lashplosion I usually strive for, I also didn't need an eyelash curler! Yes, it took three coats, but it's fine. So many coats of my normal mascara would have resulted in clump city, but the Glossier mascara isn't sticky, felt really lightweight, and I think it's meant to be layered for maximum effect. Also, I love that the brush is on the smaller side: It caught all the stubbiest of my lash stubs and lengthened them.  The tiny brush is even smaller than the other ones I use, and caught all of my extra short baby lashes. Guess this proves that my lashes were already naturally perfect, binch. Thanks, Glossier.
Ashley Weatherford, senior beauty editor
I firmly believe there are three kinds of mascara in the world: A lot are just bad, some make your lashes look big and dramatic, and the third do a really good job of subtly coating and combing through your lashes. Lash Slick sits firmly in the third group. It made my eyelashes look naturally darker and slightly longer. This is not a mascara that screams "I am wearing makeup!" It speaks in a much softer tone, which I appreciate. What can I say? I want my lashes to look nice, but I don't always want my lashes to look va-va-voom dramatic.
The wand is small, so I didn't have to worry about accidentally smudging my eyelids with black ink, and it dried to a flexible hold. This means my lashes felt really soft, and not dry. So far I've worn Lash Slick at work and while running weekend errands. I think Lash Slick fits right in with those daytime activities — and it could work well with evening looks as well, provided that they aren't super intense (save your best volumizing mascara for that). The mascara is made with a tubelike formula; all you need is a little bit of water to pull the Lash Slick fibers from your lashes. And just like that, you're done.
Kathleen Hou, beauty director
When I told my friends I liked this mascara, some of them were straight-up mad that I would endorse it. "It doesn't do anything!" one of them said, looking at me in disbelief. "I can't see a difference."
Therein lies the benefit and disadvantage of Glossier's Lash Slick. You'll either love or hate its minimal effect. Here's my main issue with 99 percent of mascaras: The ones that do make my lashes crazy lengthy and pump them up to 400 percent in volume or whatever, are sticky, result in massive lash casualties during removal, clumpy, and leave me with smudgy, sloth-like under-eyes. So many of them also give me monolash — just like how sports bras give you monoboob, so many mascaras squish my lashes together to become one spackled unit.
Sure, Glossier's mascara isn't extreme but gives me a clean lash look — my fine lashes look perky, retain their nice Nike-swoosh-like curl (post eyelash curler). Plus, thanks to its tubular formula, no smudging or spider lash issues! It's very similar to the Kevyn Aucoin Volume mascara and is the no-makeup-makeup of mascaras.
Indya Brown, fashion market assistant
When it comes to my lashes I don't want anything less than drama. It's probably the only time I willingly welcome drama into my life. It also means that I tend to favor mascara with thicker formulations that I can really pile on for a bold effect. I even faithfully get lash extensions because sometimes mascara just isn't enough. This mascara really isn't for those who, like me, want over-the-top lashes, but what I was pleasantly surprised by was how beautifully defined they made my lashes look. While they didn't become big in a clumpy sense, they looked fuller because the wand really highlighted each and every lash.
I wasn't expecting a product that gave me such noticeable results from Glossier, which tends to favor the subtle. Since I recently got more eyelash extensions, and mascara on them is pretty much a no-no, I definitely plan on using this as more of a bottom lash mascara (for which it also performed really nicely). Most importantly my under-eye area wasn't a raccoon-looking mess at the end of the day, so extra thumbs up for its staying power.
Daise Bedolla, social-media editor
When I reach for mascara, I want my eyelashes to be loud. I want them to touch my eyebrows, and be black like coal. I typically reach for a tube of Eyeko's Yoga waterproof mascara or Too Faced's Better Than Sex waterproof version. I tend to avoid mascara on an everyday basis because I don't like the daily wear-and-tear of removing waterproof mascara, and curling my lashes every morning tends to be enough to make me look awake.
Glossier's version is not the tube to reach for if you want to bring the drama, but it is the one to reach for when you're getting ready for work. One swipe is subtle, but several swipes will give you the look of someone who didn't stay out an hour too late (or spend the night in a meme-hole on Instagram). While the mascara on its own doesn't give you the same lift as other mascaras, a quick curl (I use Kevyn Aucoin's curler) before applying Lash Slick will easily solve that problem.
Emily Sundberg, Instagram Editor
First thought: How does Glossier always nail their packaging. Somehow they don't make me sick of millennial pink. What struck me about Lash Slick was the fine tip — you can tell you're not going to get clumpy mascara. I found it easy to apply and the color was dark.
My lashes looked more defined but I agree with the other reviews in that this isn't something you will want to reach for when you want a bold, night-out look. I don't wear mascara typically, but maybe I would wear this, especially because it was really easy to wash off.
If you buy something through our links, New York may earn an affiliate commission.