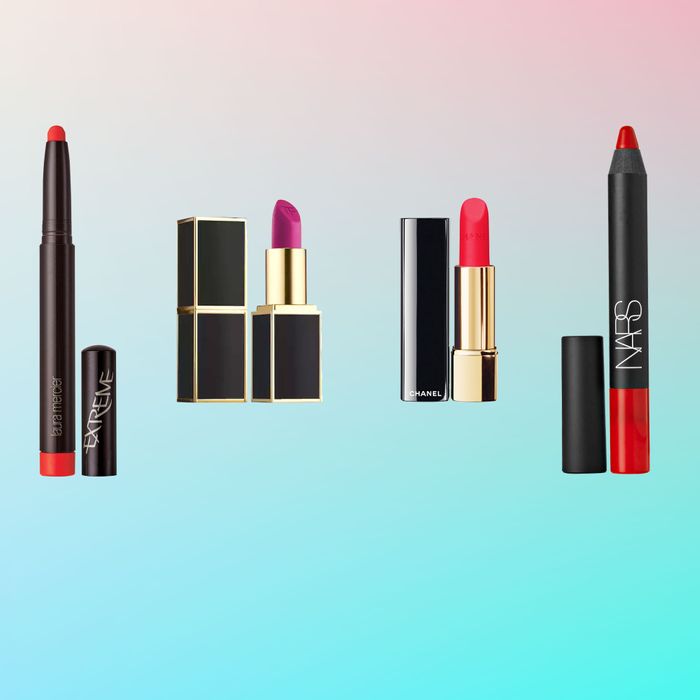 Photo: Courtesy of the Vendors
Pretty Things: A week dedicated to beautiful objects.
Contour may be part of a makeup artist's bag of tricks, but no one ever called a brown contour palette pretty. Lipstick, on the other hand, gets compliments both ways — it can look great on your face and in your bathroom medicine cabinet or in an Instagram flat lay. Below, we've rounded up seven really lovely lip colors to try for spring.
Photo: Courtesy of the Vendor
Makeup artist Katie Jane Hughes says, "In all my years as a makeup artist, I've found this to be the one shade of red that suits everyone." This was one of the original 12 shades that launched Francois Nars's career. Nars calls the color, with its blend of blue and orange tones, "the perfect crimson."
Photo: Courtesy of the Vendor
These lipsticks have a pretty, 1920s-cigarette-holder vibe. Not just for show, they also contain a soft, super-creamy lipstick with lots of rich color. No wonder they've earned so many five-star reviews.
Photo: Courtesy of the Vendor
This is Rihanna's version of a universal red — a little bit bluer than Jungle Red or M.A.C Ruby Woo. Half the fun of using this is pulling out the art deco-looking multi-beveled container. (Be warned: It's a little more liquid-y than most liquid lipsticks, so apply slowly and be careful not to get it on your teeth.)
Photo: Courtesy of the Vendor
These bright, super-smooth lipsticks from Linda Rodin glide across your lips. The vintage-inspired Lucite holder also makes them look particularly lovely on a vanity, in that Into the Gloss Top Shelf kind of way.
Photo: Courtesy of the Vendor
The O.G. of pretty lipsticks — push on the Chanel logo and it pops open with a satisfying click. The colors are rich and velvety, without making your lips look like dry elephant knees.
Photo: Courtesy of the Vendor
What's really pretty here is the depth of colors. These matte lipsticks come in a simple stick format, but the colors are all nicely balanced and eye-catching, without being weird for weird's sake.
Photo: Courtesy of the Vendor
Tom Ford might say that he's not peddling sex anymore — but the sleek elegance of the cases and the lip-licking shades within still say, "Wear this in the bedroom." Or at least leave it out on your dresser.
If you buy something through our links, New York may earn an affiliate commission.