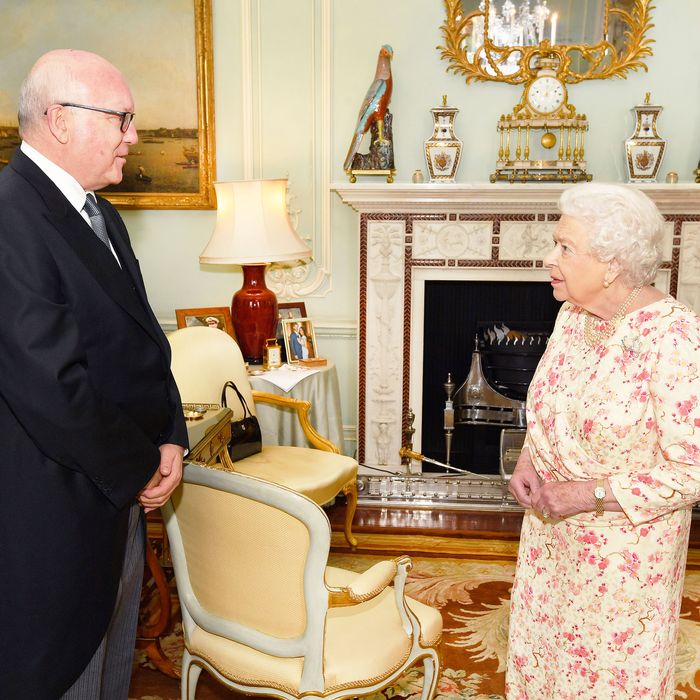 Honorable George Brandis, the Australian high commissioner to the U.K. and your former friend the queen.
Photo: John Stillwell - WPA Pool/Getty Images
It can be disillusioning to find out that someone — someone who you thought you knew — has been keeping something major from you. That Big was moving to Napa, for example. Or that Jax and Kristen hooked up while watching Drive. It is with that in mind, and with a heavy heart, that I must let you know Queen Elizabeth II has been hiding something from you — yes, you. And not only has Queen Elizabeth II been hiding something from you, but so has Prince Henry, Duke of Sussex, and Meghan Markle, Duchess of Sussex.
Your friends!
What they've been all been hiding is this engagement photo: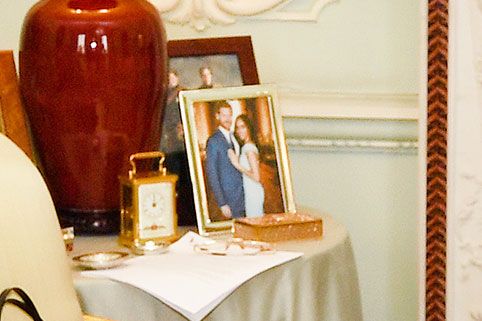 The lie of omission was uncovered by eagle-eyed Hello, who spotted the photo in the background of this photo of the Queen meeting with the long-titled Honorable George Brandis, the Australian high commissioner to the U.K. Not so sneaky now are you, Queen? You thought you could keep this particular Prince Harry and Meghan Markle engagement photo from us forever, but the jig is up now, my friend. We've seen it.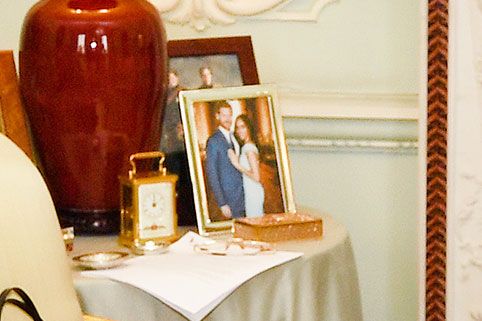 We've all seen it!
According to Hello, the photo is likely one of the set of official engagement photos taken by Alexi Lubomirski in early December, three of which were bestowed upon the public. To me it seems more candid than that — Meghan's hand placed lustily upon Harry's bosom as it is — but I am not one to trust above Hello in matters such as these.
What else is the queen hiding from us?