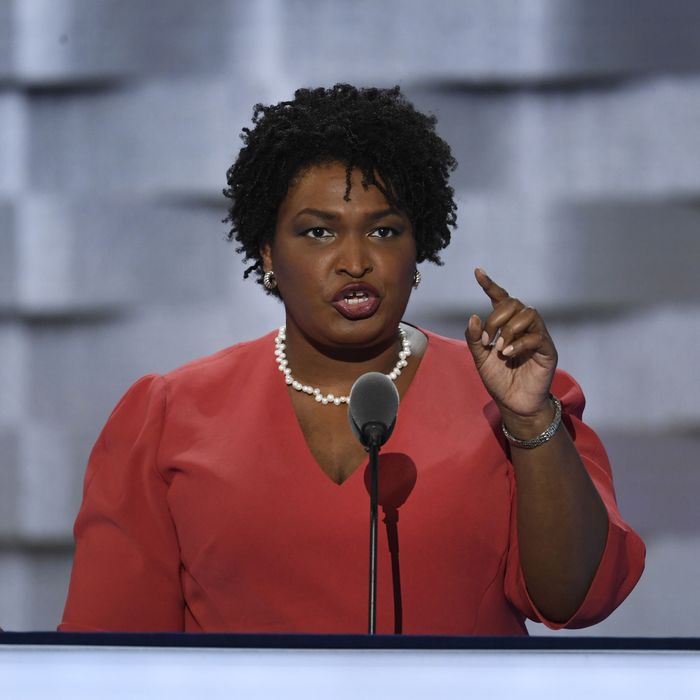 Stacey Abrams speaks at the Democratic National Convention on July 25, 2016.
Photo: David Paul Morris/Bloomberg via Getty Images
The Democratic gubernatorial contest in Republican-dominated Georgia got a lot of attention this year, with enthusiasm high and two women named Stacey running progressive campaigns unlike anything before seen in the state. In the end the winner was Stacey Abrams, an African-American legislative leader with lots of national support and an argument that energizing young and minority voters is the route to a political revolution in Georgia. She easily defeated suburban legislator Stacey Evans, winning in all but a scattered handful of small counties. With half the precincts counted, Abrams is ahead by a three-to-one margin, exceeding all expectations.
Abrams' win also made history. She's the first black woman to be a major party nominee for governor in the United States, and is also Georgia's first black nominee for governor.
Abrams will have to wait nine weeks to know the identity of her Republican opponent. Three-term Lieutenant Governor Casey Cagle, the longtime front-runner, solidly leads the primary vote, but is far short of the majority he would need to avoid a runoff. At this point Secretary of State Brian Kemp — one of several candidates in the all-white-male field to campaign on a hard-right platform of guns rights and hostility to undocumented immigrants — looks likely to finish second ahead of former state legislator Hunter Hill.
One recent poll showed Abrams trailing Cagle by five points in a general election trial heat. A lot will depend on which if either party catches a wave this autumn.