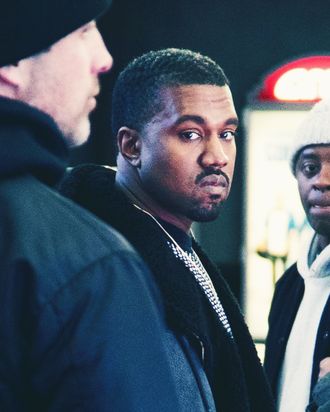 Kanye West.
Photo: Marc Piasecki/GC Images
Aside from Kim Kardashian West and himself, nobody loves Kanye West as much as Adidas. The sneaker brand and the rapper go together like hour-long lines and Supreme drops. West designs his popular/ugly-cool Yeezy shoes for Adidas. However, the brand is now in the uncomfortable position of having to react to West's controversial tweets and statements. Specifically, West's comments to TMZ that slavery, "sounds like a choice."
Since then, a petition has been started to call on Adidas to drop West as a collaborator. In an interview with Bloomberg, Adidas CEO Kasper Rorsted said they had not discussed dismissing West.
"We neither comment nor speculate on every single comment that our external creators are making," he said. "Kanye has been and is a very important part of our strategy and he's been a fantastic creator, and that's where I'm going to leave it."
When pushed about West's comments about slavery, Rorsted admitted, "there clearly are some comments we don't support."
"We're a sports company and want to change people's lives through sports and we will have conversations." Rorsted said, and looked relieved when the conversation turned to Reebok.
West recently tweeted that he's the highest-paid person in footwear, and that Adidas have "let Yeezy be Yeezy." Yes, quite.